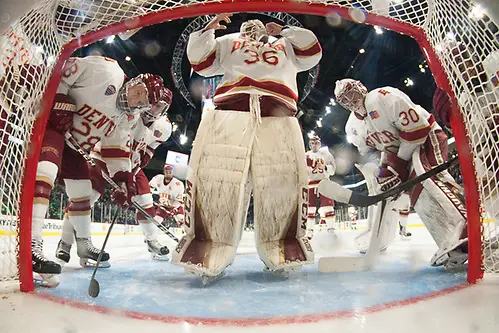 No. 1 overall seed Denver was sent to the Midwest Regional in Cincinnati as the bracket for the 2017 Division I men's NCAA tournament were unveiled on Sunday.
Minnesota Duluth (West Regional in Fargo, N.D.), Harvard (East Regional in Providence, R.I.) and Minnesota (Northeast Regional in Manchester, N.H.) also got No. 1 seeds for the 16-team tournament.
Denver will play WCHA champion Michigan Tech in the first round of Cincinnati, while Union will play Penn State.
Minnesota Duluth drew Ohio State for its opening game, while Fargo host North Dakota will play Boston University.
Harvard was slotted against Providence, which will play in its hometown. Western Michigan and Air Force play the other first-round game in the East Regional.
Minnesota will play future Big Ten foe Notre Dame in the opening round in Manchester, while UMass Lowell will play Cornell.
The East and West regionals start Friday and the Midwest and Northeast regionals start Saturday.