Like the East Regional, four teams from four different conferences will collide with a berth to the Frozen Four in two weeks on the line.
Top-seeded Denver joins Big Ten champion Penn State, WCHA champion Michigan Tech and at-large bid Union at the U.S. Bank Arena in Cincinnati.
Here's the schedule for the East Regional, followed by a look at the four teams:
• Denver vs. Michigan Tech, 1 p.m. EDT Saturday, ESPNews
• Union vs. Penn State, 4:30 p.m. EDT Saturday, ESPN3
• Regional championship, 6 p.m. EDT Sunday, ESPNU
Denver Pioneers
Team page | Statistics | Roster | Schedule/results | History
Coach: Jim Montgomery, 4th season at Denver and overall
Record: 29-7-4 (21-4-3 NCHC, first)
How they got in: At-large bid
Regional seed: First
Last NCAA tournament appearance: 2016
Best NCAA finish: Champions, 1958, 1960, 1961, 1968, 1969, 2004, 2005
Why they'll get to the Frozen Four: Denver has the top defense in the country, giving up only 1.80 goals per game, and has incredibly talented offensive players that can score highlight-reel goals.
Why they won't get to the Frozen Four: While the forwards are talented, they are young, and as North Dakota proved, if you can keep them in check they can get frustrated. Even keeping a team to a single goal might not be enough in that scenario.
For the second straight year, Denver entered the Frozen Faceoff as the hottest team in the country and this year, the Pioneers had won 13 straight. For the second straight year, the Pioneers also lost the Friday game. This time, they fell 1-0 to North Dakota, as Denver's vaunted offense struggled, getting only 12 shots through two periods.
Questioned about whether being on that big stage may have impacted his young talented forwards, coach Jim Montgomery stated the experience was valuable.
"I think the experience of being back in that single-elimination game was great for our entire team," Montgomery said. "I thought our young players, our freshmen especially, played well in that game. I thought that (Liam) Finlay, (Michael) Davies and (Henrik) Borgstrom were three of our better players. To me, I thought it was our veteran players needed to assert themselves more. I think if you look that any time a team wins a championship, it's those veteran players that have to come through because they've been there before. Our veteran players have been to Minneapolis four times, and have been all the way to a Frozen Four, so they are the ones that need to lead with confidence for us."
After losing to North Dakota, Denver rested its top four scorers and its starting goaltender (Tanner Jaillet) for the consolation game, but still emerged with a 3-1 win over Western Michigan to guarantee the top seed for the NCAA tournament. The power play came through with a key goal, and the penalty kill was outstanding in both games, killing all opposing power-play chances, four in each game.
However, Montgomery does see room for improvement on the power play.
"I think our attitude as a team and commitment to team defense, led by our 'D' corps, has been great all year," said Montgomery. "I think the attitude of our game that needs to improve, and you talk about our youth up front, it hurts us. We don't have the same attitude of being hard to play against offensively as we do defensively, and you see it in special teams. Our penalty kill was really good all weekend long, and in the North Dakota game, our power play wasn't. That's where you have to get through to your skilled forwards that they have to play hard in order to be rewarded with success."
Denver is the top seed in the Midwest Regional. First up is Michigan Tech, and Montgomery and his players remember how a different WCHA team gave them fits last year, and expects an even sterner test.
"The only thing we control is getting prepared to play against a Michigan Tech team that we know is very dangerous," said Montgomery. "I've already watched a game of theirs and you can see why they are successful. They have a really good 'D' corps, a freshman goalie (Angus Redmond) that's playing great, and they have four really balanced lines that really are tenacious and come at you. We know if we compare to last year, this team is better than the Ferris State team that we were tied at 3-3 with six minutes left last year."
— Candace Horgan
Union Dutchmen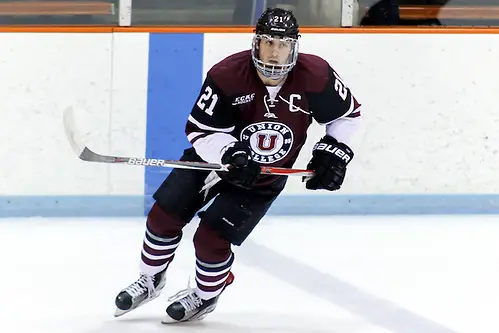 Team page | Statistics | Roster | Schedule/results | History
Coach: Rick Bennett, sixth season at Union and overall
Record: 25-9-3 (16-4-2 ECAC Hockey tied for first)
How they got in: At-large bid
Regional seed: Second
Last NCAA tournament appearance: 2014
Best NCAA finish: Champions, 2014
Why they'll get to the Frozen Four: The duo of Mike Vecchione and Spencer Foo are among the most dynamic players in the country.
Why they won't get to the Frozen Four: Defense. Union allows 2.78 goals per game, 26th in the nation among Division I teams.
After tying with Harvard for first place in ECAC Hockey during the regular season, Union lost a chance at an outright playoff title last weekend with a 4-1 loss to Cornell in the semifinals.
But that loss to the Big Red may have been just what the Dutchmen needed heading into the NCAA tournament.
Coach Rick Bennett said after that loss that his team may have underestimated Cornell.
"We total got outplayed by that team," said Bennett. "We're off next week, so hopefully we can get the guys' attention, and I believe we will, rebound and move forward."
Union is fourth in the country in scoring and is three years removed from one of the most dominant runs in recent NCAA tournament history en route to the school's first national title.
That was followed by a pair of subpar seasons that saw the Dutchmen not only fall out of the national tournament picture, but the top of the standings in ECAC Hockey as well.
Earlier this year, Bennett said he and his coaching staff made some adjustments and focused more on improving themselves instead of looking at their opponent.
Those changes have paid off, as Union avoided the slumps of the previous two years and enters the NCAA tournament with one loss in its last eight games.
Forward Mike Vecchione, the nation's leading scorer, was a freshman on that team and has earned the trust of the coaching staff to play in virtually all situations. He's also one of the top faceoff men in the country.
Vecchione has played much of the season with Spencer Foo (60 points) and Sebastian Vidmar (40 points), although Foo has been split from the trio for the last month. Those three account for nearly half of Union's goals scored this season, so how secondary scorers such as Cole Maier (15 goals) or Brett Supinski (36 points) perform in the playoffs could helped determine how far the Dutchmen go.
The Dutchmen's 2014 national title team featured a dynamic puck-moving defensive group led by Mat Bodie and current Philadelphia Flyers blueliner Shayne Gostisbehere. This year's group might not be quite as explosive, but still has puck-mover Jeff Taylor (33 points) and Nick DeSimone (nine goals) with the ability to generate offense from the back end.
Goalie Alex Sakellaropoulos' numbers may not stand out, but his important to the Dutchmen was underscored when the senior missed four games with an injury earlier in the season – Union was 2-2 in those games.
If things go as planned for Union over the next few weeks, Sakellaropoulos and his classmates could end their collegiate careers the same way they started them – as national champions.
— Nate Owen
Penn State Nittany Lions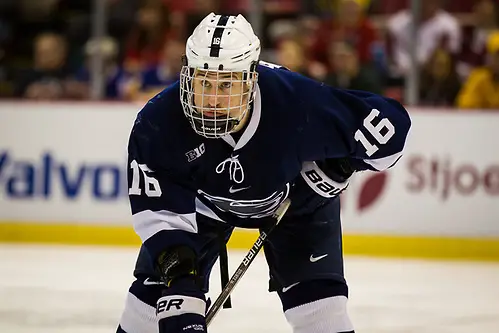 Team page | Statistics | Roster | Schedule/results | History
Coach: Guy Gadowsky, fifth season at Penn State, 17th overall
Record: 24-11-2 (13-9-1-0 Big Ten, fourth)
How they got in: Big Ten playoff champions
Regional seed: Third
Last NCAA appearance: This is Penn State's first NCAA appearance
Best NCAA finish: N/A
Why they'll get to the Frozen Four: Their newfound smothering defense and more stamina than any team in the field.
Why they won't get to the Frozen Four: It's hard to follow up back-to-back double-overtime performances with play at the same level.
After a first half that positioned Penn State to flirt for a week with the top spot in the PairWise Rankings and a first place in the USCHO.com Poll, the Nittany Lions returned to play among the mere mortals as Big Ten play began in earnest in 2017.
Entering the Big Ten playoff tournament last weekend as a team on the PWR bubble, the Nittany Lions knew that two wins would likely earn them their first NCAA playoff berth. Three wins, though, meant a championship, and that's exactly what Penn State did, playing through No. 1 seed Minnesota and No. 2 seed Wisconsin to do it.
And they needed 13 periods of hockey, taking the Golden Gophers and the Badgers to secure that playoff championship, the first for a program in only its fifth year of varsity play.
"They're pretty tired," PSU coach Guy Gadowsky said on Monday.
In Saturday's 2-1 title win against Wisconsin, the Nittany Lions looked understandably gassed at in both overtimes, but they never made the kind of silly mistakes that come from fatigue and lead to defeat. A big question about Penn State's appearance in the Midwest Regional is how well the team will recover. Fortunately for the Nittany Lions, the games in Cincinnati begin Saturday, giving them an extra day to prepare.
Another advantage, said Gadowsky, is the team's strength and conditioning coach, Cam Davidson.
"Cam Davidson is the MVP of that weekend for sure," said Gadowsky. "So we have that kind of faith in him. I know he'll have them ready to go by the weekend."
Penn State's inconsistent season made them a dark horse of the Big Ten tournament. They contended for the regular-season title but struggled in the second half. The Nittany Lions were 5-7-0 in their last dozen games to end the regular season – and every loss was to a team that they beat in last weekend's tournament.
In both overtime games, Penn State's freshman class received the most attention. Liam Folkes had the goal Saturday that gave the Nittany Lions the title, assisted by classmate Brandon Biro. Denis Smirnov had the assist on Friday's OT winner, scored by junior Erik Autio. And Peyton Jones made save after save against the Minnesota and Wisconsin offenses.
"It's great to see in such important games like this," said Gadowsky. "They've exceeded all of our expectations. Obviously, there are no freshmen now, and because of that I give a lot of credit to the upperclassmen to bring them along so quickly."
Gadowsky credits the seniors for more than leadership off the ice. Senior forward Dylan Richard made plays that led to both overtime goals, said Gadowsky.
"I thought Dylan Richard was the best player in both overtimes and that line just seemed to have the most jump," Gadowsky said.
With a young program and a big freshman class, that leadership is key to Penn State's success in the NCAA tournament.
"The mentality of the leaders is what's going to really shape it," said Gadowsky. "And I have a lot of faith that they will approach it the right way. I don't think I have to worry about how they will represent themselves."
Gadowsky said that regardless of what's at stake this weekend, he and his staff want the Nittany Lions to appreciate the moment.
"I will tell you that it is really hard to get there – we know that," said Gadowsky. "We're going to enjoy it. It's a business trip, but we're really going to enjoy it because we know how hard it is to get there."
— Paula C. Weston
Michigan Tech Huskies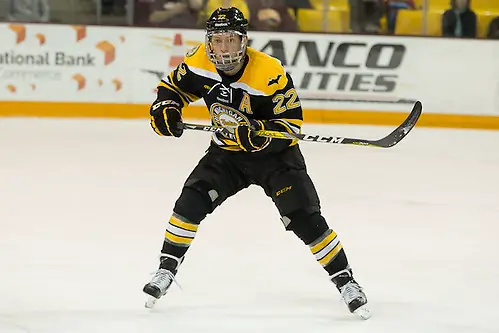 Team page | Statistics | Roster | Schedule/results | History
Coach: Mel Pearson, sixth season at Michigan Tech and overall
Record: 24-14-7 (15-7-6 WCHA, second)
How they got in: WCHA playoff champions
Regional seed: Fourth
Last NCAA tournament appearance: 2015
Best NCAA finish: Champions, 1962, 1965, 1975
Why they'll get to the Frozen Four: Unlike their last tournament appearance — Tech's first since 1981, well before the players on the team were born — this team knows what it's like to win, and it knows what it's like to get here. They've also played more games than any team still alive in the tournament thanks to the WCHA's new playoff format. They're battle-tested and have been in playoff mode for an extra week.
Why they won't get to the Frozen Four: They're the No. 16 seed for a reason. Although the Huskies have been good, they likely haven't seen a team like Denver this season.
Michigan Tech's 3-2 double-overtime victory over Bowling Green in the WCHA championship game last Saturday in Houghton, Mich., will perhaps go down as one of the all-time best in league history.
Bowling Green had rallied from a 2-0 third-period deficit to tie things up and send it into overtime. Then defenseman Shane Hanna became the hero for the Huskies, scoring the game-winner 6 minutes, 25 seconds into the second OT period.
The fact that it was at home, in front of more than 4,000 partisan Huskies fans, made it all the more special for Tech to raise its first-ever Broadmoor Trophy. The fans even stormed the ice after the game.
Now, coach Mel Pearson said his team has to find a way to to get beyond the WCHA title game hangover and focus on their NCAA tournament Midwest Regional matchup with top-seeded Denver.
"It was a great night for us, but now we have to move beyond that," Pearson said.
That the Huskies are back in the NCAA tournament for the second time in three years might not have been a surprise in the preseason, when they were picked to finish second overall in the league.
But Tech stumbled out of the gate, winning just once in its first eight games. That set the Huskies back in the standings and allowed Bemidji State — who wound up as the league's regular-season champions — to pull out far ahead.
All of that was before Pearson settled on his No. 1 goalie. The Huskies used Devin Kero and Matt Wintjes in their first eight games of the season and gave up 28 goals in that span.
But after a loss and a tie at Michigan, Pearson decided to put freshman Angus Redmond in the crease for next week's series against rivals Northern Michigan. Redmond — or "Beef," as he is known — won 2-0 and 5-1 and the starting job has been his ever since.
The Huskies went 10-3-1 over their next 15 games and Redmond is 22-9-5 as a starter overall. He's also second in the country in GAA (1.76) with four shutouts in 37 games played.
Offensively, the Huskies have been solid. They've scored 129 goals this season, but have poured it on recently, netting 26 goals during their six-game WCHA playoff run. Twelve different players have scored at least one of those.
"We've got a lot of guys who have scored in the past couple weeks," Pearson said. "I think we had 11 different guys score against Lake State (in the first round). We're getting timely scoring from a lot of people. We have a lot of different people that can score, and that's what makes us dangerous."
Hanna, Jake Jackson and Joel L'Esperance scored for Tech against BG, while Gavin Gould had four goals — including a hat trick — in Tech's semifinal series win over Minnesota State.
The Huskies know they're going to need contributions from everyone playing well this weekend against Denver.
"They were a Frozen Four team last year [and] they have a lot of guys back," Pearson said. "They're built to win and they're built to win now."
The former WCHA rivals used to play often. Pearson mentioned their WCHA Final Five game in 2012, when the Pioneers beat the Huskies 3-2 in overtime and said he's excited to play them once again.
"[One of the] last times we played them, we had a real good game in the playoffs," he said. "We've had some really good games with them and I'm looking forward to sort of renewing that rivalry."
— Jack Hittinger