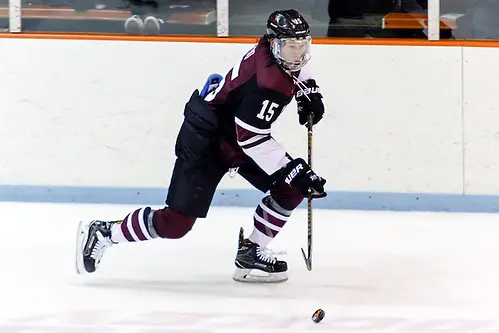 Union junior forward Spencer Foo has elected to forego his senior season with the Dutchmen.
Foo will complete the spring term at Union and will likely not sign with an NHL organization until the summer, the school said in a release Wednesday.
The following is a statement from Foo on his decision:
"We wish Spencer all the best with his decision to turn pro after his junior year," Union coach Rick Bennett said in a statement. "He has been an excellent representative of Union hockey on the ice and with his efforts in the classroom.  Our staff has been fortunate to work with many quality student-athletes and Spencer always gave 100 percent in both school and hockey.  His body of work as a hockey player and commitment to the classroom represented his leadership qualities."
A 2016-17 All-ECAC Hockey First Team selection and a Hobey Baker Memorial Award finalist, Foo finished the season ranked fourth in Division I in points (62), second in multi-point games (20), tied for second in assists (36), tied for third in plus-minus (+29), tied for fourth in goals (26) led the league in assists (25), plus-minus (+20) and multi-point games (14). His 36 assists set a program single-season record, while his 62-point campaign is the second-best. He also compiled a program-record 21-game point streak and registered at least one point in 34 of 38 games.
Foo was a finalist for the ECAC Hockey Player of the Year after tying for the conference scoring title with 40 points. He led the league in assists (25), plus-minus (+20) and multi-point games (14) and was second in goals (15) and shorthanded goals (2).
He totaled 112 points (49 goals, 63 assists) in 113 career games with the Dutchmen.