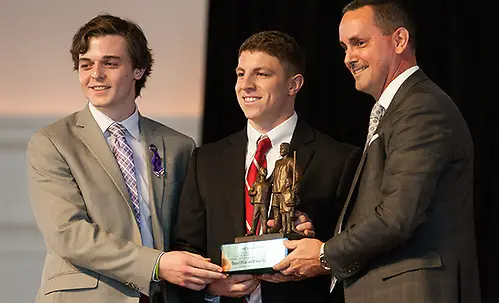 CHICAGO — St. Michael's seniors Danny Divis and Justin McKenzie were announced on Friday as the 2017 recipients of the Hockey Humanitarian Award presented by BNY Mellon Wealth Management at a ceremony in the Aon Grand Ballroom at Navy Pier.
The Hockey Humanitarian Award is given each year to college hockey's finest citizen — or this year, citizens, as they are the first co-recipients of the award.
Frozen Four 2017
More coverage of the 2017 NCAA men's Frozen Four at Frozen Four Central.
"It's been a team effort since the first day. I think it would be awkward if we were competing against each other," said McKenzie. "So I'm definitely happy they chose the two of us."
Divis and McKenzie were recognized for founding the campus organization Hope Happens Here, which promotes mental health awareness and wellness among college students, and especially athletes. They've made presentations at local high schools and at nearby University of Vermont, whose athletes were inspired to start a similar program.
Divis has experienced the difficulties of depression firsthand, and that contributed to his desire to help others with mental health challenges.
"In high school I had some depression," said Divis. "I don't really know what it was from.
"I remember it was a very dark time where you just want to lie in bed and you're not very motivated," he said. "I know people have way bigger issues than me, but I think that at least on a basic level I can be empathetic with them."
The structure of being a student-athlete at boarding school The Gunnery helped him cope and recover.
"When I left for boarding school — and leaving for boarding school was one of the most difficult and depressing times in my life, because I was leaving my family and all my friends back home — I was just super upset for about a month and a half," said Divis.
"The structure — I was playing hockey and I was playing soccer — that structure for me has been the most helpful. That's why I've always been most healthy mentally when we're in season, you've got your practice, you've got your class, you've got your homework. The structure is hugely important for me," Divis said.
Meanwhile, McKenzie has been impacted by the loss of a high school friend and of a relative to suicide.
Divis and McKenzie became friends when placed as roommates at the small college near Burlington, Vt., in their freshman year, and have stayed roommates since. But each had a different experience in volunteering before St. Mike's.
For McKenzie, it had been expected.
"It really got started in grade school, going to Catholic school, you were always told you have to give back, and through high school too," said McKenzie. "So this wasn't uncommon grounds for me. In college it was kind of a seamless transition. At some point I knew I wanted to get involved."
Divis discovered volunteering at St. Michael's.
"I came to St. Mike's with not a big background in that," said Divis. "In my freshman year, we were very highly encouraged to go to this local elementary school and to help out with kids that are not as fortunate as us. I enjoyed that. It was super fulfilling."
Natural leadership skills, and those learned as hockey players, have helped Divis, a Purple Knights captain, and McKenzie, an alternate captain, encourage their teammates to volunteer.
"I've always strived to be a leader as much as I can in whatever situation, be it a letter or not on your jersey," said McKenzie.
"I'm very vocal as a leader," said Divis. "But I admired leaders who were very stoic and just did it and didn't really have to talk about it. With Hope Happens Here, our one slogan is 'be about it,' and I think that developed from that type of leadership."
[photoshelter-gallery g_id="G0000_oY99JopNg0″ g_name="20170407-Humanitarian" f_show_caption="t" f_show_slidenum="t" img_title="casc" pho_credit="iptc" f_link="t" f_bbar="t" fsvis="f" width="500″ height="375″ bgcolor="#AAAAAA" bgtrans="t" btype="old" bcolor="#CCCCCC" crop="f" trans="xfade" tbs="4000″ f_ap="t" linkdest="c" f_fullscreen="f" f_constrain="f" twoup="f" f_topbar="f" f_bbarbig="" f_htmllinks="f" f_enable_embed_btn="f" f_show_watermark="f" f_send_to_friend_btn="f" f_smooth="f" f_mtrx="f" f_up="f" target="_self" wmds="llQ6QNgpeC.p1Ucz7U.f0MZViqxDmE5RKqY8kcx88uyGDEb2uUV_bQWycjyR7rs7EMQYsQ–" ]
Speaking to high school students was especially rewarding, they said.
"At least in our experience, I don't remember learning much about mental health in high school, if at all," said Divis. "We'll sit at the edge of the stage. If you want to come talk to us after, we're here. It was an incredibly receptive bunch of people."
They've also made a big impact at St. Mike's by educating fellow athletes about mental health.
"We have a poster that hangs throughout all athletic facilities as well as in every home locker room for all our teams," said McKenzie. "It includes a 'wellness wheel' on how to take care of yourself, but also things to look out for in your teammates."
Both stress that it's not about being heavy-handed, but simply in being aware.
"It's not overreacting, but taking it seriously," McKenzie explained. "It's a tough line to walk."
While they will pursue different paths after graduation in May — McKenzie, an information systems major with a minor in psychology, plans to start his career; Divis, an English major with a business minor, would like to pursue pro hockey in Europe before attending law school — they plan to create a non-profit to continue their efforts.
And they want to encourage others to volunteer and contribute as they find opportunity.
"When I walked in freshman year, I was all, 'hockey, hockey, hockey,' and if you told me I was starting a movement for mental health, a lot of my teammates would have laughed," said McKenzie.
"Things can change like that. You're capable of anything."