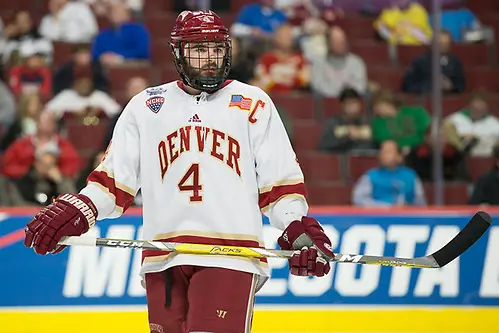 While the Denver Pioneers had a lot of offensive talent and an outstanding goalie in Mike Richter Award winner Tanner Jaillet, it's not hyperbole to say that without the presence of senior Will Butcher on the blue line, Denver might not have won its eighth national championship this year.
Butcher, our 2017 USCHO player of the year, brought his offensive talents to bear with 30 assists and seven goals, finishing fourth on the team in scoring and quarterbacking a power play that finished ranked 10th, clicking at a 21.28 percent success rate.
Defensively, Butcher anchored Denver's top-ranked defense that gave up only 1.82 goals per game. Butcher finished the year plus-27, and played a lot of minutes in the Frozen Four, especially as Denver held on in the last few minutes of the championship game against Minnesota Duluth, where the Bulldogs mounted a furious comeback attempt.
Throughout the season, Butcher stressed the team's performance, and was one of the seniors who talked about "the process." Denver finished the season 33-7-4 and won its first Penrose Cup as regular-season champions in the NCHC.
In the summer between his junior and senior years, Butcher, a 2013 draft pick of the Colorado Avalanche, was told by the Avs organization that they would not sign him. Butcher returned to Denver and in addition to being the captain and helping lead the Pioneers to the national championship, he was the 2017 Hobey Baker Award winner, becoming the first defenseman to win it since Boston University's Matt Gilroy in 2009.
In his acceptance speech, he stated that the award was a "team award [and] I accept it on behalf of my entire team at DU."
Butcher finished his four-year career at Denver with 103 points in 158 games.
USCHO awards were selected by staff members covering the Frozen Four.