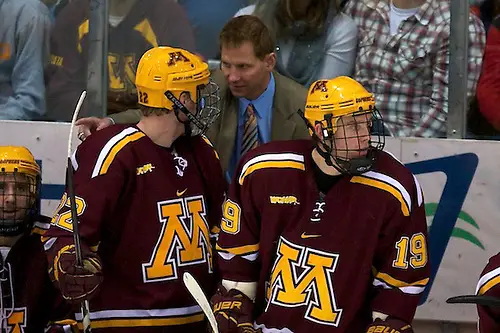 Grant Potulny was announced Tuesday morning as the third head coach in Northern Michigan.
Potulny spent the past eight seasons as an assistant coach at Minnesota, where he helped the Golden Gophers capture six regular-season conference titles and qualify for five NCAA tournaments.
"Grant impressed everyone throughout the interview process and truly earned this opportunity," said NMU director of athletics Forrest Karr in a statement. "He is a tremendous leader committed to excellence and has achieved success at each level as a player and as a coach. Grant has had quality mentors throughout his career, and it shows in his attention to detail and plan for Northern Michigan hockey. This is Grant's time to lead and continue the program's rich history."
Potulny replaces Walt Kyle, who was relieved of his duties in March.
"Grant is very deserving of the opportunity to be the next head coach at Northern Michigan University," Minnesota head coach Don Lucia said in a news release. "He's had a tremendous career at the 'U' as a player and as a coach, and it's been enjoyable to watch him grow. There's no question in my mind that he's ready to be a head coach. Grant's a great family man, and he and his family will be a tremendous asset in their move to Marquette."
"Grant will be an outstanding ambassador for Northern Michigan University," added NMU president Fritz Erickson. "He impressed me with the importance he places on academics, his passion for the game and the depth of his answers. I believe he will lead our hockey program into a bright future."
A two-time NCAA and WCHA tournament champion during his playing career at Minnesota, Potulny has also experienced success on the international stage. In 2013 and 2017, he helped the United States win the IIHF World Junior Championship as an assistant coach.
"My family and I are very excited to be joining the Northern Michigan community," Potulny said. "The hockey team has been a great source of pride for alumni, fans and students for the past 41 years. This is a wonderful opportunity, and I look forward to adding to the tradition and success of Wildcat hockey."
The NMU players are equally ecstatic.
"First, I want to thank Walt Kyle for his leadership and contributions as Northern Michigan University's head coach over the past 15 seasons," Wildcats senior forward Zach Diamantoni said in a statement. "Now, we are looking forward to starting a new chapter of Wildcat hockey with Coach Potulny. My initial impression of Coach Potulny was he's a winner. During our meeting, he demonstrated a calm, confident presence with a clear vision for success. Coach Potulny brings tremendous leadership and a winning attitude that will have a positive impact on the Northern Michigan University hockey program and community."
At Minnesota, Potulny worked primarily with the forwards and power-play units and was heavily involved in recruiting. Under his guidance, the Gophers were one of the nation's top offensive teams.
Minnesota reached the NCAA Frozen Four in 2012 and 2014. The Gophers ultimately fell in the 2012 semifinals to eventual champion Boston College and in the 2014 finals to Union.
Potulny recruited and coached 11 skaters who went on to play in the NHL: Mark Alt, Nick Bjugstad, Hudson Fasching, Erik Haula, Seth Helgeson, Nick Leddy, Kyle Rau, Mike Reilly, Nate Schmidt, Jordan Schroeder and Brady Skjei. Under his watch, seven players also garnered All-American accolades.
From 2000 to 2004, Potulny played at Minnesota, where he earned a bachelor's degree in Sport Management and was the team's only three-year captain since 1947. As an assistant captain in 2002, he netted the game-winning goal in Minnesota's 4-3 overtime victory over Maine in the national championship game. He then captained the Gophers to a second national title the following campaign.
Potulny, who finished his collegiate career with 116 points (68 goals, 48 assists) in 146 career games, went on to play five seasons at the professional level. From 2004 to 2007, he skated for the Ottawa Senator's American Hockey League affiliate in Binghamton, N.Y. He also spent time with the AHL's Hershey Bears (2007-08), Springfield Falcons (2007-08), San Antonio Rampage (2008-09) and Norfolk Admirals (2008-09).
A native of Grand Forks, N.D., Potulny was selected by Ottawa in the fifth round (157th overall) in the 2000 NHL Draft.
Potulny and his wife, Melissa, have three children: Jack, Owen and Charlotte.