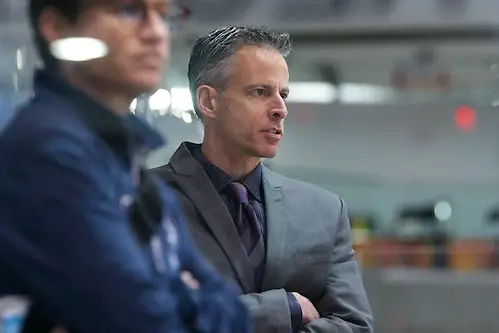 Penn State women's head coach Josh Brandwene announced Wednesday he is retiring from coaching collegiate hockey.
"Since I started in this position at Penn State, my wife's career has grown and shifted, and we now navigate two careers with high travel demands during the academic year," Brandwene said in a news release. "I've been blessed to have Leona's unwavering support for my coaching career for 25 years. It's my turn to make a change that will support her career and move into a role that enables me to spend more time with our daughter, Sophie.
"I am so grateful to have had this opportunity and for Sandy Barbour's support and her leadership of Penn State athletics. I would like to thank (assistant coaches) Dean Jackson and Lisa Marshall for their friendship and support. To the women's ice hockey student-athletes who have worked hard on the ice and in the classroom, as both your coach and as an alumnus, I am forever grateful to you for your efforts to represent Penn State the right way."
In May 2011, Brandwene was named the first head coach of the women's hockey program, which began play as a varsity sport in 2012-13. Brandwene guided the team to a third-place finish in the CHA standings in 2015-16 and the Nittany Lions posted three wins over ranked squads during his tenure, in which PSU went 49-11-20, including a 9-21-5 mark in 2016-17.
The women's hockey team has earned a perfect multi-year NCAA Academic Progress Rate score of 1000 the past two years to garner an NCAA Public Recognition Award (top 10 percent nationally in their respective sport). The women's hockey students posted the second-highest team GPA among Penn State's 31 teams during the 2016 fall semester.
During the 2015-16 academic year, the women's hockey team had ten Big Ten Distinguished Scholars (3.7 GPA) to lead all Penn State squads. The team also led all conference women's hockey teams with 21 Academic All-Big Ten at-large honorees last year and tied for the conference lead with 14 Academic All-Big Ten (3.0 GPA and a letterwinner) recipients in 2014-15. The 2016-17 honorees for both awards will be announced this summer.
"I am very appreciative of Josh's contributions and his efforts in getting the program started," PSU director of athletics Sandy Barbour stated. "I am grateful for his commitment to comprehensive excellence in all aspects of the program, including strong academic achievement and community engagement. We thank Josh for his service to Penn State and wish him the best with his future endeavors."
Jackson will continue to serve as the interim head coach, a role he assumed on Jan. 20.
A national search will immediately begin for a new head coach.