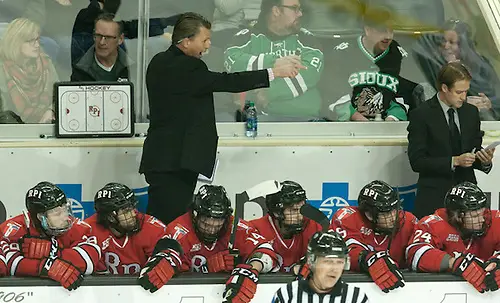 Seth Appert, with more than two decades of coaching experience, has been named a head coach of USA Hockey's National Team Development Program.
Appert is currently serving as an assistant coach with the U.S. Men's National Team at the 2017 IIHF Men's World Championship.
Appert, who will serve as the head coach of the U.S. National Under-18 Team at the NTDP in 2017-18, spent the previous 11 seasons as the head coach at Rensselaer, where he led the Engineers to the 2011 NCAA tournament and the team's highest ECAC finish in more than 20 years in 2012-13 when RPI finished second in the league.
"We're excited to have Seth join the NTDP," said USA Hockey assistant executive director of hockey operations Jim Johannson in a statement. "He brings a lot of passion and knowledge to the table and is someone we really feel like will be a terrific coach for the young players that are part of the NTDP and also a great mentor for our intern coaches."
"Seth's experience level, connectivity in the sport and commitment to development are characteristics that were important to us," added NTDP senior director of operations Scott Monaghan. "We look forward to welcoming him and his family to Plymouth."
A former president of the American Hockey Coaches Association, Appert spent the nine seasons prior to taking over the head coaching reigns at RPI as an assistant coach at Denver.
"I'm honored to have this opportunity," said Appert. "And I look forward to having a chance to work with the staff currently in place to help strengthen hockey in our country through our efforts at the National Team Development Program and across USA Hockey. I'm excited to meet and get to know our young men upon return from the World Championship."
A collegiate netminder, Appert was a four-year letterwinner at Ferris State from 1992 to 1996.