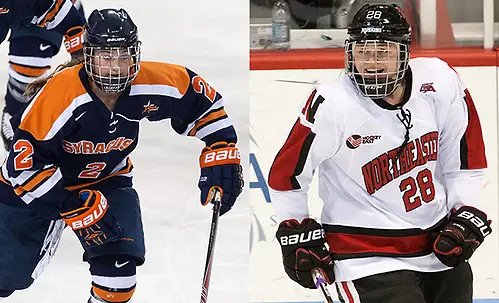 Nichols has announced the additions of Nicole Renault and Paige Savage to the women's team's coaching staff.
Renault was a four-year member of the Syracuse program, where she was a two-year assistant captain. She graduated with the most points by a defenseman in program history (81), collecting 28 points as both a sophomore and senior. She was a unanimous selection to the CHA All-Rookie Team in 2012-13 before earning First Team All-CHA honors in each of her final three campaigns. In 125 career games with the Orangewomen, Renault scored 37 goals to go along with 44 assists.
A three-time CHA All-Academic Team pick, Renault graduated from the Martin J. Whitman School of Management in May 2016. She went on to spend one season as a member of the EV Bozen 84 Eagles, a team that competes in the European Women's Hockey League. Renault helped them capture both the regular-season and playoff championship.
"I am very excited to have Nicole as a part of our family," said Nichols head coach Michael O'Grady in a statement. "Nicole brings a wealth of knowledge after having finished playing professionally in Italy. She will be a great asset to our players in helping them develop both as hockey players and young adults."
Savage graduated from Northeastern this past May with a Bachelor of Science degree in Criminal Justice. In 149 career games for the Huskies, she racked up 106 points on 37 goals and 69 assists, highlighted by a 29-point campaign as a sophomore (7-22-29) and a 28-point effort (11-17-28) as a junior. She was an assistant captain as a senior.
Currently a member of the Boston Pride of the National Women's Hockey League, Savage represented the U.S. at the U18 World Championship in the Czech Republic, and was the captain and leading scorer of the NAHA U19 team when it won the Junior Women's Hockey League in 2011-12. She has worked a series of hockey camps, including North American Hockey Elite Camp and International Ice Hockey Federation Camp.
"It is great to have Paige on board here at Nichols," added O'Grady. "She had a great career as a Husky and will help our forwards continue to improve. With Paige being a member of the NWHL's Boston Pride, she will bring a unique perspective to the staff and will help us achieve our goals."