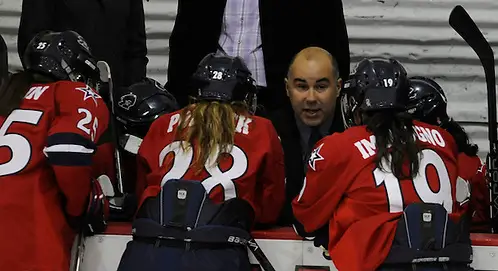 Robert Morris announced Thursday that head women's coach Paul Colontino has agreed to a four-year contract extension through the 2021-22 season.
Colontino is entering his seventh season leading the Colonials and has guided RMU to a 110-72-26 record since 2011-12, including a 58-38-16 mark in CHA play. He recorded his 100th career win with a 5-3 victory over Brown on Dec. 31, 2016 and guided the Colonials to the program's first-ever appearance in the NCAA tournament a year ago.
"We are extremely excited to extend Paul's contract," RMU director of athletics Craig Coleman said in a statement. "He has accelerated the development of our women's hockey program in recent years, and with Paul leading the program, it will be an exciting future for our young ladies."
"I'm very grateful for the continued opportunity to be a part of such a great university and community," added Colontino. "Pittsburgh is an extraordinary community with an abundance of opportunity. Christina and I have both grown to love the area and with the addition of our two boys, we know they will, too.
Under Colontino's leadership, the Colonials have won two CHA championships (2012, 2017) and established program bests for wins in a season (24 in both 2013-14 and 2016-7). Colontino has guided RMU to a .500 or better record in five of his first six seasons, including 19 or more wins three times.
"RMU is a special place when it comes to academics and athletics because the university takes such pride in the high level of quality of the 'student-athlete' experience," Colontino said. "As a coach and staff member, these values are in perfect alignment with the women hockey program thus making it a perfect fit."