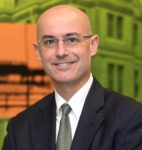 North Dakota announced Saturday that Bill Chaves is the next athletics director at the university.
Chaves, who becomes UND's 16th AD, has been director of athletics at Eastern Washington since 2007 and is a two-time recipient (2012-13, 2015-16) of national Athletic Director of the Year honors.
At UND, Chaves will oversee the school's 17-sport NCAA Division I athletic program, which currently competes in the Big Sky Conference and the National Collegiate Hockey Conference.
Chaves succeeds Brian Faison, who retired Dec. 31 after nearly a decade of service, but will serve as a special advisor to UND athletics through June 30, 2018.
"I am excited about the impact Bill Chaves' leadership will have on an already excellent athletics program here at UND," said Kennedy in a statement. "I want to thank the search committee, chaired by Provost Tom DiLorenzo, for its excellent work. Thanks in part to a new law that protected the anonymity of the applicants, we had an excellent pool to choose from. We were pleased with the selection of the four candidates, which made it a challenging decision. We received excellent input from the forums, from those who attended interview sessions, and from the search committee members. All of the candidates fared well, but in the end, Bill was a notch ahead of the other candidates."
"I would like to thank President Kennedy and the search committee for this tremendous opportunity," added Chaves. "I am deeply honored to have been selected to serve as UND's next athletics director. My family and I are excited to become active members of the UND family and the Grand Forks community, both of which we have heard so much about. Together, I am confident we will continue UND's tradition of academic and athletic excellence."
Chaves' tenure at Eastern Washington was highlighted by the installation of the first-ever red synthetic surface in America.