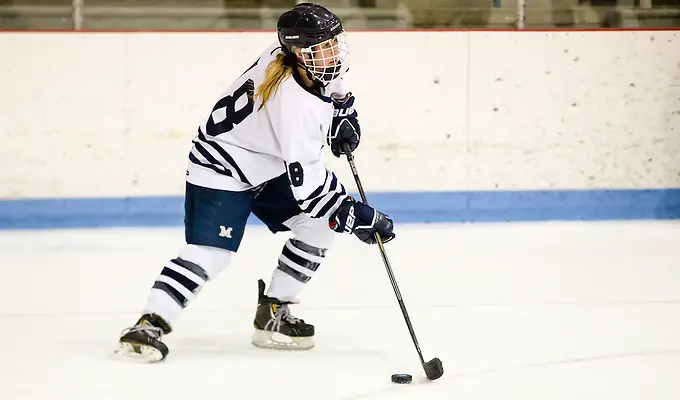 No. 1 Elmira vs. Utica
Sarah Hughson tallied a hat trick on Friday to lead Elmira to a 5-0 win. Rachel Grampp scored a goal and added two assists on Saturday to lead Elmira to a 5-2 win. Vironique Lortie and Meghan Power scored for Utica in the loss.
No. 8 St. Thomas vs. No. 4 Gustavus Adolphus
This marquee matchup ended in a 0-0 tie on Friday. Though the period shot tallies were uneven, overall, the shots were Gustavus 33, St. Thomas 32. The two teams met again on Saturday, and this time St. Thomas came out on top at home with a 5-4 win. Allie Borgstrom and Rachel Werdin put the Tommies up 2-0 after the first, but Diana Draayer and two goals from Kaitlyn Klein had the Gusties up 3-2 after two periods. St. Thomas pulled away with three goals in 3:10 to open the final frame. Klein closed the gap midway through the period for a hat trick, but it would not be enough.
No. 7 Middlebury vs. No. 10 Endicott
Madie Leidt led Middlebury with two goals in their 5-0 rout of Endicott. Elizabeth Wulf, Maddie Winslow, and Katherine Johnson also scored for Middlebury in the win.
Hamline vs. Augsburg
On Friday, Dani Perry's third-period goal with just 1:46 to go in the game was the different maker as Hamline won 1-0. On Saturday, the teams combined for five third-period goals, and this one could not be decided in 65:00 as it ended in a 4-4 tie. Madison Kolbow scored twice for Hamline, and Valerie Whichello led Augsburg with a goal and an assist.
Wesleyan vs. No. 8 Connecticut College
Connecticut College outshot Wesleyan 36-9 en route to a 3-0 win on Friday. Elana Gualtieri, Ellie Branka and Kylie Wilkes were the goal scorers for Connecticut College. On Saturday, Gina Mangiafridda gave Wesleyan the 1-0 led just 1:34 into the game and that held until Jordan Cross scored a five-on-three power-play goal midway through the third. This one ended a 1-1 tie.