With one month remaining in the Big Ten regular season, there is lot at stake in every game, every weekend. This past weekend showed us that little things matter — a lot.
1. One goal makes a B1G difference.
At 3:35 in overtime Friday night, Minnesota's Casey Mittelstadt scored the only necessary goal in the game between the Golden Gophers and the Fighting Irish. Mittelstadt's eighth goal of the season was the deciding factor in Minnesota's 1-0 win over Notre Dame, giving the Gophers their third consecutive win and delivering the second straight shutout loss to the Fighting Irish.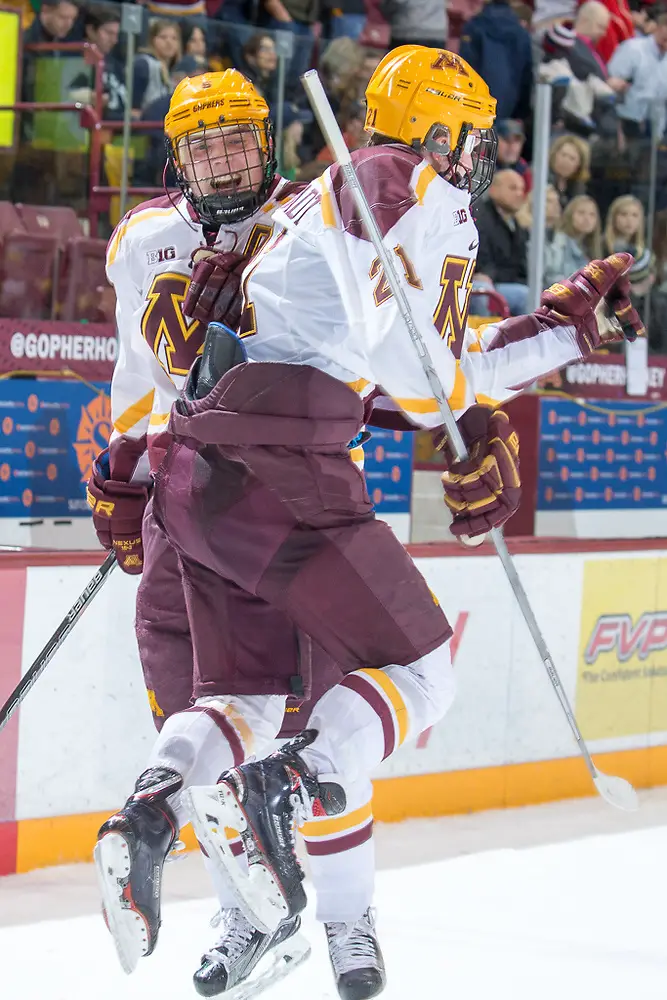 Notre Dame won 4-1 the following night, but those back-to-back conference losses for the first-place Irish cut their points lead from 14 to 11. While it's unlikely that anyone will catch Notre Dame, in a league where each game is worth three points, it's not strictly outside of the realm of possibility.
2. Two wins are a B1G deal.
With 4-0 and 5-3 home wins over Michigan, Ohio State completed a four-game season sweep of the Wolverines, which gives the Buckeyes only their third season sweep of the Wolverines in Ohio State hockey history. The first time was in October of the 1983-1984 season, when the Buckeyes won the only two meetings played that year between the teams. The second was when Ohio State took all four meetings with the Wolverines during the 1985-1986 season.
Keep in mind that from Nov. 24, 1990 to March 11, 1995, the Wolverines beat the Buckeyes 22 consecutive times — and it would be another three years after that before Ohio State would record another win against Michigan.
More than the history between the teams, the sweep earned the Buckeyes six conference points when everyone else who played was divvying things up. Ohio State entered and exited the weekend in second place, but now the Buckeyes are six points ahead of third-place Wisconsin.
3. Three goals in two B1G third periods.
In addition to Notre Dame and Minnesota splitting, Wisconsin beat visiting Penn State 4-2 Friday before the teams skated to a 4-4 tie Saturday. The Badgers earned the extra shootout point after the tie as well, giving Wisconsin five points on the weekend.
The Badgers also scored three goals in the third period of each game, coming from behind each night. Six different Wisconsin players were responsible for those third-period goals, too.
Two points now separate third-place Wisconsin from sixth-place Minnesota: Wisconsin has 25 points, six behind Ohio State; Michigan and Penn State are tied with 24 points each; Minnesota has 23 points, which is a dozen more than last-place Michigan State currently has.
This sets up an interesting series this coming weekend between the Badgers and Wolverines in Ann Arbor, especially since Notre Dame travels to Penn State, the Buckeyes host the Spartans, and Minnesota has a bye week.
[Note: A big — no pun intended — thanks to my buddy Jeff Svoboda for fact-checking my Ohio State hockey history. Jeff's the sports editor for the Toledo Blade. You should follow him on Twitter @JeffSvoboda because he knows things.]