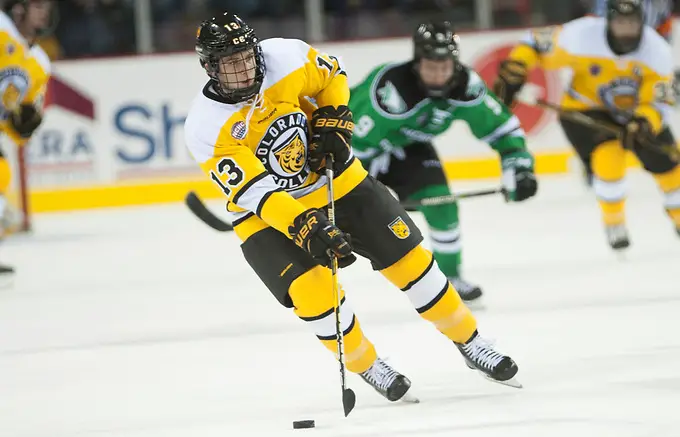 The NHL scouts know who Colorado College winger Nick Halloran is.The nation's college hockey fans should, too.
The only sophomore in the top three in NCAA Division I in points (39) and points per game (1.5) also tied for the lead in the well-regarded NCHC despite last weekend's bye. He was tied for the national lead in both categories before Monday's Beanpot semifinals.Halloran made history in the five-year-old league by becoming the first to win consecutive league player of the month honors (Dec. 2017 and Jan. 2018). Denver 2014-15 Hobey Baker finalist Joey LaLeggia (Feb., March 2015) shared the award once during his two-month surge.But despite the league recognition, the soft-spoken Halloran, 20, plays on a seventh-place team and remains a relative unknown outside the NCHC.
The Draper, Utah native is not concerned. He credits his teammates for his performance that has helped the Tigers go from averaging 1.94 goals per game last season to 3.02 so far this year.
"I am playing with good players and that is key," Halloran said. "I knew I had the capability to do something special this year and I am glad I am kind of proving myself here. It is a blast because we are winning more. That is much more important (than his points)."The combination of Halloran, junior co-captain Mason Bergh (15 goals, 34 points) and junior Trey Bradley (five goals, 25 points) gives CC its first potent line in years.That and Halloran's surging confidence, coupled with his dynamic offensive abilities — a quick shot release, skate speed and ice vision — are behind his breakout season.
"He is obviously an elite player and he can make players around him better," Bergh said. "We have benefited from each other, but he could step into any line and help those guys produce and still produce himself. He creates space for the other players and makes life easier for (his linemates)."
Halloran's rise from a disappointing nine points (five goals) in 26 games as a freshman to 39 (16 goals) in 26 games this season leads D-I in the points improvement category (plus-30).
The seeds were sown this past summer when the undrafted Halloran stayed in Colorado Springs to dedicate himself to offseason training. He entered the fall stronger and confident.
"We knew he would come back ready to go and a little pissed off," Bradley said. "Nine points was disappointing for him. You credit the line a little bit, but you have to give him respect. He is one of our hardest workers and he has the skill to lead the nation."
The coaching staff didn't expect this much improvement."We thought he could be a 25-point guy this year," Tigers coach Mike Haviland said. "You saw glimpses of it early on last year before he had a setback with an injury. Nick really did a good job preparing this offseason. His confidence coming back was outstanding and when you put that line together, it's been great."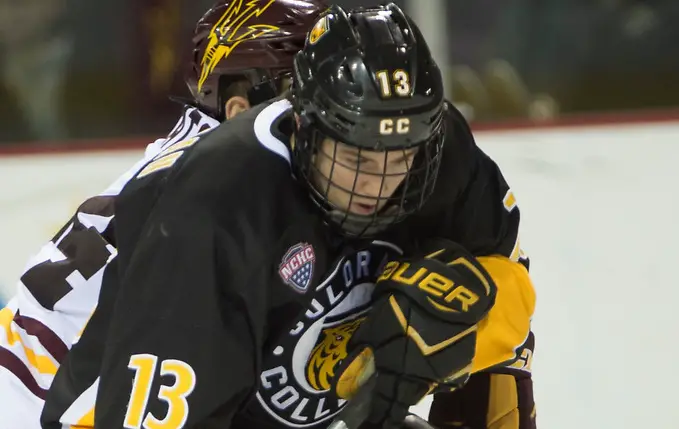 The sophomore's potential emerged while playing for the British Columbia Hockey League's Trail Smoke Eaters. The former Colorado Rampage youth standout had lived in the area while his older brother, Alex, played for Air Force.
"He took a chance on us and it has worked out for both," Haviland said. "There is a lot of NHL attention on him and rightfully so. He put himself in a position to play on a team that was on the rebuild when he got here. That is a smart decision by a young man. Whether it is college or the pros, you look for a team where you have the opportunity to play."
Now, Halloran has a chance to record the best individual season performance by a Tiger since another No. 13 (Rylan Schwartz) led D-I in points (53, including 20 goals) during the 2012-13 season. Those Tigers finished one league title game win from an automatic NCAA tournament berth.
"There is a ton of potential and I don't see any signs of him slowing down offensively," Bergh said. "I expect him to be very good for us over the next two months and next season as well."
That top line, led statistically by Halloran, are a big reason why the seventh-place Tigers (11-11-4, 5-8-3-2 NCHC) are more confident as the postseason nears.
"We like to put a load on our shoulders and try to carry the team for the team's success as much as ourselves," Halloran said. "Whoever is the hero that night, it's awesome. It doesn't matter who as long as it leads to a win. We believed from Day 1 we could do something great here.
"We still believe."