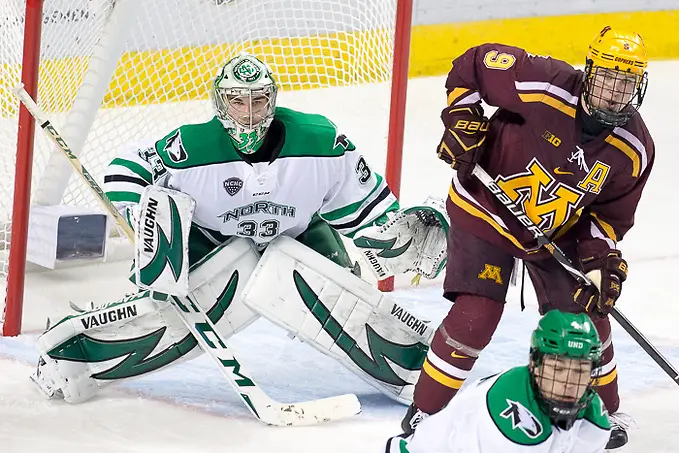 Each week during the season, we look at the big events and big games around Division I men's college hockey in Tuesday Morning Quarterback.
Jim: Notre Dame's 5-1 loss on Saturday to Ohio State did not cost the Irish their top spot in the USCHO.com poll, but it did cost them a number of first-place votes.
Four teams picked up top nods from voters with Notre Dame and Denver each grabbing 15, St. Cloud State taking 13 and Cornell earning the final seven.
What stood out to me, though, is how closely the top eight of the poll align with the top eight of the PairWise. Voters swapped No. 1 Notre Dame and No. 3 St. Cloud State, but otherwise, the top eight are identical to the PairWise.
I'd love to tell you that there is a good reason for this, but I honestly can't. I feel like generally some team or teams grab too much respect from the voters and thus when placed next to the computer ranking system, there is some significant difference.
Right now, that's not the case.
I guess when I look a bit further down, I see more disparity. North Dakota is ranked ninth in the poll, but is 12th in the PairWise. Omaha is 13th in the poll, but is tied for ninth in the PairWise. Both of those teams are probably ranked on reputation – North Dakota getting a boost and Omaha not getting as much respect.
But the point I'm taking a long time to get to: at this point in the season, is the PairWise more important and more relevant than any of the national polls?
Paula: Jimmy, that is an excellent question.
We've talked about the difference between the PairWise and the polls before, and I think they serve two different purposes.
At this point in the season, we see poll ballots synching up with the PWR, and I don't know how much of that is a function of people consulting the PWR before submitting ballots or a natural process. I think it can be argued that at every point in the season, the PairWise is more important than any poll because the process is so aligned with selection of the field of the NCAA tournament. You and I both know that some coaches and programs put a lot of emphasis on the PWR from the very beginning of the season, while some coaches ignore it completely for most of the season, choosing to focus on other motivating factors.
The poll to me, though, is really more of a snapshot of how teams and programs are doing right now in addition to their overall progress and relative strength throughout the season, and North Dakota and Omaha are good examples of that – as well as examples of how things may function by reputation.
Look at Union. The Dutchmen received 49 votes in the poll, but are tied 22nd in the PairWise, not even a bubble team. I'm one of the people who voted them into the poll because they are 7-1-0 in their last eight games. They may play in a league that is considered to be a little less competitive than, say, the NCHC or Hockey East, but they are finding ways to succeed, and they have earned votes in the poll.
Jim: Union is one of a number of middle-of-the-pack teams that are streaking right now.
Mercyhurst brought itself back to Atlantic Hockey relevance with a 7-0-2 run that included a sweep this weekend of Holy Cross. (As of press time, Mercyhurst has another game tonight against RIT, a makeup of a snowed-out game.)
Minnesota State is on a 7-0-0 run that has the Mavericks within a game of Northern Michigan for first place in the WCHA.
And in Hockey East, Connecticut is 6-0-0 after losing five straight and Vermont is unbeaten in seven (5-0-2) to make the Catamounts relevant again after spending time in last place.
It's strange to see teams that at one point were considered mediocre suddenly catch fire, but that's now become trendy in college hockey late in the season.
Paula: What better trend is there to set than that?
Every coach says he wants his team to be playing its best hockey at this time of the year, and teams that are able to recover from mediocre first halves are sometimes able to play themselves into an NCAA autobid when March rolls around.
We've talked ad nauseam here about parity in college hockey and surely that is a contributing factor to this trend, but having covered the Big Ten for its first five seasons now, I've come to understand a little bit more (I think) about the way conference hockey works and how a conference hockey schedule may play into this as well. Given that until this season B1G conference play began at the very end of November or early December, I was fortunate to see a lot of nonconference play for a couple of months before the intensity of league play for the original six teams in conference.
For the third and fourth seasons of B1G play – after teams grew more accustomed to each other – there was a kind of familiarity among the conference teams that, I think, contributed to the ability of one team or another to use the second half to improve significantly. I'm sure there's something to be said there for the Ivies as well.
I'm probably not saying this as elegantly or as clearly as I should, but once the hard end of conference play begins in the second half, some teams are able to hone in more efficiently of what they know of other teams and what they know of themselves when facing those opponents.
Of course, some of it is pure chance, the changing mix of players from year to year, a given team's injury situation, the way that some teams sometimes need half a season to adjust.
A Tip of the Cap…
Jim: … to hockey alumni from New Hampshire that showed up in full force to support retiring head coach Dick Umile on Saturday night.
The single-file group stretched from one goal line to the other at Towse Rink to honor Umile's 28 seasons behind the bench at his alma mater.
Personally, I hope there are more Dick Umile's in life. His personality, which combines the fiery Italian with a compassionate friend that everyone loves being around, will be missed when he retires at the end of this season. Hopefully, like former Massachusetts coach Don "Toot" Cahoon, he might find the desire to keep his foot in the game through a TV role (or really anything that keeps him in hockey rinks).
Paula: What an amazing display from the New Hampshire alumni – amazing, but not surprising to anyone who knows Dick Umile.
He is one of the warmest, friendliest coaches in Division I hockey and I know I will miss the opportunity to run into him occasionally through nonconference and tournament play.