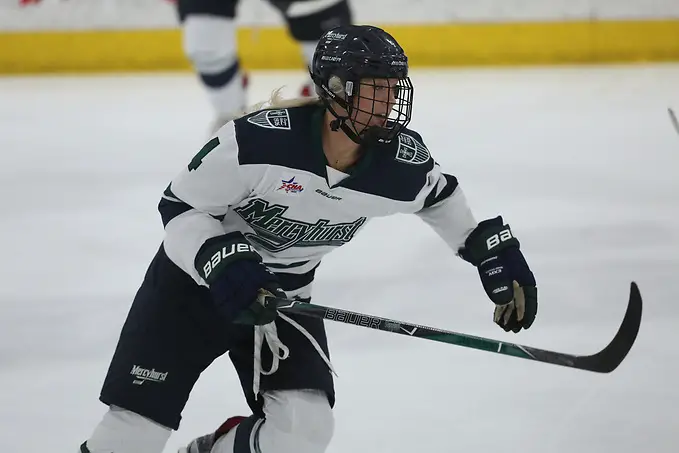 Nicole: Candace and I do weekly picks, and there's nothing better designed to make me feel like I barely have a grasp on what's been happening week to week. I suppose overall we've got mostly the final eight that we imagined we would, but as this season has progressed, I've often felt like throwing my hands up at the idea of trying to get a grasp on which teams might win and which might surprise folks.
I thought we might see some shakeups in the conference tournament, and Hockey East seemed the most prime based on regular season results, and man did Connecticut deliver. Though, really, only the ECAC tournament seemed to go according to plan. Mercyhurst completed the comeback on Robert Morris. Minnesota won out to ensure their postseason and upset the two teams that finished ahead of them in the WCHA. And Northeastern took down Maine en route to winning their first ever Hockey East crown.
You've been around the game longer than I have — do you remember another year like this one? I know Olympic years often provide some chaos, but the way the final few weeks played out certainly feels more dramatic than any in recent memory.
Arlan: Maybe every year feels more chaotic than those that preceded it because we've had many months or even a decade or two to become accustomed to what took place in the past. Whether what happened back in the day was expected or unexpected at the time, we've adjusted to it. Overall, this is a sport that is really still waiting on its first huge Cinderella story.
The 2007 NCAA tournament was by far the most chaotic in my memory. Three host teams lost in the quarterfinals, two in overtime. The fourth host, defending champion Wisconsin, needed four overtimes to score the one goal it needed to defeat Harvard. How did we follow up all of that drama? With an uneventful Frozen Four dominated by the Badgers, where neither St. Lawrence nor Minnesota Duluth was ever able to challenge them. Jessie Vetter allowed a single goal that weekend, and that goal only allowed the Bulldogs to close to within 3-1, and it took her teammates all of 10 seconds to answer and restore the winning three-goal margin.
Vetter's Badgers succeeded in sucking the life out of the opposition again two years later in 2009, outscoring UMD and Mercyhurst by a combined 10-1. People who follow hockey will tell you that a 1-0 game can be as exciting as a high-scoring game, but it is tough to sell games where one team dominates and wins by four or five goals.
I also don't think it is good for the long-term growth of the sport if you can look at the top four teams halfway through the season and count on all four being at the Frozen Four every year. For a while, it has felt like that is where we are headed.
Boston College has gotten progressively more wobbly as the season has unfolded, and Colgate blew a three-goal lead in a span of four minutes down the stretch against Cornell, but both should be sizable favorites in the quarterfinals. The Raiders in the semifinals would at least be something new and different. Wisconsin has looked for some time like it was destined for a return trip to the NCAA Championship Game, and at this point, would anyone bet against a rematch with Clarkson?
So for all the conference tourney upheaval this weekend, where is our NCAA Cinderella this year? Northeastern, a team that hasn't really been on the NCAA radar for quite some time now? Okay, but Connecticut would have made a better fairytale. Mercyhurst, the perennial CHA champ that was absent for a year, wasn't expected to do much early, surged midway through the year and looked like the season champ, and then fumbled away its spot in the standings? They come from the right place in the PairWise, but the name has appeared in too many NCAA brackets. Minnesota? Please. After 11 straight years and 16 trips in 17 tournaments, I'm thinking, no.
What does that leave us for a Cinderella? Ohio State, a team that joins Colgate as a first-time participant? I grew up in the days when the Big Ten still had 10 teams and was often called the Big Two, Little Eight. The Buckeyes were the larger of the Big Two in those days, so I guess I'm back to Northeastern. Can you embrace a Cinderella who reached the NCAAs by knocking off heavyweights Maine and Connecticut?
Nicole: While I agree that having the same top teams isn't necessarily great for the sport, a few years ago Boston College wasn't one of those teams. Neither was Clarkson. And there are teams that used to be perennial favorites that aren't in the conversation now. The history — and therefore support and resources — of teams like Minnesota and Wisconsin will tend to always make them part of the conversation, but it seems clear that there is room for programs to grow and be a part of that elite group.
Looking at teams that finished in the final polls in the history of the game as an NCAA sport, Wisconsin and Minnesota top the list, but the next few teams are Minnesota Duluth, Harvard, St. Lawrence, New Hampshire, Dartmouth, and Mercyhurst — only one of which is in this year's tournament.
But enough of a history lesson, I suppose. I'll start with the CHA. I'll admit Mercyhurst wasn't really on my radar early in the season. They played a tough nonconference schedule to open the year, with six of their first eight against ranked teams. All told, they played series with four of the other tournament teams, something that likely prepared them for the final run. Overall, they ended up 18-14-4, but they were 13-4-3 in the CHA. I think we all expected Robert Morris to repeat as champions, and the Lakers quietly snuck up the standings and were pushing the Colonials for the top spot over the final few weekends. The two couldn't have been closer — just seven goals separated them over the course of five games, and they split their regular season series.
In the end, I shouldn't be surprised that coach Michael Sisti and the Lakers made the comeback and took the tournament title and auto-bid. Now they face the tough task of No. 1 seed Clarkson. Did you get to see much of Mercyhurst this year? What's your take on how the CHA shook out this year?
Arlan: Sadly, I saw little of Mercyhurst, or of anyone else from the CHA. I didn't see any CHA teams play in person this season, and that league doesn't have anyone that streams all of their home games for free, as teams like Boston College, Boston University, Northeastern, Clarkson, St. Lawrence, Quinnipiac, and Minnesota State do. I remember watching Robert Morris at Maine, a few games from Penn State, and a little of the Lakers playing at Colgate. I would have driven up to Bemidji to watch Mercyhurst take on the Beavers, but they played there in the middle of the week in early January, and it would have meant missing work. Those teams split 2-1 decisions, so it was likely good hockey. It also serves as a bit of a measuring stick, as BSU was a common opponent with Clarkson.
Mercyhurst's title is definitely a vote in favor of playing a tough schedule, as you said. The Lakers played eight games versus eventual tournament teams during the first half, as well as another top-10 team in St. Lawrence. Did that help them to survive Syracuse in overtime in the CHA semifinals before rallying with a three-goal second period to dethrone Robert Morris? It must not have hurt.
Emma Nuutinen got some additional seasoning while earning a bronze medal in PyeongChang; that paid dividends for the Lakers as well when she led the way with two goals and an assist against the Colonials. Another key in the resurgence of Mercyhurst was the play of freshman Kennedy Blair in net. She has a save percentage of .934, the best by a Lakers' starter since Desirae Clark back in 2005, the year Mercyhurst appeared in its first NCAA tournament. Shoring up that position went a long way to closing the gap to RMU.
As you said, the Lakers' reward is a date with the Golden Knights. This may be something we see on a fairly regular basis, if Mercyhurst remains the boss of the CHA, and Clarkson hosts more often that not. Stylistically, it isn't a bad match up. Mercyhurst has proven to us over the years that it should not be disregarded in the quarterfinals. In particular, the Lakers physical play and blue-collar work ethic has caused problems for opponents. In this matchup, I think that it may be a case of Clarkson doing many of the same things, but just doing them better and possessing another level to which it can rise.
What did you think of Clarkson's march to another ECAC title? Have the Golden Knights separated from the rest of the ECAC, and maybe, the rest of the country?
Nicole: The Golden Knights swept the major Individual ECAC awards last weekend before winning their second-straight conference tournament championship, which is probably a pretty good indication of where they stand among their peers. That being said, they finished the regular season tied with Colgate. That the Raiders kept pace all season and Clarkson could never really pull away does say to me that their dominance isn't necessarily a given. Or at least that their dominance isn't happening on its own.
Of course, both teams lost just three conference games, so there's not a lot of room for either of them to separate themselves. I did feel like I was waiting for Clarkson to sort of have that proverbial dagger and pull ahead, and it never happened. That's probably unrealistic since we're talking about just three losses, and I may be underestimating Colgate when I say that. It took me a little time to buy fully in on Colgate — I wasn't sure if they were going to hold on and go the distance this season, so I kept waiting for Clarkson to separate themselves and really be that clear and dominant number one. As much as I watch games on steams, I find I have a hard time getting a true feel for a game that way. The usually fixed camera and not-always-the-best production quality always make it hard to really get a read on a team, so I know my feel for both Clarkson and Colgate isn't the same as if I'd been able to watch them quite a bit this season.
I never quite know how much to take an Olympic year into account. Is it of note that the Golden Knights and the Raiders are the only teams in the top five that aren't missing players this season? I'm not sure if you're asking if Clarkson separated from the pack this season or overall, but I definitely think every other team in the tournament is aware of if and when they'll play the Golden Knights, and a friend who's seen more games in person than I have said he thought most folks were not scared enough of Colgate.
You mentioned Boston College's somewhat wobbly finish to the season. I'm kind of stuck on what to think of their chances in this tournament. On the one hand, I've seen how very good they can be, especially offensively. While the focus has been on Daryl Watts and Caitrin Lonergan, they have quite a bit of scoring depth. But they've shown a couple of times this season — especially in their multiple games with Connecticut — that a great game from a goalie can leave them stymied. Kassidy Sauve has been out for Ohio State, and I have no knowledge of whether or not she'll be on the ice for them this weekend, but if there were a goalie capable of turning in a season-changing performance this year, it's her. I'm super intrigued by this match up. What do you make of BC going forward, and how do you think Ohio State and Boston College match up?
Arlan: If this was a random game in November, I wouldn't mind buying a ticket and watching. I think it should be a very entertaining contest.
I grew up during the days when Muhammed Ali was the king of boxing. Self-proclaimed "The Greatest," Ali often fought like it. One time he didn't was against a then little-known Ken Norton, who landed a punch that broke Ali's jaw early in the fight. Against any opponent, BC will always have a puncher's chance, because all of the offensive punch that Katie Crowley has at her disposal can score a knockout at any time.
The other team can play very well for most of the game, but if Watts, Lonergan, and company explode like a bomb, then the game may end before the Eagles' weaknesses can be exploited enough to earn the bigger number on the scoreboard. If we were watching last season's Sauve, then I'd better like OSU's chance of thwarting all of that offense, but we haven't seen that level from her as often this year. Ohio State could still potentially win a scoring contest with its lesser-known weapons. The Buckeyes are a team that can strike quickly in transition, the type of team that could conceivably hurt BC. If Emma Maltais or Tatum Skaggs fires a puck into the net, it will count just as much as if Watts or Lonergan would. Like a heavyweight fight between two fighters who own big punches, it may come down to which can hit the other first.
While I think that BC has that chance of hitting a grand slam against any team in the tournament, because of the offense that it possesses, the Eagles should be a big favorite against an Ohio State squad that may not take the ice with its best player, and even if she plays, I doubt she'll be 100 percent. That may mean that Katie Burt provides the Eagles with the key advantage. BC also has an Achilles' heel, so favorite or not, we can't yet write its name into the FF bracket in permanent ink.
Before we move to the other side of the bracket and look at the Colgate and Northeastern pairing, how do you expect that OSU at BC will turn out? I think BC advances, due to the edge in experience as much as anything. This stage is old hat to BC; the Buckeyes are still learning that there even is a stage.
Nicole: The Buckeyes feel like they could be sneaky dangerous, maybe for the exact reasons you stated. They haven't been there before. Everything from here on out is bonus. There's no pressure. No expectation. BC definitely has the experience factor, but they've also got quite a few years of having a really great team and not making that final step. That lack of a title is something that's got to be weighing on their mind. And all kinds of things have lined up for them this year despite what they "lost" and to come up short again would be a big disappointment. There's nothing else for them to accomplish. Making the Frozen Four is ho-hum. They want the trophy.
You're right that OSU is going to need Sauve, and they have to hope that she's as close to full strength as possible. I disagree with you about the importance of Burt, though. I think if Boston College is in a position where they have to rely on Burt, the game is already well on the way to out of hand for them. The Eagles have to control and hold the puck and keep play away from their defense. If Ohio State is getting regular access to Burt, they have put a huge dent in what makes BC so effective, and they've gotten in on the defense that we've lamented all season. The game plan can't be to hope that Burt can help or save them. That's giving up way too much of the ice to the Buckeyes.
The game I probably know the least about is Colgate and Northeastern. I mentioned above that I probably underestimated the Raiders, and Northeastern is a squad that's been impossible to pin down. There's a ton of potential there, but they were so inconsistent. A bit like with Connecticut, I expected more from NU all season, and they only delivered on it occasionally. They have so many great pieces. How do you see that game playing out?
Arlan: There is something about Colgate that I really enjoy. It could be that its success is still a bit of a novelty. It could be the way that the Raiders play. They always seem dangerous, and offense could come from any quarter. They have a lot of very entertaining players; Greg Fargo's talent may be second to none.
Colgate also has something missing. For much of the game, it lacks … urgency, I guess, for lack of a better word. It's almost like an attitude of, "We'll win the game later, but for now, we'll try some low-percentage, behind-the-back pass that is unlikely to yield much in the way of a reward, might cost us the game, but hey, you only live once!"
If we can get three games of Colgate playing like every minute matters, then I believe that your friend could be right, and everyone should fear the Raiders. As it is, I like their chances to get at least as far as Minneapolis, if their goaltending holds up.
Northeastern is a somewhat similar team, with good offensive potential, talent throughout the roster, but goalies that can be on and off. They met earlier this year, in the same building where they'll play Saturday, and it was Colgate winning convincingly both days.
Back then, the Raiders were riding Liz Auby in net, and she certainly had the hot hand. Julia Vandyk has been getting most of the minutes since then, and of late, the results have been mixed. Cornell allowed four goals to Harvard in its postseason debut, and Cornel scored four times Saturday, including the late meltdown by Colgate's defense. It's hard to feel too confident in a team that can't close out a big game when it leads by three goals.
Of course, Northeastern has defensive woes of its own. The one thing that may be in the Huskies' favor is that I feel like they may be the more-improved team since that series back in October. Still, Colgate hasn't lost to anyone other than the nation's top team since Dec. 1, so your friend could be dead right.
That leaves us with the game that should be the easiest to predict, given we just saw it on Sunday. What do you think we'll see from Bucky Badger versus Goldy Gopher, Part VI?
Nicole: I'm not sure how objective either of us can be about this matchup, but we can certainly try. The Badgers are definitely not thrilled about holding the top spot for most of the season, only to drop to two at the end and earn another game against their rival. This Wisconsin team did something no other Badgers squad had ever done — swept a regular season series against the Gophers. There reward is two additional games against them. While I do agree with your assessment that the Badgers likely win this game, especially at LaBahn, where they are so, so good and feed so much off the crowd, I also have a difficult time believing any team (and I mean ANY team, past or present) could beat the Gophers five of six times in one season.
I know you don't agree with me, but I maintain that the relative talent level of either of these teams isn't particularly important when they meet. Part of that is because neither team is actually able to play their game the way they'd like. These games are always good, but they're rarely pretty. There's not a ton of completed passes or long possessions. There is a lot of interrupted play, poke checking, slapping at the puck, and transition. It makes it difficult for either team to really play to their strengths.
One big thing that stood out to me in Sunday's game is how much it felt like the teams had sort of switched roles and styles. Wisconsin puts a ton of shots on net and works on redirecting the puck, grabbing deflections and burying rebounds. Mark Johnson lives by the words "capitalize on opportunities." Instead, it was the Gophers that scored that way. It's fairly unusual to see Minnesota play for the redirect. Brad Frost said after Sunday's game it was about making quicker decisions so that the Badgers couldn't close on them and shut down lanes and trying to find a way to get the puck past Kristen Campbell. On the other end, the Badgers were much more focused on trying to pick a spot. They were looking to go high on Sidney Peters, and that meant many of their pucks went over the crossbar and back to the boards. All the second- and third-chance opportunities that tend to be their bread and butter weren't even an option. For a team that struggles to score at times, I'm not sure that limiting opportunities was the best path.
Arlan: It gets hard to talk about Wisconsin versus Minnesota, because we see it so often, we write about it so often, and many of the games wind up being contests where it is hard to advance the puck more than 20 feet at a time. Sunday's third period had drama, but much of it was created strictly by the scoreboard and weight of what was riding on the game. Icing, offside, puck deflected out of play, goalie covers puck, icing. Okay, that took care of 60 seconds off the clock. There were just so many whistles. If I wandered in off the street and didn't know anything about the teams involved, would I stay and watch? I suppose I would if I had a thing for faceoffs.
I suspect that Minnesota had to burn a lot more fuel on Sunday than the Badgers did to get that result. It's not that the Badgers weren't trying; they battled very hard, but they wanted the game; the Gophers had to have it. Now, both teams are in the same boat, Wisconsin will be every bit as motivated, if not more so, and I'm not sure that Minnesota will get two tips to go into the net off of metal. As Mark Johnson said Sunday, his team didn't give up a whole lot else.
Much of that was thanks to the play of redshirt junior defenseman Maddie Rolfes. Other than goalies, I thought she was the most impactful player on the ice this weekend. She was constantly anticipating what was going to happen and turning play to the other direction.
Unfortunately for the team from Madison, it has played a few big games in recent years where it can't afford to allow even two goals. Why? Because the Badgers sometimes feature the game's greatest offense that doesn't score. Granted, there are sometimes better offensive teams, and this year, understandably so. Johnson has done well to patch together an offense from young stars and former role players, but for all the mayhem that they create while on the forecheck and the quality scoring chances that result, the goal light stays unlit quite often.
At the other end of the ice, the Badgers defense is second to none, unless you're talking about this season, and then it is second to Clarkson. It's definitely far better than Minnesota's defense, so unless Sidney Peters plays out of her mind in her final appearance in Madison, Wisconsin will be bound for its fifth-straight Frozen Four, while stopping the Gophers' FF streak at six.