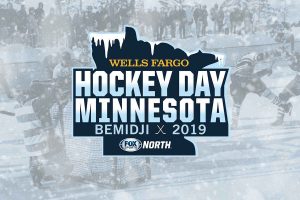 The 13th Annual Hockey Day Minnesota schedule has been announced and Bemidji State's men's and women's teams, along with Minnesota State's women's team, will take part.
The three-day event will take place Jan. 17-19, 2019.
Bemidji will serve as the backdrop for the outdoor rink constructed on Lake Bemidji's south shore.
Preparations to the site located just west of the Sanford Center parking lot are already underway. In addition to power, lights, a scoreboard, video boards and temporary seating for over 3,000 spectators, the organizing committee is making plans to have food and beverage tents and VIP areas protected from the elements to be installed.
"The bar has been raised every year for this event and we are working to make it even bigger and better," said Bemidji Local Organizing Committee marketing lead Brian Bissonette in a statement. "I'm confident our city, our region, and the state of hockey will be very proud of Hockey Day Minnesota Bemidji 2019."
HOCKEY DAY MINNESOTA SCHEDULE
(All times Central)
Thursday, Jan. 17
7 p.m., Bemidji vs. Woodbury (high school girls), Lake Bemidji
Friday, Jan. 18
7 p.m., Bemidji State vs. Michigan Tech (men's NCAA), Lake Bemidji
Saturday, Jan. 19
9:30 a.m., Minnetonka vs. Andover (high school boys), Lake Bemidji
1 p.m., Bemidji State vs. Minnesota State (women's NCAA), Lake Bemidji
4:30 p.m., Bemidji vs. Greenway (high school boys), Lake Bemidji
7:30 p.m., Bemidji State vs. Michigan Tech (men's NCAA), Sanford Center
8 p.m., Minnesota Wild vs. Columbus Blue Jackets (NHL), Xcel Energy Center