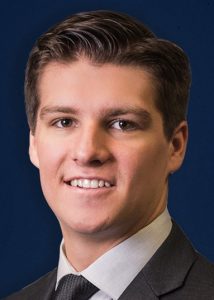 The Penn State men's team has announced the hiring of Andrew Magera as volunteer assistant coach for the 2018-19 season.
Magera, who's currently finishing his degree in Business Administration at South Dakota State University, has served as a skill development coach for Legend Hockey since 2012. The Sioux Falls, S.D., transplant has also served as a main camp evaluator for the USHL's Sioux Falls Stampede and Fargo Force over the past two seasons.
He has also served as either a head coach or assistant coach at various levels of youth hockey in the Sioux Falls Jr. Stampede AAA organization since 2015.
"I am both thrilled and honored to be a part of the prestigious hockey program here at Penn State University," said Magera in a statement. "I want to thank Guy Gadowsky and the rest of the hockey staff for this opportunity."
Last season, Magera also served as an assistant coach for the WSHL's Idaho IceCats, helping the team secure the Northwest Division championship with a 44-3-3 overall record.
"Andrew comes highly recommended as a hungry, up-and-coming coach," added Gadowsky. "His work ethic and the way he handles himself on and off the ice will be a great fit for our program."