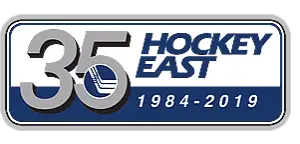 Hockey East announced Monday the new playoff format for the 2019 conference tournament.
Just eight teams will advance to the playoffs and compete in one round of best-of-three series on campus sites March 15-17. The winners move on to the TD Garden for the 35th annual championship weekend on March 22-23.
"The new format will only amplify the value of our 2018-19 regular season," said Hockey East commissioner Joe Bertagna in a statement. "Given our recent history, we expect a slim margin between those who make the playoffs and those who will not. The fans will be among the beneficiaries of this change as competition down the stretch is certain to be intense."
The four highest seeds will earn hosting duties for the quarterfinal round, welcoming seeds five through eight on campus. The four winning teams will then be reseeded.
Ticket information for the tournament will be made available at a later date.