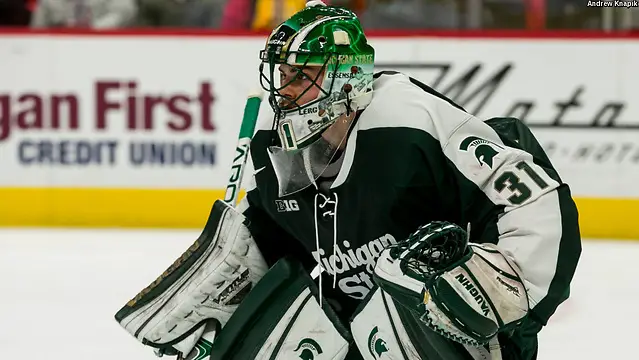 Each week during the season, we look at the big events and big games around Division I men's college hockey in Tuesday Morning Quarterback.
Jim: Paula, I'm going to start this week by talking about goal scoring.
Ed Trefzger, who co-hosts the USCHO podcasts with me, pondered whether scoring is increasing in college hockey. This weekend alone, six times teams scored seven or more goals in a game. Twice, teams scored six goals and lost. This follows last weekend where Penn State put up 11 goals on a night where Robert Morris had its best offensive explosion of the season, scoring six times and losing by five goals, 11-6.
So Ed, knowing how to parse data pretty well, pulled statistics over the last 20 seasons to see if this season stands out for its offense.
Surprisingly, it doesn't.
In fact, compared to goal scoring over the last 20 years, this year is down about one-tenth of a goal per game. Compared to the last 10 years, this season is right on par. And this past weekend, well, goal scoring was actually down by almost a quarter-of-a-goal per game compared to the rest of the season.
There are teams that are exploding offensively, certainly. But there are also plenty who are excelling defensively. Twelve teams possess a goals-against average of 2.00 or lower. Seven weeks into the season, 37 different goaltenders have posted at least one shutout and six have posted three shutouts.
So I guess I'll start with a question: Which wins – a potent offense or a rock-solid defense?
Paula: Jimmy, what a great question and it's one that I've been thinking a lot about lately.
It's a rare team that can win on offense only, it seems to me, without the benefit of a rock-solid defense as well. Only four times in the last 20 years has the team that has won the men's D-I national championship allowed three or more goals in its title game.
Even though Minnesota Duluth had an offense that could completely overwhelm especially early in games last season, the Bulldogs won a pair of 2-1 games in last year's Frozen Four, scoring all four of their goals in the first periods of each game they played and then smothering both Ohio State and Notre Dame, two of the best defensive teams in the country — and Ohio State was among the best offenses last season, too.
I think, too, that during the regular season and especially in conference play, a team can go very far with an offense that can overpower teams, and such squads are those who can turn up the offense in third periods to simply take games away from their opponents. In the national tournament, though, that defense is essential.
It's surprising to me that offense isn't up, but maybe because it's precisely because teams are playing better defense overall that we are struck so much by the teams that are simply exploding this season. I know I've been struck with the number of goalies that have posted shutouts so far this season and by the improved team defense I've seen in person among Big Ten teams.
The goals, then, are the shiny anomaly that captures our attention.
Jim: It's funny that you mention improved Big Ten defense because with some of these massive offensive outputs coming from some Big Ten teams, I wanted to see how each team's defense ranked.
Actually, it's not that pretty.
Of the seven Big Ten teams, five ranked 23rd or lower in team defense, including the two combatants that squared off in somewhat defenseless games this past week – Michigan and Penn State.
Both have potent offenses, but Michigan's defense ranks 56th out of 60. Penn State's defense is 49th. The only two strong defenses in the Big Ten are, not surprising, the top two teams in the national rankings – Notre Dame's defense ranks seventh while Ohio State's is tied for third. So it's quite possible that our hypothesis that offense is fun to watch but defense wins championships might be right according to this small data point.
On another note, I wanted to talk about Denver. The Pioneers remain a top team in the USCHO.com poll. Over the last two weekends, they've played the top two teams – St. Cloud State (now No. 1, but was No. 2 when they played them) and Minnesota Duluth (was No. 1, now No. 2) when they played this past weekend.
I'm sure Denver fans can take the positives from those two series – namely that Denver shut out Minnesota Duluth and Friday and held multi-goal leads in every one of the four games. The downside, though, is that Denver lost three of those leads, twice letting slip two-goals leads to St. Cloud State and, this past Saturday, blowing a 3-0 third period lead and losing in overtime to Duluth.
If you're a Pioneers fan, are you looking at this as a glass half-full or half-empty type of scenario?
Paula: Ah, before I get to Denver, maybe I should clarify: I've seen more Michigan State hockey than anything else this season, and in the games I've seen, the Spartans are playing overall better team defense.
Also, this past weekend, I saw Notre Dame Friday night inside Munn Arena, and it was a very good defensive game.
One more thing before Denver: My impression is that overall, B1G hockey is playing better, more cohesive team defense but that goaltending isn't as strong this year and I've seen some really sketchy play down low. That's my story and I'm sticking to it – so far.
As for Denver, if I were a Pioneers fan, I wouldn't be happy with the results of the last four games and it's such a mixed bag that it's difficult to know how to view it. On the one hand, you can say that the Pioneers were competitive against two of the top programs in the country and the two teams that are likely to be competing for the regular-season NCHC championship. Those blown leads, though, are painful … but, again, it's the first half of the season, and the Pioneers may benefit in the second half by learning from these two most recent series. Denver doesn't get another crack at St. Cloud but does see Duluth in the second half.
Switching gears to the WCHA for a moment, it's nice to see Alabama Huntsville get its first win of the season after starting the year with 10 straight losses. The Chargers scored a goal in each period of Friday's 3-1 win over Alaska in Fairbanks, a game in which sophomore Mark Sinclair made 44 saves. Sinclair has a .931 save percentage in the eight games he's played this season, so it's safe to say that he hasn't been the issue in Huntsville.
And speaking of defense as we were earlier, Bowling Green has the stingiest defense in the country, allowing 1.69 goals per game, but in their weekend split with Lake Superior State, the Falcons lost 5-0 and won 5-2. In overall play, they're outscoring opponents 47-22; in conference play, they edge WCHA opponents 11-10.
That is a conference that looks particularly competitive and tight to me, with the promise of really exciting conference play. Atlantic Hockey is also shaping up that way as well, even if only at the top.
Jim: The WCHA has become a conundrum for me.
We both know that teams in the league have posted some really impressive nonconference victories this season, but as a whole, the WCHA has a .391 winning percentage in nonconference play.
A lot of the blame for that can be put on the bottom of the league. Aforementioned Alabama Huntsville, Ferris State, Alaska and Bemidji State account for 18 of the 32 nonconference losses, while contributing just four of the 20 wins the WCHA has had out of conference.
That said, the top teams are pretty strong, particularly Minnesota State. At 9-1-0 overall and 4-0-0 in conference play, the Mavericks have outscored their opponents 45-20 thus far. In conference, that margin is 19-4.
The tests are coming for Minnesota State, though.
Eight of the next 10 games will be on the road for the Mavericks, with at least five against teams that are currently nationally-ranked. If this Minnesota State can pass these tests, though, you'd have to think that we could be in a position to see the first WCHA team in the realignment era of D-I college hockey to reach a Frozen Four.
Paula: I know a lot of fans of the now-defunct CCHA and the WCHA as it was before its current iteration who would be happy to see that as a possibility.
While there is a lot of hockey to be played yet this season, if what we're seeing early is an indication of what we may see in March, the landscape of postseason will be a very different thing. Arizona State is currently No. 7. There are three ECAC teams among the top 15 and two WCHA teams. Also, UMass is currently No. 1 in the PWR. The Minutemen have made one appearance in program history in the NCAA tournament, in 2007 with an at-large bid.
It's so early, but it's so very interesting.