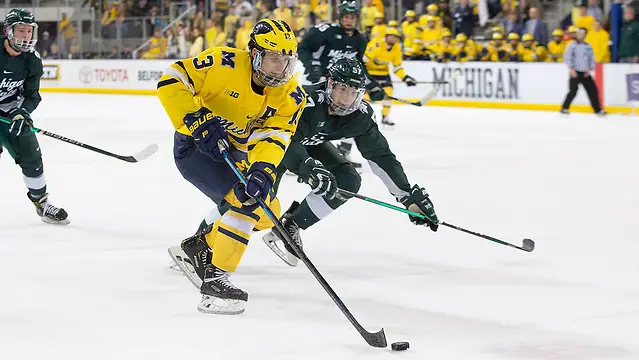 ANN ARBOR, Mich. — With Taro Hirose's second-period power-play goal and Drew DeRidder's 16-save performance in the third and overtime periods, Michigan State managed to come from behind to knot Michigan 1-1 and hold the Wolverines at bay to earn an official tie just one night after winning 4-3 in East Lansing. Those four points against the Wolverines were something the Spartans hadn't been able to earn in a single weekend since the 2016-17 season.
With Brennan Sanford's fourth-round sudden-death shootout goal, Michigan State's weekend got one point sweeter, giving the Spartans five of six possible conference points against their traditional rival.
"It's a win for our team," said Sanford. "We consider it a sweep. It's just a battle, and as a senior, to be able to say we swept Michigan and I was able to get the game winner, it's special."
"It is brutal," said Michigan coach Mel Pearson. "If you walked into that locker room now, you would think something drastic had happened. It's tough. It is a big rival. They take it seriously. They take it to heart.
"And we felt like we deserved better. That is the frustrating thing. I think we had two pretty good games and got one point out of it, but that is sports. It is a tough night for all of us."
"That's an exciting game and everybody had bonus hockey," said Michigan State coach Danton Cole. "It's funny. You get to the shootout and it's a point in the Big Ten standings, but you just feel a lot better afterward winning the shootout, even though it doesn't make a huge difference. I should say it does in the Big Ten standings but nationally it doesn't.
"Both teams battled. Both nights were real intense, kind of different games, but we ended up on the right side of it and that makes the bus trip home a lot better."
The Wolverines outshot the Spartans 36-18 in the game, including a 6-0 differential in the five-minute, five-on-five overtime period, but Michigan could solve DeRidder just once, when Nicholas Boka scored his first goal of the season on the power play at 8:13 in the first.
DeRidder made 43 saves in Friday's win for 79 on the weekend. Cole said that DeRidder had a solid weekend in two very different hockey games. "There were probably more clean chances yesterday, like in tight, so he had to scramble a little bit more tonight," said Cole. "We kept some things to the outside. Our back pressure was better, there weren't as many clean looks off the rush so in that way a little easier, but I thought he was better in terms really controlling the play and his rebounds and got us some faceoffs when we needed them."
DeRidder shrugged off his own performance. "I don't know. I'm just doing what I know best. Just playing hockey. Doing what I've prepared for."
The game was choppy in spots, with each team dominant in stretches and Michigan having the better chances for most of the night. It was not the kind of game that the Wolverines wanted to play, said Pearson who admitted Michigan could take some of the blame for that, while the Spartans could take much of the credit.
"We're in a situation now where we're not scoring goals. We're not scoring a lot of goals and we can't get any separation from the teams we're playing," said Pearson. "I thought we had opportunities tonight to get up on them, or create a couple-goal spread, and then it's a different game, but we couldn't.
"They played a perfect road game. They got great goaltending, scored on their chance and then just that's that. That's the way they play. They have people back. You're not going to get a lot of odd rushes. You've got to grind it out against them. You've got to grind it out. They clog it up. You have to play an ugly game. Unfortunately, it's an ugly game. They're not interested in playing up and down and creating an entertaining game. They want to slow it down, clog it up and play ugly. We've got to learn how to play in those games."
"I thought we played all right," said Cole. "We battled. It was a close-checking game by both teams. I thought both teams did a good job. Our penalty killers came up real big. Drew made a couple good saves. That just adds to the excitement of it."
After 65 minutes of regulation plus overtime, the game went into the books as an official tie and the teams played five minutes of three-on-three hockey for the extra conference point. It was five minutes when Michigan again had an unofficial shot advantage, but Cole said that he liked the way his team responded to the extended play.
"The three-on-three is exciting. Everybody likes it and that's why the NHL does it. I enjoyed it. I had fun. Guys were up on the bench. I liked the way they were hanging together and I liked their confidence."
The Spartans (6-7-1, 2-3-1-1 B1G) and the Wolverines (6-6-3, 2-3-3-1 B1G) will renew their rivalry in the second half of the season when Michigan hosts the Spartans Feb. 8 and the teams meet in Little Caesars Arena Feb. 9. The teams do have the chance to face off in the Great Lakes Invitational tournament in Little Caesars on New Year's Eve.
"As hopefully both our programs continue to get better, it'll only intensify the rivalry," said Pearson. "There's a lot of Michigan kids on each side. They've played against each other. They've grown up battling each other. They understand what's at stake here. Great atmosphere tonight and it will continue to be so."
Around the Nation
No. 15 North Dakota 2, No. 2 Minnesota Duluth 1
A night after being routed, 5-0, the 15-ranked Fighting Hawks rebounded with a 2-1 upset on the road against No. 2 Minnesota Duluth.
All of the goals came in the opening 10:28 of the game with North Dakota striking at 3:10 and 4:41 on tallies from Jorden Kawaguchi and Grant Mismash. After Tanner Laderounte pulled the Bulldogs within a goal, it was the goaltenders turn to shine.
Adam Scheel earned the win with 28 saves, while Hunter Shepard made an equal number taking the loss.
Boston University 0, Boston College 0 (OT)
The Eagles and Terriers had faced one another 278 times over more than 100 years and never posted a scoreless tie. Until Saturday.
Both goaltenders were phenomenal with Terriers netminder Jake Oettinger making 42 saves and his Eagles counterpart Joseph Woll stopping 26 shots.
Both were tested in the final minute of overtime with Oettinger stopping Michael Kim on a one-timer and Woll stopping Joel Farabee on a partial breakaway with less than a second remaining.
Boston College takes three of four points from the Terriers during the rivalry weekend.
No. 9 Quinnipiac 6, No. 19 Princeton 3
The ninth-ranked Bobcats continue to bolster their resume, completing a weekend-sweep of No. 19 Princeton, 6-3.
Trailing 2-1, Quinnipiac scored five of the game's final six goals, getting two goals on the night from both Craig Martin and Chase Priske.
The Bobcats have now won six straight and lead the ECAC Hockey standings.