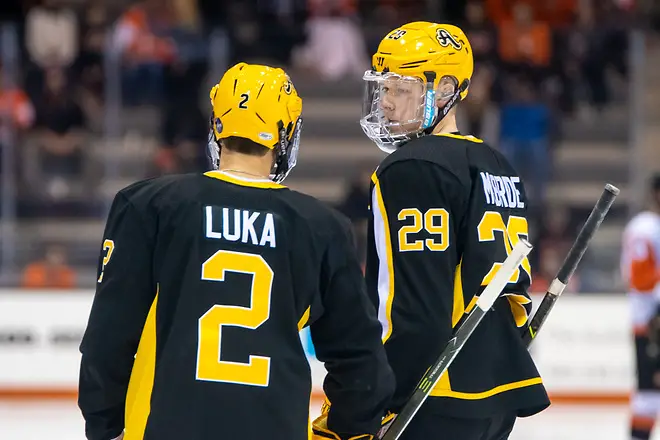 Each week, USCHO.com will pick the top 10 moments from the past weekend in our Monday 10 feature.
1. Bemidji State, Michigan Tech take it outside
With bone-chilling temperatures Friday night in Minnesota, overtime was probably the last thing players and fans at a rink adjacent to Lake Bemidji wanted.
But that's what happened, as Bemidji State's Dillon Eichstadt scored 3:05 into overtime to give the Beavers a 4-3 win over Michigan Tech in an outdoor game were temperatures dipped as low as 15 degrees below zero.
"It was a fun environment," Bemidji State coach Tom Serratore told the Grand Forks Herald . "It was a great environment. Obviously, we realize it was extremely cold out there, but I think it makes it even more memorable for both teams."
It was the first time Bemidji State had played in an outdoor game. Michigan Tech played in the 2013 Great Lakes Invitational.
2. Weather impacts other games as well
The cold weather impacted the schedule throughout the country last weekend, as two games were postponed and several others had their start times moved up to avoid complications from the snowstorm.
The Mayor's Cup between Rensselaer and Union set for Saturday was rescheduled for Tuesday, Jan. 29 at 7 p.m., while Friday's Denver and Colorado College game was postponed to a later date in either February or March.
Several other teams were unable to make the trip home following Saturday's game, including Dartmouth, who channeled the spirit of Twitter's favorite Civil War captain in describing the team's snowed-in experience.
A letter home… pic.twitter.com/onoufLMfRB

— Dartmouth Men's Hockey (@Dartmouth_MIH) January 20, 2019
3. Massachusetts, Northeastern split
The top two teams in Hockey East met last weekend, with first-place Massachusetts and second-place Northeastern each winning a game at their home rink.
The Minutemen ran away with a 6-1 win Friday, while Tyler Madden gave the Huskies a 2-1 overtime win Saturday in Boston.
Friday's game featured a rare goalie penalty, as Massachusetts' Matt Murray was given a 10-minute misconduct in the third period. He was replaced by Filip Lindberg for the remainder of the game.
4. Yellow Jackets buzzing
Three straight wins have pushed American International into first place in Atlantic Hockey.
The Yellow Jackets completed a season sweep of Holy Cross on Saturday, scoring three straight goals to turn a 2-0 deficit into a 3-2 win.
American International has a four-point lead over second place Niagara, although the Purple Eagles have a game in hand. With a 12-11-1 record, AIC has a chance at its first winning season since 1994 and its first 20-win season since 1989.
5. Cornell is back
Injuries derailed Cornell in the first half, but the 2017-18 ECAC Hockey regular-season champions are back in a big way since the second half started.
The Big Red won two games at home this past weekend to move to 5-0-1 in 2019. Goalie Matthew Galajda returned to action Friday for just the second time since November, making 25 saves in a 2-0 win over Harvard. On Saturday, Austin McGrath made 22 saves in a 5-1 win over Dartmouth.
Finally healthy, and with two goalies capable of playing well, Cornell will be a team to watch over the last month of a season. The Big Red are currently ninth in the PairWise.
6. Ohio State silences Penn State
It's been tough to keep the Penn State offense in check, but Ohio State has had some success in doing so this year.
The Buckeyes swept the Nittany Lions in Ohio last weekend, holding Penn State to one goal on Friday. It's only the third time this season hat Penn State has been held below three goals – and the Buckeyes have done it twice.
Ohio State finished off the weekend with a 6-4 win Saturday, pushing its winning streak to three games. The Nittany Lions have now lost three in a row.
7. Bobcats rally for late win
Quinnipiac hasn't lost consecutive games all season, part of the reason why the Bobcats have been one of the top teams in the country for much of the year.
The streak was kept alive Saturday thanks to Brandon Fortunato, who scored the game-winning goal against Boston University with 2.5 seconds left in regulation to give the Bobcats 4-3 win over the Terriers.
It was the second goal of the night for Fortunato, who played for BU from 2014-16 before transferring to Quinnipiac.
The senior is often overshadowed by his defensive partner, Hobey Baker candidate Chase Priskie, but Fortunato is having a solid season in his own right. He leads the Bobcats with a plus-16 rating and is third with 23 points.
8. St. Cloud State sweeps
The Huskies started the second half getting thumped by Union 7-2 in the opening game of the Three Rivers Classic.
Since then, St. Cloud is 3-1, including a sweep of Western Michigan this past weekend. That sweep helped the Huskies move into the top spot in the PairWise and also extended its lead for the top spot in the NCHC.
9. Idle hands are the Devil's workshop
This is the time of year when conference play starts to heat up. Which is great … unless you don't belong to a conference.
Arizona State is currently positioned to make the NCAA tournament as an at-large team, despite continuing to compete as an independent team.
With teams getting deeper in league play, open weekends are hard to come by at this time of year. The Sun Devils played at Cornell a week ago, and then had the most recent weekend off.
Arizona State will travel to Boston University this weekend and then to RIT the next weekend. That's the last time that the Sun Devils will play back-to-back games this season.
That will be good preparation should Arizona State make the NCAA tournament. Without a conference tournament to compete in, the Sun Devils will have 27 days off between the end of the regular season and the start of the NCAA playoffs.
10. Golden Knights heating up
Like Cornell, Clarkson was one of the top teams in ECAC Hockey last season.
But the Golden Knights slowed a bit in the second half last season, but still made it to the ECAC championship and earned an at-large bid to the NCAA tournament.
But Clarkson looks to be heating up for the stretch run, as the Golden Knights swept Yale and Brown on the road to extend its winning streak to national best eight games.
That comes after a first half where Clarkson fought through a rash of injuries.
"With the way our first half went, we got a lot of guys minutes in key situations that should make us better down the stretch," Golden Knights coach Casey Jones said.
Clarkson is a well-balanced team, as the Golden Knights rank among the top ten teams in the country in both scoring and defense. Clarkson also has a good combination of size and skill, which allows them to convert the chances they get.