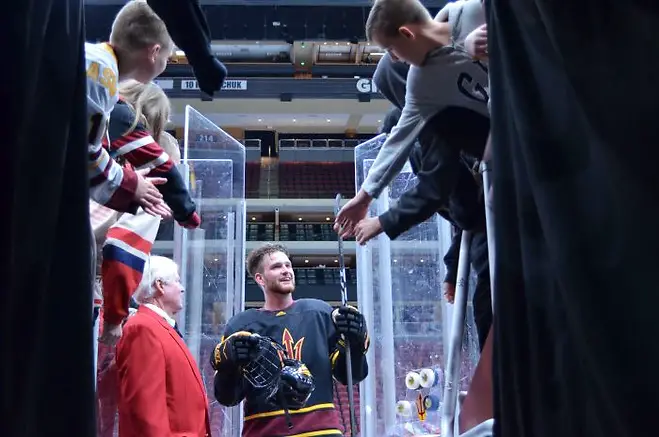 TEMPE, Ariz. — This is not the first profile of Arizona State sophomore winger Johnny Walker, and at the rate which he continues to produce, it will not be the last.
The 22-year-old Phoenix native and Hobey Baker Memorial Award candidate is an integral part of the Sun Devils' storybook season, leading the nation in goals scored with 22 tallies through 29 games played.
However, his goal scoring is not the lone difference maker. In fact, the team has a winning record in games when Walker does not find the back of the net (9-7-0).
The disparity is greater when Walker is not on the score sheet at all. ASU is 15-3-1 in games when Walker records a point, and 4-7-0 in games when he doesn't.
Walker's journey back to the rink he first called home was one full of experiences that made him more than just a dangerous goal scorer. He learned the habits necessary for his development, sometimes in ways harder than he'd have liked, and channeled his abundance of personality into becoming a leader both on and off the ice.
Culver Military Academy in Culver, Ind., was Walker's first stop outside of the Valley. Former Culver head coach and Indiana Hockey Hall of Famer Al Clark started the school's hockey program in 1976 and quickly raised its national profile, winning 22 Indiana state championships in his 40 years behind the bench.
The staff at Culver recognized his on-ice vision, and used him as a quarterback of the power play despite being one of the younger players on the team.
"One of the more underrated things about Johnny's game is his hockey sense, and I think that was something that, when he played defense, his ability to see the ice and move pucks…was a huge strength of his game," said former Culver and Massachusetts assistant coach Ryan Miller. "He's always understood time and space, he's always understood passing lanes and thinking ahead as plays develop."
Former NHL defenseman and Culver alum John-Michael Liles joined the coaching staff for Walker's first and only year of prep hockey, which took place during a league lockout. Liles and the coaches affectionately referred to him as a "wild card" – he was engaging and humorous, but was also very self-aware for someone his age. It made Walker easy to deal with on-ice from the coaching side, but presented challenges in the demanding disciplinary environment of a military school.
Ultimately, Walker left Culver for the NAHL. It was not an easy decision, but it was one that enabled him to change and get accustomed to doing things his own way.
Walker suited up for the Minot Minotauros for much of next the next three years. The North Dakota-based organization began its third season in the NAHL in 2013-14, and Walker had trouble adjusting to some aspects of junior hockey. As a result, he only played in 24 of the 60 regular season games, with two points to show for it.
"I played at 16 years old when I first got there, playing with 20- and 21-year-old men that were fully grown at that time, so I didn't play a lot and I really struggled with the puck," admitted Walker. "I think that's part of why I turned into a forward, because I struggled in the d-zone."
"He had a skill set going forwards, but he didn't have a skill set going backwards," said former Minot assistant coach Nigel Dube.
So Dube and head coach Marty Murray converted Walker from a defenseman to a forward early on in his second season, a change that became a defining moment in his career.
Walker finished first on the team in goals (20) and third in points (42), forming a lethal one-two punch on the top line with current St. Cloud State sophomore Blake Lizotte. He also led the team with 170 penalty minutes, an aspect of his game that fits his personality.
That Minotauros team recorded the organization's first winning season and first playoff series win in its short history. Minot has not been below .500 since, and Murray called Walker's move to forward "one of the key turning points in our franchise's existence."
Walker's third season in Minot started with a bang: he was named assistant captain, announced his commitment to Arizona State, and notched 11 goals and nine assists in his first 13 games. He began to practice better dietary habits with increased regularity, and focused on decreasing his body fat as he prepared for the next level.
Walker became a fan favorite, with more supporters sporting his sweater than anyone else's. He also played three games for the USHL's Chicago Steel, where both he and Murray knew he would play the following year.
Weeks later, Murray dealt Walker to the Topeka Roadrunners before the trade deadline. The Minotauros acquired current Ohio State freshman forward Matt Jennings in the player swap. Walker was beloved in the Minot community, and the feeling was mutual, which made that January day in 2016 such a hard juncture for both the player and the coach.
"When I first found out about the trade, I took it kind of personally," said Walker. "I thought it was more about me versus Marty or whoever else, but at the end of the day, it was a business move, and he felt that who he had traded for could help them down the stretch, and Topeka thought the same about me."
"It was a real difficult situation. Johnny was our leading scorer at the time, our team was flat, and Johnny, we felt, just needed a change," said Murray. "I can't say I regret it or not — it's just something that needed to happen with his development. It was nothing personal, but we just felt that we needed a major shakeup with our team.
"There were some tears from both of us that day. That was one of the toughest things I ever had to do as a coach."
"I learned a lot, I learned how to adjust, and I was going to need to do that the next year," Walker added. "I knew I was going to go play in the USHL next year, that I was going to have a different coach and a different look at things, so not a lot of time to adjust, but I kind of was able to transition and move forward with Topeka and that helped carry over to Chicago."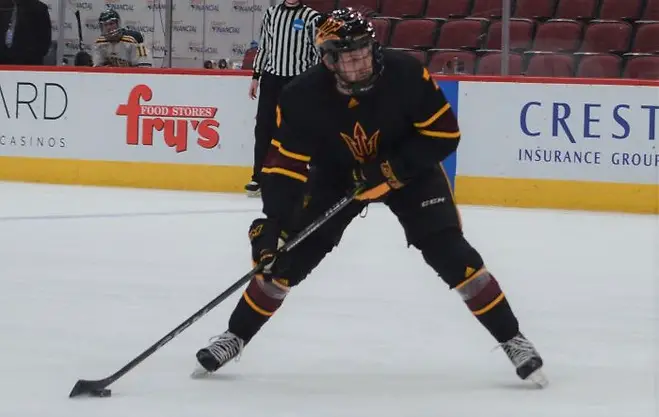 The Steel team that briefly dressed Walker began a complete overhaul, and for all intents and purposes, entered a rebuilding scenario: new owner, new coaches, new arena and a new culture. They drafted Walker in the fourth round after his second season in Minot, but decided that he needed to work on his skating and his conditioning. He did just that over his final season in the NAHL, and Chicago used their next year's first round pick on him to assure he was there for good.
"I give him a lot of credit. He put in a lot of work to get to where he was as a player in junior, and even more work to get to the point where he is at now," said former Steel head coach Dan Muse. "He's always had really good hands, a really good shot, been really good around the net. The best way to describe Johnny is that he's a guy you'd love to coach and would hate to coach against."
Muse came to Chicago after six seasons as an assistant at Yale, where he won a national championship in 2013, and is now an assistant with the Nashville Predators. His brutally honest style of coaching came at the right time in Walker's development, and while the winger was still himself as always, his diligence was elevated and his habits were refined as he began to set the tone for his college career.
The Steel relied on Walker's offense and game-breaking ability, and although he suffered a minor injury midway through the year, he didn't disappoint. Chicago went on to win the 2017 Clark Cup in Muse's second and final season. Walker scored 16 goals and added 13 assists in 41 regular season games, and spent 118 minutes in the penalty box – proof that some things never change.
In his first campaign with Arizona State, Walker finished second among all freshman with 17 goals. He carried the momentum well into this season, as his scorching calendar year of 2018 resulted in 31 goals, the most of any player.
Perhaps no game put opponents on notice more than one Saturday night in October. Walker hammered home four power play goals from the same spot on the ice against Omaha, and ASU trounced the Mavericks by a score of 7-2. He seized possession of the nation's top goal scorer, and hasn't surrendered it since.
"We designed our whole power play, pretty much, around him, and we were really successful, especially early on," said Arizona State assistant coach Alex Hicks. "Now, it seems that most teams key on him in that certain situation, so we're not able to get him the puck as much as we want, but with that being said, we're able to use the other side of the ice where they're not protecting."
It is evident in the numbers. Before the holiday break, Arizona State was 17-of-88 on the man advantage. Eight of those conversions came courtesy of Walker. Since then, the Sun Devils have only cashed in once on 36 power play opportunities. During that time, Walker has been held scoreless when up a man, but in even strength situations, he has five goals and four assists.
Outside of the power play, Walker is particularly successful at creating chances in the lower half of the attacking zone. This stems from offseason work with Columbus Blue Jackets assistant coach Kenny McCudden, and led to an invite to Blue Jackets Development Camp last June.
McCudden has coached at various levels across North America, from the Ontario Hockey League's Sudbury Wolves to the United States Women's National Team. His bread and butter is skating and skills, and McCudden opened Ice Company Hockey Schools in 1990 to make NHL players better in those very areas.
McCudden met Walker during Arizona State's first set of fall practices in August 2017. Per NCAA rules, ASU head coach Greg Powers and his staff are not allowed in the building at those times, so McCudden is tasked with scraping off the team's summer rust. For about a week in each of the past four seasons, he has taken the team through high-tempo sessions just as he has with NHLers and Olympians.
One area of Walker's game that often gets dissected and somewhat dismissed is his skating ability, but McCudden doesn't buy it.
"I like his skating. The bottom line is you don't score goals and you don't get points the way Johnny Walker's getting them if you're a poor skater," said McCudden. "He's a type of player that looks like he's stuck at times, and then he comes out of it very, very quickly, whether it be without the puck or with the puck."
Scoring on a penalty shot is neat and all, but dangling a defender before tucking it looks prettier we think…@jwalks96 extends NCAA lead to 22 👀 #SCTop10 pic.twitter.com/BmZNhu0958

— Sun Devil Hockey (@SunDevilHockey) February 3, 2019
Walker bookended his Blue Jackets camp experience by joining McCudden and NHL players twice in Chicago at Ice Company's offseason skating sessions. McCudden emphasizes play in the attacking zone from the circles down – an area of the ice where Walker excels.
McCudden believes Walker has a "pro mind" and exhibits "pro habits," meaning that the quality of his summer reps progressed as the sessions went on. Walker earned an open invite to McCudden's future summer Chicago skates anytime, and the skills guru anticipates that last June will not be Walker's final professional development camp.
Fittingly, those pro habits were on display in two of Arizona State's biggest games to date. Walker won a race to set up a breakaway goal in overtime at previously-undefeated Penn State in November, and buried the game-tying tally in the dying seconds of regulation against then-No. 3 Minnesota State en route to a dramatic December shootout victory.
If Walker stays on the scoresheet, Arizona State will continue on its historic run and increase its odds of earning an at-large tournament bid. And as senior leaders get ready to depart the newborn program, the odds of Walker earning a state-outlined letter on his uniform increase too, because sometimes, being loud with both your play and personality can be a path to growth.