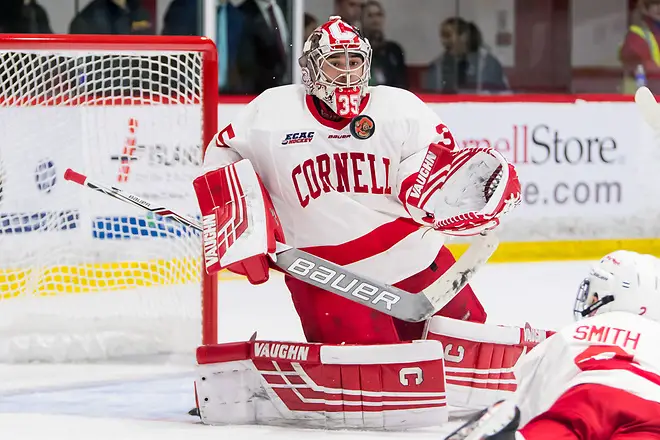 As those of us in the Upper Midwest braced ourselves for even more snow this weekend, it was a good thing that there were some quality college hockey games for us to follow.
While I sit here typing this, I'm fantasizing about spring training, and if I want to blow my savings account and go to Florida for a few days this month…
But I digress.
Here are 10 things from around the country this week that stood out.
1. Winter Carnival winners
No. 6 Minnesota State is oh-so-close to clinching its fourth MacNaughton Cup in five seasons, and this weekend's results at Michigan Tech went a long way towards sewing up the WCHA title. But it wasn't easy — it never is in Houghton, Mich., especially during Tech's Winter Carnival celebrations. The Mavericks and Huskies ended up going to overtime in both games on the weekend, needing a late goal in each game to get there.
In Friday's contest, Jake Jaremko scored with 55 seconds left to force the extra period. Neither team scored in overtime (or the 3-on-3 period), so MSU ended up getting the extra point after a shootout win. On Saturday, Marc Michaelis scored his second goal of the game with less than five minutes left to force overtime, and this time, the Mavericks got all three points thanks to Conner Mackey's game-winner. Minnesota State is 16 points ahead of third-place Northern Michigan and Bowling Green.
Both teams have two games in-hand on MSU, but it might not be enough — the Mavericks are off this weekend but can sew up the league title with just three points in those next four.
2. Lowell closes in on UMass
No. 15 UMass Lowell closed in on No. 2 UMass in the Hockey East standings this weekend.
Both teams won their Friday night games — Lowell blanked Boston College 3-0 and UMass topped Boston University 4-2 — to set up a Saturday night showdown in Lowell.
And on Saturday it was the River Hawks — who are unbeaten in 10 games — who emerged victorious, winning 2-0 for their second consecutive shutout. Senior goalie Christoffer Hernberg made 31 saves while Anthony Baxter and Chris Schutz scored the goals for Lowell, who is now just two points behind UMass. The River Hawks beat the Minutemen earlier this season in Amherst to sweep the season series, but the two won't meet again during the regular season. Both teams have seven league games left to play this season.
3. Ohio State wins again
Big Ten leaders No. 3 Ohio State extended its win streak to seven games thanks to a sweep of Wisconsin over the weekend, keeping pace with second-place Michigan.
The Buckeyes are 11 points ahead of the Wolverines.
John Wiitala and Matt Miller scored in OSU's 2-1 overtime win on Friday, while four different Buckeyes (Dakota Joshua, Tommy Parran, Miguel Fielder and Mason Jobst) scored as they beat Wisconsin 4-1 Saturday night to finish out the sweep. The Buckeyes' goaltending was again solid, too. The rotation of Tommy Napier and Sean Romeo proved to be great again. Romeo made 20 saves for the win Friday, while Napier made 29 on Saturday. The Buckeyes have allowed two or fewer goals in 22-of-28 games this year and is limiting opponents to 2.04 goals a game.
4. Bentley stays hot
The owner of the nation's longest unbeaten streak won again.
The Falcons haven't lost since Dec. 30 at New Hampshire, and have won seven straight since Jan. 19. This weekend, they swept Canisius at home, earning a 3-2 overtime win followed by a 6-2 victory the next night to keep the streak alive.
Jonathan Desbiens also kept his personal scoring streak going. He's scored in eight consecutive games — including the OT winner on Friday. The Falcons are now just seven points back of American International for the Atlantic Hockey title chase with four games in hand.
5. AIC keeps pace
American International, meanwhile, kept its position strong atop the standings with a sweep of Army. Zackarias Skog turned in a 27-save performance in a 3-0 shutout on Friday before making 28 saves the next night in a 5-2 win. The Yellow Jackets are in decent shape but they have just two Atlantic Hockey games left — a home series Feb. 28 and March 2 against Sacred Heart. Before that, they have a series at No. 12 Arizona State. If the Yellow Jackets can hang on to win the Atlantic Hockey title, it would be their first-ever conference title.
6. Cornell locks up Ivy title, moves closer to ECAC championship
No. 10 Cornell beat both No. 5 Clarkson and St. Lawrence this weekend, extending their lead in the ECAC standings to three points thanks in part to Brown's victory over No. 4 Quinnipiac on Saturday.
Friday's 5-0 win against Clarkson, another top 10 team, was perhaps most impressive. The Big Red outshot the Knights 26-17 with Jeff Malott scoring twice and Morgan Barron getting a goal and two assists.
The Big Red were also able to clinch the Ivy League title Saturday. Princeton's 4-1 win home win over Yale meant that Cornell was able to clinch its second-consecutive Ivy title and the 23rd in program history. Cornell also beat St. Lawrence 3-1 that night, with leading scorer Morgan Barron scoring a goal and an assist in the win.
7. Other top ECAC teams falter
Aside from Cornell, none of the other top teams from the ECAC were able to win two games this weekend.
Quinnipiac was able to beat Yale 4-0 on Friday but was upset by Brown 4-1 on Saturday night. Ditto for Clarkson, who lost big to Cornell on Friday but were able to salvage a close 2-1 victory over Colgate the next night. No. 17 Harvard played just one conference game — a solid 5-3 win over No. 20 Union — but weren't able to beat Boston College in Beanpot action earlier in the week. And Union was also able to salvage something Saturday, beating Dartmouth 3-1.
Those results mean the top of the ECAC is pretty close. After league-leading Cornell, Quinnipiac (21 points), Clarkson (20), Harvard (20) and Yale (19) are separated by two points.
8. Speaking of the Beanpot…
Boston College's 2-1 win over Harvard in the Beanpot semifinals not only propelled the Eagles into today's finals against No. 15 Northeastern, it also ended a very undesirable record for them. BC hadn't won a nonconference game in 25 tries — the last time was Nov. 16, 2016, against Arizona State.
Patrick Giles and Jack McBain both scored to help the Eagles end the streak against Harvard. They can win their first Beanpot since 2016 if they can beat Northeastern, which needed overtime to knock off Boston U 2-1. The Huskies will be meeting the Eagles for the first time this season in tonight's title game.
9. St. Cloud get five points
On a night when half of the NCHC was on a bye, No. 1 St. Cloud State got five points from a home series with Colorado College to extend their advantage in the conference standings.
Second-place Minnesota Duluth was idle on the weekend, though, so despite being 13 points back the Bulldogs have two games in-hand.
And the Huskies' wins weren't easy. Both games went to overtime. On Friday Jack Poehling tied the game at 2-2 midway through the third period, and that's where the game officially ended for NCAA purposes. But Ryan Poehling scored the overtime goal for the extra point (the third Poehling brother, Jack, scored the game's first goal).
On Saturday, the Huskies needed two goals to come back from a 4-2 deficit. Nate Perbix and Patrick Newell scored in the final three minutes to force overtime, then Newell scored again at at 3:53 of the extra period to give the Huskies a 5-4 win over the Tigers — and all three points.
10. WCHA standings jumble
It appears that Minnesota State, barring something truly crazy, will win the WCHA with weeks to spare.
The rest of the league is basically fighting for home ice in the first and second playoff round. Northern Michigan made progress to that end this weekend, taking four points from Alabama Huntsville (a 2-2 tie with a 3-on-3 OT loss followed by a 6-3 win) to move into a tie for second place with idle Bowling Green. Bemidji State also closed in on a possible home ice slot, with five points at Ferris State (more 3-on-3 fun plus a big 6-1 win); they're two points behind also idle Lake Superior for the fourth and final home ice slot.
On the other end, Michigan Tech's results this weekend (just one point against Mankato) sent the slumping Huskies into sixth place. They were first in the WCHA standings a month ago but have won just two games in the new year.