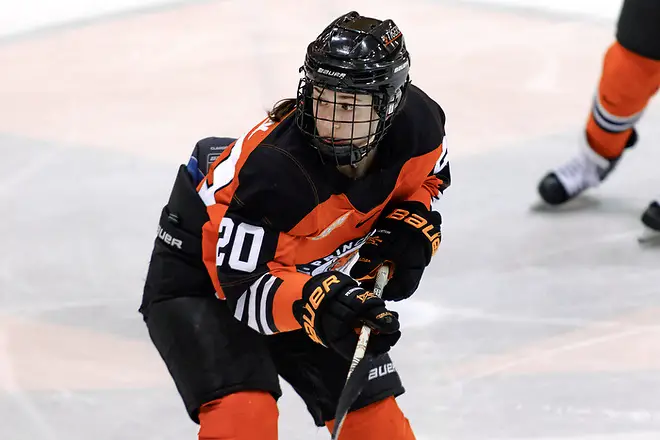 The ECAC, Hockey East, and WCHA play their final regular season games this weekend before heading into the first round of their conference tournaments next weekend. The CHA plays its conference tournament in a single weekend, so they'll have one more week of regular season games after this.
While some playoff berths are set, many still are not. Northeastern has already won the Hockey East regular season crown, but the other three conferences won't be decided until the final whistle this weekend. Every conference has quite a few positions up for grabs, with home ice or even a berth in the tournament on the line. Here's how the playoff picture looks for each conference.
CHA
Robert Morris currently sits three points clear of Mercyhurst, but the two teams will face off at RMU this weekend. Neither team has been able to find prolonged success or take a significant lead in the standings. If either team can sweep this weekend, it would go a long way to helping secure the top seed.
In the CHA tournament, the top two seeds get a bye into the second round. The tournament takes place over three days and can be a grind. While Mercyhurst has an eye on catching the Colonials, they also have to make sure they hold off Syracuse for the number two spot. The Orange face Lindenwood this weekend at home before traveling to Moon Township to face Robert Morris to close the season. It's a frenetic final two weeks for all three teams, and that first round bye in the tournament could make a big difference.
The conference tournament winner will receive an autobid into the NCAA tournament, but traditionally that team has gotten a low seed and a trip to face the number one or two seed. It's a daunting task, and any way a team can conserve some energy will go a long way to being able to keep up in that first-round NCAA game.
On the first day, the three seed plays the six seed and the four and five seeds face off. The highest remaining seed after the first round plays the no. 2 team, and the lowest remaining seed gets the no. 1 seed.
RIT currently sits fourth, just three points back of Syracuse. Penn State is fifth, four points back from there, and Lindenwood is sixth, another four points back. All tournament positioning is up for grabs, so these final two weeks will certainly be interesting and entertaining to watch. Penn State plays RIT this week and Lindenwood next week. RIT will face Mercyhurst the following weekend.
ECAC
There are so many different scenarios that could happen here, it's a bit mind-melting. What we do know is that Princeton, Cornell, Clarkson, and Colgate have clinched home ice in the opening round. Rensselaer, St. Lawrence, Harvard, and Quinnipiac have clinched playoff spots. Those four teams will finish fifth through eighth in some order. Yale, Dartmouth, Brown, and Union will not qualify for the conference tournament.
So we have our eight teams, but we have absolutely no idea where any of them will finish. The first tiebreaker here is head-to-head, but since the teams only play each other twice in this very large, 12-team conference, it's often not a useful metric. The second tiebreaker is comparing programs' records against the top four teams in the league. This does help us get a little clearer in some ways, but with Princeton and Clarkson squaring off this weekend, it's also a bit in limbo.
Princeton is currently atop the conference with a one-point lead over Cornell. Clarkson is just three points back and still has a chance to win the crown. Colgate could tie Princeton, but the Tigers own the head-to-head battle here, so the Raiders cannot finish first.
Princeton owns the head-to-head tiebreaker against Colgate and Cornell. Clarkson has to win out to even vie for the top spot. If they do, they'll own the tiebreaker over Princeton. Cornell has the tiebreaker over Colgate, and Colgate holds the tiebreaker over Clarkson. In order for Clarkson to have a chance to tie Cornell in points, they have to win at least one game. The two teams split their season series, but even if Clarkson beats Princeton, Cornell has a better record against top teams — 3-1-2, while the Golden Knights would be 3-3 at best.
Everyone following so far?
For the final four tournament spots, RPI and St. Lawrence are tied with 21 points. The Engineers have Cornell and Colgate this weekend, while St. Lawrence faces Quinnipiac and Princeton. The two teams split their season series, so the tiebreaker would come down to how they performed against the top four teams. Rensselaer is 1-5 with two games against them this weekend, while St. Lawrence is 2-5 with one game against a top four team left.
Harvard and Quinnipiac both have 20 points, one point back of RPI and SLU. Harvard owns the head-to-head tiebreaker over RPI and St. Lawrence, while Quinnipiac holds it over Harvard. RPI split with Quinnipiac and St. Lawrence. St. Lawrence and Quinnipiac face each other this weekend. The Saints own the tiebreaker with Quinnipiac. If they win or tie, they own the head-to-head; if they lose, they have a better record against the top teams.
That's all to the best of my own calculations and probably has about 17 million other ways it can go, but mostly I'm team "no one ties" in the ECAC this weekend.
Hockey East
Northeastern clinched their second-ever Hockey East regular-season title last week with a win over Providence. We know most all of the teams that will make the tournament, but where they will finish and who they'll play is very much yet to be decided.
Boston College and Boston University have clinched home ice for the conference tournament, though which team finishes second and which finishes third could change. BC has a single game against New Hampshire left, while BU will play both Connecticut and Providence. The Terriers have to win out while the Eagles lose in order to have a chance at second place. Boston University owns the tiebreaker with BC, so should they end up tied, BU would take second place. Last year's Hockey East tournament featured all kinds of upsets. Positioning and potential first-round opponents could be key to either of those teams making the NCAA tournament.
The fourth spot in the standings is up for grabs between Merrimack and Providence. The Friars have a two-point lead. The Warriors will have to win at least one game this weekend to even be in the running for that final home-ice spot, and if Providence wins out, they cannot be caught. These two teams are fighting for the right to decide where they'll play each other. They'll be the four and five seeds, with the higher seed hosting the best-of-three series. Merrimack plays two games against Northeastern, who may take the opportunity to rest some players with nothing on the line this week. Providence will play Holy Cross and Boston University.
If Boston University were to lose both their games and Providence were to win out, they'd be tied in points, but the Terriers own the head-to-head tiebreaker, so BU can finish no lower than third.
Connecticut and New Hampshire are tied in sixth place with 22 points. They each have a single game this weekend. UConn plays BU and UNH plays BC. Should the teams remain tied after this weekend, the first tiebreaker is head-to-head, and the Huskies own that, having won two of three against the Wildcats this year. These two teams will face Boston College and Boston University in the opening round series, but who travels where is yet to be determined. The team that wins the fight between BC and BU will host the team that loses this battle between UConn and UNH. The losing Boston squad will face the winner out of this points battle.
The eighth and final spot in the tournament is up for grabs between Vermont and Maine. This should be the most fun, because the two only play each other this weekend. It's a literal winner-take-all game Saturday at 2 p.m. EST. Win and you play another day, lose and the season is over. In the event the game is tied, Vermont would get the final spot with one more point than Maine.
WCHA
With only seven teams, the regular season champion in the WCHA gets a first-round bye. Wisconsin currently sits atop the league and has a two-point lead over Minnesota. The two cannot be caught, so they're playing for positioning and that bye week. Wisconsin hosts Ohio State, while Minnesota plays at Bemidji State.
This one could get very complicated, as the WCHA has shootouts at play. A shootout win is worth two points. A shootout loss is worth one point. WCHA wins are worth three points. I'll try to keep this to the simplest, most likely outcomes for all our sakes. The first tiebreaker is head-to-head, and the second tiebreaker is league wins. The third tiebreaker is league losses. The fourth tiebreaker, which actually could come into play here, is the number of goals scored during the two teams' four-game regular season series.
Wisconsin wins the title outright if they walk away from the weekend with five or more points. It's also theirs regardless of Minnesota's outcomes if they have a win and a shootout loss — meaning four points. Beyond that, the scenario has to be a combination of the two teams' wins and losses. If Wisconsin only gets four points because of two shootout wins, they need Minnesota to earn five points or fewer.
Minnesota wins outright if they sweep and get six points while Wisconsin splits the series, taking only three points. Any other scenario for the Gophers requires the Badgers to drop points somewhere.
Wisconsin currently has one more league win than the Gophers, and they currently have the same number of losses. Should it come down to it, Wisconsin would win on the fourth tiebreaker as they have one more goal scored.
If the Badgers win the conference, it will be their fourth straight regular season title, something no other WCHA team has done.
Ohio State is currently in third with 36 points, while Bemidji State has 32 points. Minnesota Duluth is one point behind with 31. The Beavers own the head-to-head tiebreaker against the Buckeyes. The Bulldogs have the tiebreaker over both Bemidji and OSU. UMD finishes the season with a pair of games against Minnesota State.
St. Cloud State has a single point on the Mavericks for the sixth spot in the conference, but the Huskies are idle this final weekend of conference play due to the odd number of teams. Minnesota State needs just two points to move up. St. Cloud State owns the head-to-head, should the tiebreaker come into play.
There's a lot at stake, with a lot up in the air before the puck drops on this final regular season weekend. With just one conference crown wrapped up and a ton of jockeying for position possible, every minute on the ice will be crucial. It will be a great weekend to hunker down with some streams, the remote, and a whole lot of really great women's college hockey.