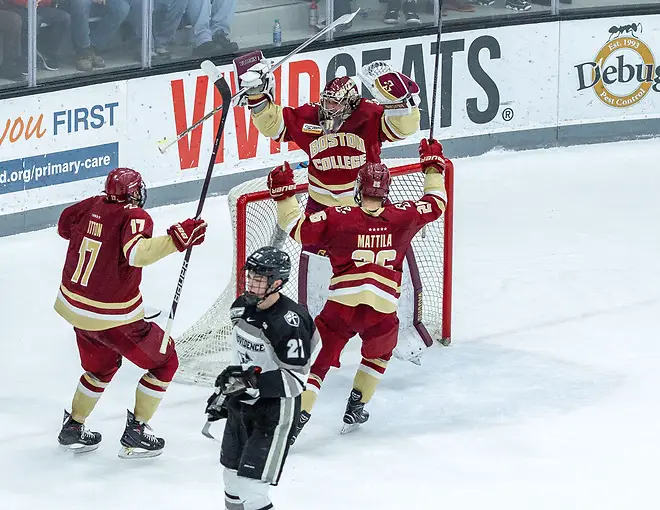 For the second straight night, Boston College's Logan Hutsko found game-winning goal magic, enough to advance seventh-seeded Boston College past second-seeded Providence in the Hockey East quarterfinals.
The Eagles will face top-seeded Massachusetts in the second of the two semifinals on Friday at the TD Garden in Boston. Boston University, a 4-1 winner over UMass Lowell on Sunday, will play Northeastern at 4 p.m.
Both Boston College and Boston University need to win the Hockey East title to advance to the NCAA tournament. Northeastern and UMass are both locks for the NCAA field while Providence will now need to wait through next weekend to find out of their current position in the PairWise in enough to earn an NCAA bid.
Penn State 5, Ohio State 1
The Nittany Lions eliminated the top seed in the Big Ten tournament with an explosive offense performance and will now face Notre Dame next Saturday for the conference title.
Penn State scored the game's first four goals to cruise to the semifinals win. Nate Sucese potted two goals for the Nittany Lions.
Both Penn State and Notre Dame are bubble teams for the NCAA tournament which means, pending other outcomes, it's possible next Saturday's title game also carries with it an NCAA invitation.
Ohio State has already qualified for the NCAA tournament as an at-large team.
Robert Morris 3, Bentley 2 (OT)
Justin Addamo scored at 16:04 of overtime to send Robert Morris past Bentley in game three of the Atlantic Hockey quarterfinals and into the semifinals against top-seeded American International, a 4-1 winner over Army West Point, next Friday. The game will be played in Buffalo at 4:35 p.m. ET.
Niagara, which upset defending Atlantic Hockey champion Air Force, will face RIT in the late semifinal starting at 7:35 p.m. ET.
Cornell 4, Union 2 
Tristen Mullen and Jeff Malott scored goals 42 seconds apart in the third period to break a 2-2 tie and send Cornell to the ECAC championship weekend in Lake Placid, 4-2.
Cornell will play Brown, which swept Quinnipiac on the weekend, at 4:00 p.m. ET on Friday. Harvard and Clarkson will meet in the late semifinal beginning at 7:00 p.m. ET.
Western Michigan 5, Colorado College 2
Dawson DiPietro scored twice and added and assist as Western Michigan bested Colorado College to force a game three in the NCHC quarterfinal series that was delayed a day because of weather delays.
Should Western Michigan advance, they will face Denver in the NCHC semifinals in St. Paul. If Colorado College wins on Monday, they will face top-seeded St. Cloud State. Game times are still to be determined.