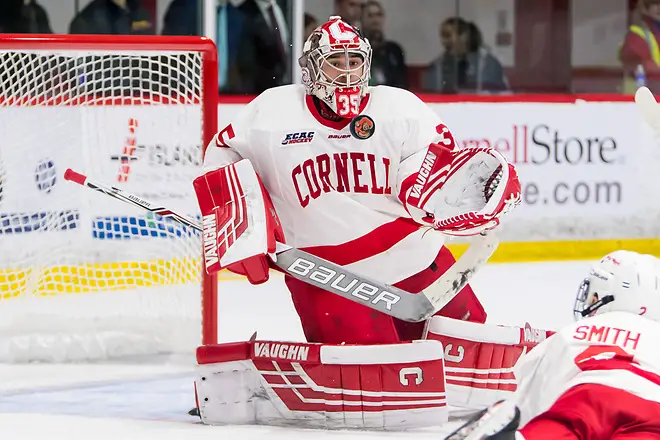 Brown had already beaten one of ECAC Hockey's co-regular season champions. Cornell made sure it didn't take down the second one.
The No. 2 Big Red scored three first-period goals on seven shots en route to a 6-0 win over eighth-seeded Brown Friday at the 1980 Herb Brooks Arena in Lake Placid, N.Y.
Cornell (20-9-4) advances to its second league championship game in three years, but it's looking for its first title since 2010. The Big Red will face No. 3 Clarkson at 7:30 p.m. Saturday.
Matthew Galajda made 30 saves for his fifth shutout of the season and Tristan Mullin had a goal and an assist. Six different players scored for Cornell, who finished 3-for-6 on the power play.
Brown reached the league semifinals for the first time since 2013 by sweeping top-seeded Quinnipiac in the last weekend. The Bears finished with an overall record of 15-14-5, the program's first winning record since that 2013 season.
Clarkson 5, Harvard 2
For the second straight season, Clarkson faced Harvard in the ECAC Hockey semifinals. And for the second straight year, the Golden Knights beat the Crimson to advance to the conference title game.
Clarkson beat Harvard 5-2 in the second semifinal game of the night Friday at 1980 Herb Brooks Arena in Lake Placid. The third seeded Golden Knights will face Cornell in the conference championship at 7:30 p.m. Saturday.
Five different players scored for Clarkson (25-10-2), while Jake Kielly had 26 saves. The Crimson (19-10-3) will await a potential NCAA bid on Sunday.
The win means that Golden Knights' coach Casey Jones with face his alma mater as Clarkson look to win its first league title since 2007.
The Golden Knights jumped out to a 3-0 lead midway through the second period thanks to goals by Haralds Egle, Anthony Callin, and Nick Campoli.
But Adam Fox and Jack Rathbone scored for Harvard to pull the Crimson within one goal. But that's as close as they got, as Jack Jacome and Jordan Schneider scored to provide the final margin for Clarkson.
Harvard goalie Michael Lackey started for the first time since Feb. 16, also against the Golden Knights. Lackey, who missed the last month with an injury, finished with 19 saves before being pulled for Cameron Gornet in the second period.