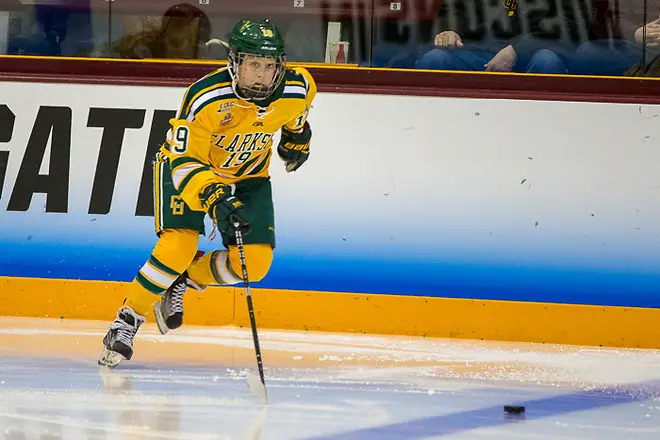 Loren Gabel of Clarkson won the 2019 Patty Kazmaier Award, announced today in Hamden, Connecticut. She became the second Clarkson player to earn the award, after Jamie Lee Rattray in 2014. Gabel, a top three finalist last year, finished with 69 points on the year.
"I have had the privilege to coach some very elite and talented players during my time at Clarkson, and Loren has proven to be one of the all-time great Golden Knights," said Matt Desrosiers, head women's ice hockey coach at Clarkson University in a press release. "Loren exemplifies everything the Patty Kazmaier Memorial Award represents; a top performer in the country, competitiveness, performance in the clutch, and a true passion and love for the game of hockey."
Gabel recorded her 200th career point during her senior season and also surpassed the 100-goal mark. Her 210 career points through the end of the regular season is the highest in Clarkson history, as are her 113 goals in 156 games.