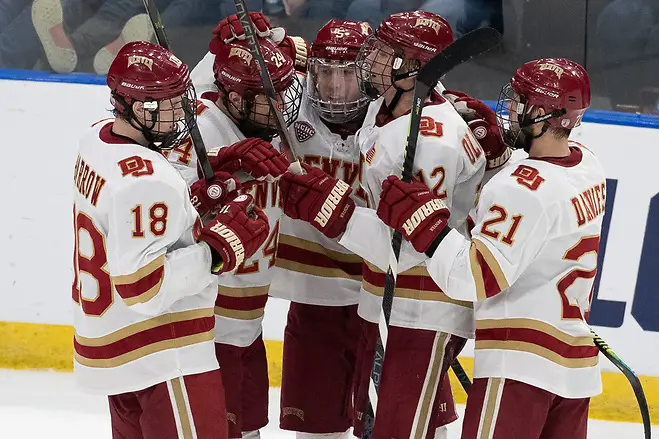 In the first of four Frozen Four previews, Denver, winner of the 2017 national tournament, has gone from a team rebuilding to a team that is two victories away from winning it all.
DENVER
Season record: 24-11-5
How they got to Buffalo: Defeated Ohio State 2-0; defeated American International 3-0 to win West Regional
Top players: Liam Finlay (16-20-36), Emilio Pettersen (6-24-30), Jarid Lukosevicius (19-10-29), Ian Mitchell (6-21-27)
Top goalie: Filip Larson (13-5-3, 1.87 GAA, .935 save percentage)
Why they will win the national championship: Defense wins championships, and Denver's has been on a tear defensively. The Pioneers have only given up four goals (excluding empty-netters) in six postseason games.
Why they will not win the national championship: The other three teams actually have better team defenses overall, and Denver has the worst offense of the four teams in the Frozen Four. Goals will not come easy in Buffalo, and Denver has struggled to score over the last couple of months.
This was supposed to be a rebuilding year for the Pioneers.
Denver was not expected to be in Buffalo contending for a national championship. That just doesn't happen when you lose your coach, a Mike Richter Award winning goalie, three top forwards who at times dominated the college game, a big imposing defenseman, and another forward who was a catalyst for the power play. Of those departures, only one was a senior.
Most observers figured Denver would be lucky to make the Frozen Faceoff (the NCHC's final weekend), let alone make the NCAA tournament. Yet the Pioneers, after struggling down the stretch and getting swept on the final weekend of the regular season by arch-rival Colorado College, rebounded in the postseason, sweeping North Dakota in the first round of the NCHC playoffs, losing essentially a one-goal game against Minnesota Duluth before rolling over Colorado College at the Frozen Faceoff, and then advancing from the West Regional with two shutouts.
The funny thing is that Denver's NCHC rival, Minnesota Duluth, also in the Frozen Four, went through much the same last year en route to a national championship. The Bulldogs lost many of the top players that had helped them advance to the national championship in 2017 before falling to Denver. Coach David Carle admits that he and his players have learned something from that team.
"I would guess that they would say that they continued to learn and grow and get better, all the way through the Frozen Four," said Carle in a pre-Frozen Four conference call. "That's been a lot on our minds that as a staff and as a group, I don't think even today we think we're a finished product. This is a big time for us to get back to work on our game, continue to try and get better as we go, and to make sure we can put our best foot forward.
"I think that's probably the biggest thing we learned from Duluth, is just being patient throughout the season and understanding adversity is going to hit, and you have to be able to look at it objectively and work through it. You have the people in your locker room to get through it. I think Duluth showcased that last year with their team, and we've certainly tried to emulate that this year."
One player who has continued to get better for Denver is rookie goaltender Filip Larsson, who was hurt at the start of the season. Devin Cooley took over and player very well. Even down the stretch, Carle was platooning both goaltenders, but Carle decided to go with Larsson once the playoffs started.
"I think both goalies can play for any team in the country. Both have been incredible in our success. Filip I think, as everybody saw last week, seems to have taken his game to another level at the right time here for us. So that's exciting for him, it's exciting for our group, and he's done an unbelievable job as a freshman acclimating to college hockey, figuring it out quickly, and having some success."
Larsson isn't the only rookie having success at Denver, one of the youngest teams in the country. At 29, Carle has debuted as a finalist for the Spencer Penrose Award as the country's top coach. Both of Carle's predecessors, Jim Montgomery and George Gwozdecky, won the award, and Carle is now trying to duplicate their feat of winning a national championship.
"You have to play the one in front of you," said Carle. "The one in front is the most important one at the moment. Seeing in the moment, not only game-to-game but shift-to-shift and period-to-period within a game, I think that allows you to have success. They always should have confidence from their preparation that they've put in, getting ready for an opponent, and I think that that's what I've learned from both George and Jim. Both are unbelievable mentors for me. I feel very fortunate that I got to work with both of them here in my time at Denver."
While Denver is young, they do have experienced leaders, including captain Colin Staub and senior Jarid Lukosevicius, who scored a hat trick for Denver when the Pioneers defeated Minnesota Duluth in the 2017 national championship game. That senior class's leadership will be important for Denver in Buffalo.
"We have had great leadership all year long with our senior group, particularly Jarid Lukosevicius. This is their third Frozen Four in their four years in Denver. They understand what it takes, they understand what it means to be a Denver Pioneer, and I think they've done an unbelievable job helping our young kids, not just the freshmen.
"We have a large sophomore class as well. There's 19 between the two classes, and it'll be a new experience for those 19 guys, but our juniors and seniors obviously have been there before, and I think they've done a great job leading our young kids along, and have been a huge catalyst in their ability to grow throughout the year."