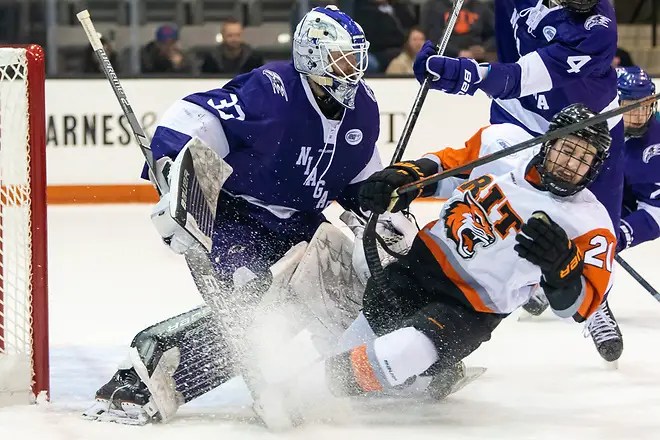 Atlantic Hockey voted recently to adopt the 3-on-3/shootout overtime model currently utilized by the NCHC, WCHA, and Big 10.
While there was discussion in changing the point structure associated with the new overtime format, when it was ultimately put to a vote, the coming year will feature the same three-point scoring system utilized by the other leagues. The change will take effect for the 2019-20 season and will be used just for regular season conference games.
"Atlantic Hockey recognizes the entertainment value that college hockey has for fans around the world," said Atlantic Hockey commissioner Bob DeGregorio in a statement. "We're committed to providing the best overall experience we can for our student-athletes and fans which is why we're adopting the 3-on-3 and shootout overtime protocol this year. It will be an exciting experiment for us this season as the first league in the east to use this system."
The three-point system will award three conference standings points for a regulation or 5-on-5 overtime victory and zero points for a regulation or 5-on-5 overtime loss. If the game remains tied after 65 minutes of 5-on-5 play, the game officially ends in a draw, awarding one point to each team. Play will continue, however, as the 3-on-3 overtime and shootout, if necessary, will then kick in with the winner being awarded an additional point.
While the games have increased in value by 50 percent, "the belief is that Atlantic Hockey will still feature the tight races down the stretch that so many have become accustomed to over the last few years," according to a news release.
"We've been a league built on parity, with little in our league standings decided before the final week of the season each of the last four or five years," said DeGregorio. "The three-point game rewards winning, so the gap between first and 11th will undoubtedly grow, but the trade-off is the impact that bonus point awarded to 3-on-3 and shootout winners or a mid-season hot streak can have on a team come February."
The first weekend of the 2019-20 Atlantic Hockey season is Oct. 5-6.