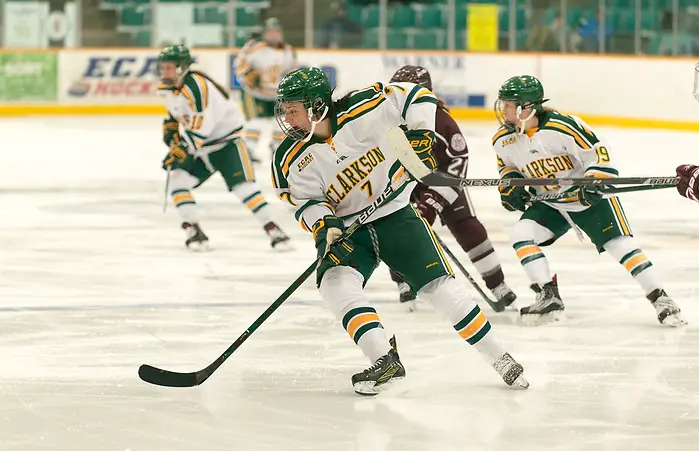 Nicole: Happy American Thanksgiving to you and all our readers. I hope by the time everyone is reading this that they're well on their way to relaxing and having a few days off with friends and family. 
Women's college hockey takes a bit of a break from the norm as a number of teams play in tournaments. The tournaments are nice because they give us a chance to see teams who don't regularly play each other face off. Most of my family is in Memphis, so I'm taking the opportunity to combine a family holiday and some hockey viewing to check out four ranked teams play each other as Wisconsin, Minnesota, Boston College and Harvard play in the Country Classic Weekend in Nashville. Connecticut, Yale, Minnesota Duluth and Quinnipiac play in the Nutmeg Classic and Clarkson, Minnesota State, Vermont and Penn State play in the Windjammer Classic. 
Following this, we get one more full week of games before most teams pause for a month for college finals and the winter holidays. 
There were some interesting results this past weekend. Princeton made a statement by beating Clarkson. Connecticut beat BC again, earning a season series win. The Eagles eked out a win in the second game against the Huskies of the weekend, but it was a stellar showing from UConn. Ohio State handled Colgate on Friday, but earned a tie on Saturday. Harvard had a rough week, taking their first two losses of the year to Boston University and New Hampshire. 
Did any of these surprise you more than others? 
Arlan: I'm pretty easy to surprise, but I try not to get too shocked. No surprise at all on the Ohio State and Colgate results, as those seem about what I'd expect knowing the history of the teams. The Buckeyes under Nadine Muzerall have had a sizable delta from their best results to their worst. As she gains experience as a head coach, I think that she would be better served to resist the temptation to react emotionally to the downswings, and instead, look at what she can change in order to mitigate them. Colgate has talent, but there are a lot of young players who have yet to learn how to produce in big moments on this stage.
The more recent UConn victory over BC was more impressive to me, because the Eagles were on home ice, had the services of Cayla Barnes, and had been forewarned that the Huskies were dangerous. Maybe it is just a matter of a name, as BC is still undefeated against teams not nicknamed "Huskies."
In response to your question, Harvard's lackluster week was the biggest surprise to me. I think we were taking a wait-and-see attitude regarding how much to make of the Crimson taking Princeton to the woodshed, given the absence of Sarah Fillier and Claire Thompson in that game. BU may have been a slight favorite on home ice with Jesse Compher back, but I didn't see a 6-2 win for the Terriers coming. The Crimson looked ill prepared in allowing BU to convert all four of its power-play chances. Historically, it has been the Harvard power play that has decided games, but its one power-play tally against BU was tempered by yielding a shorthander on the same penalty.
The Crimson's struggles continued on home ice hosting UNH and losing, 3-1. They put 46 shots on net and only one found its way by Ava Boutilier. At the other end of the ice, Lindsay Reed wasn't abused to the extent that she was by the Terriers, but it's safe to say that Harvard isn't going to enjoy a very successful campaign if more than 10 percent of the opponents' shots continue to find the twine. The past week doesn't have ECAC ramifications for the Crimson, but it doesn't bode well for them to wind up on home ice come the league quarterfinals. 
Nicole: It's totally irrational, but over the past few years, I've been so frustrated by Boston College's response – or lack thereof – to tough outcomes. I keep wanting and expecting them to gear up for big games or get those revenge wins off teams that have taken points from them and then they just … don't. It's clearly not the team MO and I need to let it go. You mentioned Ohio State's emotional responses and it's as though BC is the total opposite. I suppose there's an argument for both, but again, I was disappointed by the fact that BC didn't seem to learn anything from their loss to Connecticut a few weeks ago. 
You said a few weeks ago that you were still giving Clarkson the benefit of the doubt as they were feeling things out and it was still early. I had mentally circled this weekend as a crucial one for them and getting a single point out of the games against Princeton and Quinnipiac can't be what the Golden Knights were looking for. At the moment they are in fourth in the ECAC, but Clarkson also hasn't had as many games against teams in the bottom of the standings as Harvard and Princeton have. They should pick up some points at the beginning of January, but I can't help but think that come February we'll be looking at the ties against Cornell and Quinnipiac as missed opportunities that have a big impact. 
Has your opinion about the state of things in Potsdam changed at all now that a month has passed? 
Arlan: I wouldn't say that it has changed that much, but I guess that it is evolving. I do think that it is unfair to the Golden Knights if I ask the same questions of that squad as I do of a team like Minnesota. 
While the Gophers have had to fill holes for graduated players and their top goaltender who has missed all but one period this season due to injury, with the exception of highly-regarded freshman defender Madeline Wethington, they have been able to do so with players that were on the roster and played heavy minutes last season.
For openers, Matt Desrosiers had to replace Kassidy Sauvé in his net. His choices among returning goalies were sophomore Marie-Pier Coulombe and junior Kia Castonguay, neither coming into the season with as many as 140 minutes played in the Clarkson goal in her career. Clarkson also added junior transfer Amanda Zeglen, who played less than the equivalent of 12 full games in her two years at Ohio State. That is a greater unknown than Brad Frost turning to Sydney Scobee, who came into the season with 46 career starts, including 16 last year for the Gophers. Coulombe has emerged as the starter and done great; her .941 save percentage trails only Cornell's Lindsay Browning, Aerin Frankel of Northeastern, and Corinne Schroeder for Boston University.
Desrosiers also had to compensate for the graduation of Loren Gabel, the reigning Patty Kazmaier Award winner, T.T. Cianfarano, Josiane Pozzebon, and several other veterans who knew how to get to the Frozen Four every season and won it a couple of times. Clarkson wasn't the deepest team last season, so it was never going to be a matter of just promoting returning players into new roles.
He has also had to deal with some flux in trying to fill his line chart. Senior Rhyen McGill rejoined the team after being out all of last year due to injury, got hurt right out of the game, returned for about a month, but then missed this past weekend. Caitrin Lonergan was injured before she could even register a shot on goal this season. Now Ella Shelton, Clarkson's most proven defender, is out with an injury and who knows when she will be back. 
If Wisconsin had lost Daryl Watts, the other high-profile Boston College transfer, as quickly, would the Badgers still be sitting on 14 wins? Especially if they also lost Mekenzie Steffen at some point, and Mark Johnson had to look down his bench to find a new goaltending starter, I think that it would have taken all of his coaching savvy to keep Wisconsin on top.
Nicole: Wisconsin likely would have been fine on offense, but we've already seen this season that the defense can be shaky. Losing Steffen would be far more difficult for them to deal with than losing Watts. As for the goalie situation? Niki Cece started five games for the Badgers her rookie year when Ann-Renee Desbiens was injured. Cece was 4-1 with a sweep of Cornell and a win over UMD. That was obviously four years ago and she's seen limited ice time since, but it sure seems as though Wisconsin wouldn't be totally lost if something happened to Kristen Campbell. But I do understand your point.
I don't want to pick on Desrosiers, because he's certainly not the only coach in this situation, just the one we're currently talking about, but it does bring up a good question about how much leeway can be given for a difficult situation that is of his own making? Should we give a coach a bit of a pass because of an unsure goalie situation when the goalies' lack of playing time is something the coach has control over? In this particular instance, it's not about an injury leaving them this way – these were the three goalies they knew they'd be going into the season with. You might argue that picking up Sauvé put a kink in the long-term goaltending plans, but without her, wouldn't they have been in basically this year's situation a year earlier? 
Arlan: A Clarkson fan on the forum told me a while back that the plan was for Jenna Brenneman to be the successor to Shea Tiley, but she transferred to Penn State when Sauvé moved to Potsdam, so she's not an option now. However, she only played a couple of games worth of minutes over her two seasons as a Golden Knight, and she is currently not playing for the Nittany Lions, so maybe Clarkson was always destined to be in this position. Clarkson always seems to have a starter who plays a ton and backups are afterthoughts, so at least as far as goaltending goes, I guess that is Desrosiers mode of operation. It seems to work for him.
Nicole: Overall, I think this becomes a discussion about depth. One of the reasons teams like Wisconsin and Minnesota have players with a ton of minutes that can step into these roles is that they regularly roll four lines and even their third and fourth line can play at a high level and be trusted on the ice. When those players have to step up into bigger roles due to injury, they're prepared. 
For all that Clarkson has grown and improved over the past few years, one thing they haven't really built into their game plan is depth. I think there's an argument that says that until this year, they haven't had to. They won national titles running pretty much two lines and relying heavily on their top six players. Why fix what, for many years, did not appear to be broken?
It would not surprise me if, in response to this year, we may see a change in how Clarkson handles things in the coming years with recruiting and building their roster. 
Arlan: You're correct that at some point for Clarkson, it becomes a matter of who it has and what it can do, rather than to bemoan what might have been. It still has Elizabeth Giguère, who is as dangerous as anyone in the country, particularly with the game on the line, and Michaela Pejzlová to set her up. Gabrielle David has been an emerging star taking over Gabel's role, although on Saturday she was replaced on the top line by Brooke McQuigge.
The objective for Clarkson has to be to survive until the new year, when hopefully, it gets some players back. Through its game versus Quinnipiac, it has succeeded in that, sitting No. 7 in the PairWise Rankings and in the hunt for an at-large berth in the tournament.
Speaking of the PairWise, a clear top four has emerged. Any surprise on the ordering of that foursome, where Minnesota and Wisconsin are lagging a bit behind Northeastern, a team that I must confess that I've underestimated, and Cornell? 
Nicole: I do admit that I probably underestimated Cornell to start the season. I do think I'd like to see where they stand come winter break. They have a tough stretch against Ohio State, Princeton and Quinnipiac. I'm hoping to get time to watch their series with the Buckeyes because I think it'll help give us some perspective on how the Big Red compare to the Badgers and Gophers. The math doesn't lie, but as we saw with Northeastern's loss to Maine on Sunday, one loss can change things pretty significantly. Things can still change quite a bit from week to week. 
Northeastern went from leading the Pairwise to sitting fourth, a relatively large margin behind the top three of Cornell, Minnesota and Wisconsin. The margin between those three is incredibly small – .0031 separates first from third in RPI. That being said, I do still think the Huskies are a top four team. 
With the upset wins by Maine and Connecticut, I've been thinking about which Hockey East team could cause some serious havoc. I'm aware that it's still likely one of the Boston area schools that will take the conference title, but let's have some fun dreaming of chaotic scenarios. Based on play so far and their roster makeup, if you had to pick someone other than BC, BU or Northeastern to make a run towards the NCAA's, who do you think it could be?
Arlan: It's funny; I wrote about underestimating Northeastern and within a couple of hours, the Huskies were upset by Maine. That also changed the PairWise math substantially from my comments at the time. Apparently, my admiration is pretty damning.
Before the season, I would have said that Providence was the Hockey East team on the brink of becoming a national tournament contender, but it looks like the Friars have taken a step back thus far in Matt Kelly's second season. In addition to the Black Bears and UConn, whom you mentioned above, Vermont has had better results through the first couple of months, at least until its recent three-game skid. 
Based on what we've seen in other leagues over the years, I'm more inclined to believe that a conference that looks to have many contenders really has few. All of these squads that call someplace other than Boston home in Hockey East are likely to steal points from each other that the PairWise won't forgive. My guess is that Northeastern, who seems to do the best versus the other contenders, will make the national tournament along with either BC or BU, but likely not both. 
In spite of starting ECAC play a little ragged, Princeton looks to be in good shape. If it can win more than it loses in December, the schedule softens considerably in 2020. One of the teams it plays next month is Ohio State, and the remainder of 2019 could go a long way to making or breaking the Buckeyes' chances. I'll predict that two of the trio of Princeton, Clarkson and Ohio State reaches the NCAAs.
That would give us a tournament field of Cornell, Minnesota, Wisconsin, and Northeastern as our current likely hosts, plus two of OSU, Princeton, and Clarkson, either BC or BU, and the CHA champ. If this season unfolds similar to last, we won't have any clarity about that CHA entrant until March.