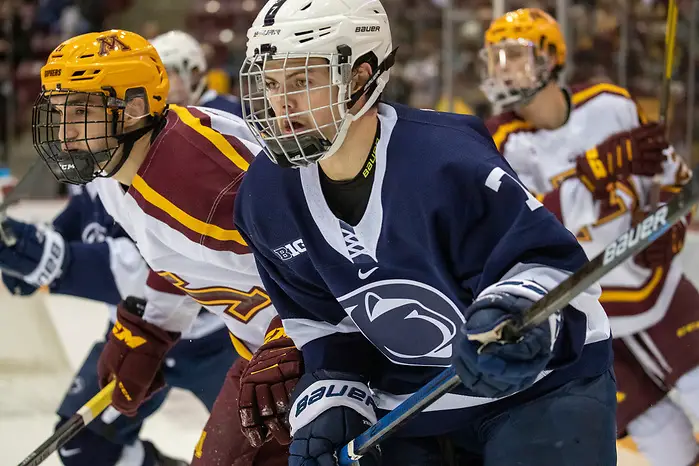 Each week during the season, we look at the big events and big games around Division I men's college hockey in Tuesday Morning Quarterback.
Paula: What an eventful holiday weekend, Jimmy! There is so much to unpack and digest – no pun intended – and it's difficult to know where to start.
I think I'll dive right into a couple of sweeps.
First is Bowling Green's sweep of Notre Dame. Not only can this be considered a legitimate upset, but it may prove to be one of those weekends where each team can look back later in the semester and trace its fate to the outcome. For the Falcons, the sweep gives them a 5-1-0 record in their last six games and they're now one of seven teams with 10 or more wins this season.
After the losses, the Irish are now 1-4-1 in their last six games after starting the season 7-0-1. Notre Dame has been outscored 16-6 in the four losses and the Irish have been held to two or fewer goals in their last six games – while falling to 33rd defensively after finishing the 2018-19 season 12th in that category. Notre Dame remains in the top 10, though, in spite of the recent skid, perhaps because voters see this as an anomaly.
Two other top programs, though, solidified their places at the top of the polls with decisive road sweeps. Minnesota State beat Minnesota Duluth on the road, limiting the Bulldogs to a goal in each game while North Dakota swept Minnesota, outscoring the Golden Gophers 12-5 in the contests. Both the Mavericks and the Fighting Hawks were each impressive in their own ways; Minnesota State went 5 for 10 on the power play for the weekend and North Dakota demolished Minnesota in the first game 9-3 and held off the Gophers in a tighter game for the sweep.
We've talked before about how good programs win games they should win and how a weekend can make a season. Do these series strike you as potentially pivotal for any of the teams involved? Did you see anything else from the weekend that may be an "ah-ha!" moment for someone else?
Jim: I think of all the games and series you mentioned, Paula, the two that stand out to me are the sweeps by Minnesota State and Bowling Green.
The Mavericks silenced any of the critics that didn't believe they belonged in the top spot in the USCHO.com poll. We all know that Duluth can be a tough place to play (though admittedly, a massive winter storm maybe took some electricity out of the building – both in terms of fans and a loss of power in the middle of the game – on Saturday).
When you combine that win with Bowling Green's sweep of Notre Dame, I think we can also silence WCHA critics. Admittedly, the WCHA isn't that strong top to bottom as other conferences, but the upper echelon – Minnesota State, Bowling Green, Michigan Tech and Northern Michigan – are very competitive and will crush opponents who take them lightly.
Speaking of strength of conferences, I took a look this morning at out-of-conference winning percentages for the six conferences. Not surprisingly, the NCHC remains on top with a .605 mark. Hockey East isn't far behind at .597.
The Big Ten is close as well at .571 and the WCHA is slightly below .500 at .434.
Then there's the ECAC. With a 19-32-7 mark out of conference, they are below .400. Now, it's been some time since the ECAC had an above .500 winning percentage, but to drop to .388 with not too many nonconference games remaining to improve that mark, this is certainly a down year top to bottom for the ECAC. Sure, Cornell, Harvard and Clarkson all seem pretty darn strong, but the rest of the conference? Not very good at this point.
Paula: That has been my impression of the ECAC as well – and sadly so, as the ECAC for a while looked to be emerging as a conference that would remain prominent on the national scene. With Yale's 2013 national championship followed by Union's the year after, plus Quinnipiac's Frozen Four appearances in 2013 and 2016, not only did the conference look promising in and of itself, but it brought variety and interest to the national tournament field.
Quinnipiac is a team that appears to be adjusting to its own youth. The coaches pegged the Bobcats to finish second in the ECAC and they earned three first-place votes, but their performance this season has been erratic, which you might expect from a squad with a team with three freshman forwards and two freshman blueliners seeing regular play, plus nine sophomores seeing time in all or most of the games this season. They split this past weekend with Massachusetts and lost a one-goal game to Cornell Nov. 22 and they've managed to keep it close in many contests, but they're averaging a little over two goals a game and can't seem to find any consistency.
Back to the standings game, though, the NCHC seems to be a league in which the top tier is pulling away from the rest, but that rest of the league is so good. Five of the conference's eight teams are among the top 20 in the PairWise right now. I look at Omaha – 1-2-1 in league play but 6-4-2 overall – and that is a team currently in seventh place in its eight-team league that is someone I wouldn't want to play in the NCAA tournament, should they remain in that spot and somehow win the NCHC playoff tournament.
Jim: Your last comment got me thinking and made me take a look at the standings around each conference.
And I can decidedly say that in all six conferences, there are teams in the lower half of the conference currently that I expect to make a run at the league title still. Now, I understand that there are a lot of games in hand as no conference has a uniformity as to how many games teams have played, but for each of these teams, they have ground to make up – something that's not always easy.
In Atlantic Hockey, you can point to Niagara. I had high hopes for this team, and they began 0-8-1. A 4-0-1 stretch in the last five has them headed in the right direction.
Wisconsin perplexes me in the Big Ten. Plenty of talent and an offense that looks explosive at times, but they're 10 points (3-plus games) behind Penn State already.
Quinnipiac, as you mentioned, is a lot better than their record. Last Saturday's win at UMass should prove that. But they need to make up seven points (two points per win) in their final 16 games.
Speaking of UMass, they at least are above .500 in Hockey East at 4-3-1, but there are five teams standing between the Minutemen and first-place Providence. The good news? UMass still has 18 league games left.
The WCHA is a little tighter among the top six teams, but the sixth-place club is that same Bowling Green team we talked about sweeping Notre Dame this weekend. Being seven points behind in a three-point-per-win league isn't very daunting.
Then there is the NCHC. Forget about Omaha, which as you mentioned is a powerhouse. Denver has to make up 11 points (three points for a win) on North Dakota. Again, 18 games is plenty of time, but I've always called the NCHC a battle of attrition as all of the teams beat up one another in league play.
Paula: That is a good list of teams, Jimmy, that may climb the standings in the second half – and a good turn of phrase, "battle of attrition." So true in that conference.
You're getting me thinking now of other dark horses throughout D-I hockey and also players that are under the radar, at least for now. We both know that the second half often feels like a different season, when freshmen are no longer rookies, and everyone has seen enough video of everyone else to anticipate what to expect.
Who are some of the players who are surprising you now or may in the second half?
I am blown away by Michigan State senior goaltender John Lethemon, who is defining the term "career season." With a .940 save percentage, Lethemon is playing the best hockey he's ever played and he looks every bit as confident as he should be.
Boston University junior defenseman David Farrance has eight power-play goals, which is one more goal than he scored altogether in his first two seasons. He leads the Terriers with 10 goals in 15 games after scoring seven in 68 as a freshman and sophomore.
These are just two players off the top of my head that are impacting their teams in unexpected ways in the first half.
Jim: Oh, I love this question this time of year. There are a number of players who have impressed thus far who I never really gave much thought to before the season.
Let's start with North Dakota's Jordan Kawaguchi. Through 15 games, he has 22 points and seven goals. Last season, as a sophomore he posted a career high with 26 points in 37 games. Obviously, we knew he had talent. But his numbers to date are impressive.
A lot of people are talking about Jack Dugan at Providence, but Tyce Thompson is equally as impressive. He is tied for the nation's lead in goals with 12, and that goes along with 12 assists.
I don't think a lot of people were overly familiar with Justin Kapelmaster before he took over the job between the pipes for Robert Morris. The graduate transfer from Ferris State has a 1.83 GAA and a .951 save percentage, third nationally, and has been a major reason for early success for the Colonials.
And in a year we've talked a lot about high-end rookie talent, no one was mentioning UMass Lowell's Matt Brown. Brown's 17 goals are second nationally for freshmen behind Wisconsin's Cole Caufield.
Told you I like this question!