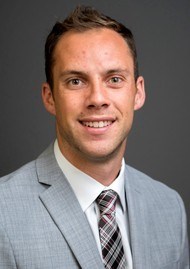 King's announced Tuesday afternoon that Stephen Mallaro will not return in 2020-21 as the head coach of the men's hockey team.
Mallaro has been in charge of the program since the addition of men's hockey at King's four years ago.
"On Monday, I was fired as the Head Coach at King's College," Mallaro tweeted. "I would just like to thank all the support I have received from family, friends, former coaches and players. The game of ice hockey has been a blessing and I am looking forward to bouncing back and working even harder in the future. For now, there will be a lot of self reflection and spending time with those closest to me. I wish nothing but the best for the players who believed in me as their coach at King's."
The Monarchs finished the 2019-20 season Saturday afternoon with a 2-1 victory over Nazareth, but posted a 3-21-1 mark this year.
Overall, King's was 4-70-1 over Mallaro's three seasons behind the bench.
"I want to thank Stephen for the energy and passion he bought the last four years in starting our men's hockey program," said associate VP and executive director of intercollegiate athletics and recreation Cheryl Ish in a statement.
A national search for Mallaro's replacement will begin immediately.