Keep It Loose
North Dakota's final practice before the championship game on Friday was exactly the opposite of what Michigan coach Red Berenson earlier this week described as the norm for his team's day-before runthrough.
Berenson said he had never seen his team have a good practice the day before a game that carries the magnitude of the Frozen Four.
"As a coach, you try not to put pressure on the players and tell the players, 'This is the biggest game of your life.' They all know that."
— UND coach Dean Blais
North Dakota's practice was light, quick and didn't include too many drills. Exactly the way the players want it.
"We've always stressed hockey is a game where you want to have fun," Sioux forward Bryan Lundbohm said. "If you're not having fun, it doesn't go too well. If we get all uptight and worry about things too much, we're not going to be able to play our game and not be able to make the right plays at the right time.
"We're going to stay loose. We're going to be relaxed [Friday] and start thinking about the game [Friday night], and be mentally ready to go [Saturday]."
Lundbohm beat linemate Jeff Panzer in the final round of the team's showdown, a round of penalty shots at the end of practice.
The competition is one way the Sioux keep the practices light.
"We try not to put a lot of pressure on the players," Blais said. "We play the same way every game, practice the same way. We don't try to break routines, we don't break systems. I think the other coaches agree that you're going to do what you do well, and that's play the game and have fun.
"As a coach, you try not to put pressure on the players and tell the players, 'This is the biggest game of your life.' They all know that."
How's the Weather?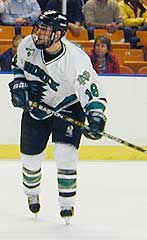 From causing the storm to weathering it?
North Dakota is expecting a big push by Boston College in the first 10 minutes of Saturday's championship game, one not unlike the Sioux's charge early against Michigan State on Thursday.
The Sioux scored two first-period goals, one by Kevin Spiewak 75 seconds in, to take control.
"They're going to come out and battle us, and we're going to have to weather the storm for the first 10 minutes of the game," said North Dakota defenseman Travis Roche, who said he considers Boston College the favorite in the title game.
"After that, we just have to keep plugging away and work as hard as we can."
Oh, the Pressure
Who has more pressure: the team that hasn't won a title since 1949 and has now been to the Frozen Four in four straight years or the one looking to become the first champion to repeat since 1972?
Panzer said it's not the latter.
"I don't think there's too much pressure on us," said Panzer, the nation's leading scorer. "We're the type of team that's just going to go out there and have fun. It's another game — it's a one-shot game, but it's another game. Whatever happens after 60 minutes, or whatever it takes, happens."
Last Chance to Dance
Saturday will be the last chance for the BC seniors to capture their elusive national championship. But Friday was the last practice for the BC seniors, making things a little bit emotional.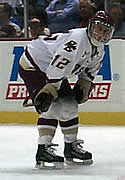 "It's obviously going to be sentimental," said BC goaltender Scott Clemmensen. "It will be the same tomorrow night pulling that jersey off for the last time."
"That's the last time that we'll suit up in a practice uniform for BC," said captain Brian Gionta. "It's similar to two days ago at Conte Forum when it was the last time I'll skate there. I'll miss all of these guys and I'll miss the coaching staff. They've all done a lot for me, and the school's been great to me as well."
Not lost in the emotion was plenty of fun in the team's breakaway competition, a staple of practice the day before every game.
"It's something that's a lot of fun to do," said Gionta. "I think Clemmensen was trying to let a senior win today, but the guys were shooting the puck right at his pads."
Clemmensen admitted that he did try to help his classmates capture "the belt," which is an actual award given to the winner resembling something from the WWF.
Junior Ales Dolinar won Friday's competition and thus took home the belt.
"Dolinar will have the belt all summer and he'll get to defend it next year," said Gionta.
Hobey Wasn't Gionta Goal in Albany
Eagles head coach Jerry York spoke with great pride about the fact that Gionta wasn't the winner of this year's Hobey Baker Award which was presented to Michigan State's Ryan Miller on Friday afternoon. He said that the Hobey wasn't the trophy Brian wanted this year.
"It was amazing to watch him handle that news," said York, who told Gionta after Thursday's game when he found out the news. "Brian said to me, 'We're interested in winning championships. We came for one trophy and it wasn't the Hobey.'
"As a coach you can listen to that and I can say all you want about being a good teammate. But when you've got a guy of Brian's stature say we came to win one trophy and it wasn't the Hobey Baker trophy, that says a lot about our club.
So Who Will BU Root For?
Even if you don't live in Boston, it wouldn't surprise you to know that Boston University, BC's number-one rival, won't be rooting for an Eagles victory on Saturday night. Or will they?
A Boston College loss would take away BU's fame of being the last team to win back-to-back national championships, a feat accomplished by the Terriers in 1971 and 1972.
"Hopefully they'll be making some noise for us," said rookie Ben Eaves, maybe not yet aware of just how big the BC-BU rivalry is. "But I wouldn't expect too much out of them. Anything they can give us would be great."
Senior Bobby Allen, though, responded to Eaves' thoughts: "I don't think we're going to get any noise out of them. I don't think it's in either team's blood to root for the other guys."
"I heard Sasquatch is going to be in the stands and will take his shirt off for us," joked Gionta, referring to the hairy BU fan who riles the crowd by running topless around the BU student section. "They're our archrival and you don't expect any fans of theirs to be rooting for us. But we'll take any fans we can get. "
Eagles Hoping for Divine Intervention
BC, known to many for its Jesuit tradition, is hoping some intervention can come from up above. The Eagles, as is tradition on game day, will have the team chaplain celebrate Mass for the players Saturday morning.
Friday night, the team will have dinner at a local restaurant. Saturday, the Eagles will have breakfast and a pregame meal, sandwiching Mass and a possible game-day skate.