BU's Cardiac Kids
Boston University is now one of only four undefeated teams in the country at 6-0-1 after flourishing in three straight overtime games. The Terriers tied New Hampshire, 1-1, before pulling two wins out of the fire on the road. First, they rallied from a 2-0 third-period deficit at Maine to win, 3-2. Then they evened a road game with Yale in the second period and got the game-winner again in OT, 4-3.
"We're not jumpy playing in close games," says BU coach Jack Parker. "We've got confidence that we can win them on the road late. We've played three straight ties and we've been in one-goal games with RPI and Northeastern, so we've been in a lot of close ones so far this year.
"We're playing good hockey when we have to, but I don't think we've had a real thorough 60-minute game for a while here. So we're winning without playing our best hockey, but we're certainly playing our best hockey when we've had to."
That hasn't been restricted just to scoring the big goal or playing solidly in overtimes.
"We had to kill a five-on-three penalty for [1:28] late in a 3-3 game at Yale," says Parker. "That was a big turning point in the game."
Unlike the last few years when a few Terriers were the clear-cut offensive go-to guys, this year's squad has no one even close to the league leaders. Frantisek Skladany and Gregg Johnson lead the team with eight points in seven games, a figure that leaves both sophomores out of the Hockey East Top 20.
These modest numbers have been more than compensated for by a defense that already has eight goals, including two game-winners, and 16 assists.
"I really thought that it would be scoring by committee," says Parker. "I didn't know that we'd get that much out of our defense, but I thought there'd be a whole bunch of guys who would be in the 10-15 goal range.
"The biggest surprise has been the lack of scoring by Brian Collins [1-0–1], a guy who we think should be our number one or two in terms of number of goals is concerned. He's struggled a little bit. He's only got one goal so far this year. Jack Baker only has one goal so far this year and he got it the other night — the winner in overtime — so that might get him going.
"So I guess the surprise is that the guys who we thought would be contributing more offensively have been struggling. They've played well, but the puck isn't going in the net for them. And yet Gregg Johnson [shares] the team lead in points and he leads the team in assists. We've been getting a lot of contributions from the defense. Skladany leads the team in goals.
"We needed to have our sophomores make big jumps for us. [Kenny] Magowan, Johnson and Skladany have been our best line. Marky Mullen has been one of our best forwards and Sean Fields has played great in the nets. Those are five of our six sophomores that have all made pretty big jumps for us."
In all probability, the most important one has been Fields. Inconsistent goaltending killed the Terriers last year. Fields was considered a blue-chipper who'd of necessity been picked a year early after the departure of Rick DiPietro. He and Jason Tapp had their positive moments, but their negative ones, too.
This year, Fields has matured into one of the best goaltenders in the league. His 2.29 GAA and .914 save percentage (1.46 and .948, respectively in Hockey East games) back up that perception.
"I haven't seen all the league's goaltenders so I really don't know [where he ranks], but I know that he's played extremely well for us," says Parker. "There's no question in my mind that he's made a huge jump from his freshman to his sophomore year.
"I think he started to make that jump in the second semester last year. He got a lot more confident. The playoff games he played against Providence gave him a lot of confidence.
"He came into the season knowing that he'd be the number one goaltender. He's played accordingly and has given us a big boost.
"We're very, very happy with our goaltending. Tapp played his first game [Tuesday] night and played well so we're in pretty good shape there. Fields has given us a lot of very big saves, but more importantly, he's been very consistent."
Divided Loyalties
When is the last time a BU Terrier helped a BC Eagle?
Never?
A you-know-what freezes over moment?
Inside sources have it that former Terrier All-American defenseman Chris Kelleher has been trying to help brother Tim, the junior goaltender at the Heights. (How'd you like to be that family at Beanpot time?)
Tim Kelleher had a terrific freshman season, but has struggled since. Most recently, he allowed five goals at Wisconsin and then four goals on 16 shots at home against Merrimack.
His freshman season showed that he has the talent, but something has gone awry. Proving that blood runs thicker than even Terrier loyalty, brother Chris has been trying to get Tim back on track even though it's highly unlikely he'll be mentioning that at the BU alumni golf tournament.
Of course, the possibility exists that Chris is simply performing an act of sibling treachery on his younger brother and is really sandbagging the goaltender. Now wouldn't that warm the cockles of Jack Parker's heart…
Texas Hat Trick
In Saturday's Providence – Northeastern game, Jon DiSalvatore matched his entire Hockey East goalscoring output from last year with a Texas hat trick. (Since those from the Lone Star State claim that everything is oversized there, a four-goal evening constitutes a Texas hat trick.) DiSalvatore, propitiously named an assistant captain two days earlier, had scored nine times last year, but only four came in league games. This year he already has eight, seven in Hockey East contests.
"We needed somebody to step up," says PC coach Paul Pooley. "We've had trouble scoring goals and he certainly led the way for us. He's been our best player all year so it was certainly nice to see him break out and have a career night."
Road Warriors
Last weekend saw the statistical anomaly of all five Hockey East games going to the visitors. (Yours truly took a beating on his picks, correctly divining that UNH – Lowell and Providence – Northeastern would both end in splits, but going 0-for-4 based on picking the home team to win.)
Is this a fluke or a sign that home ice isn't as big a factor as in past years?
"It's probably half fluke and half that home ice isn't [as dominant] in this day and age in Hockey East," says NU coach Bruce Crowder. "We've been involved in six games and throw out the empty net goals and they've all been decided by one goal. It's just a matter of things could go any way."
Over the Top and Dishing It Out
Matthews Arena can be a tremendous place to watch a game. Not only are the sight lines exceptional, but the Dog House fans can really make the barn rock. (You've got to love any group that chants, "Get off the phone!" when spotting a quasi-fan using a cell phone during a game.)
However, one Northeastern fan reportedly went way over the line recently, obtaining the phone number of a couple Providence players and calling them at 1:30 in the morning.
"The guy was boasting that he'd given Jason Tapp about 50 phone calls, too," says PC coach Paul Pooley. "Nolan [Schaefer] received phone calls Friday night and even Saturday night after the game. It's nice to have loyal fans, but there's a time and a place for it; 1:30 phone calls aren't appropriate."
Of course, Northeastern coach Bruce Crowder agrees with Pooley wholeheartedly.
"You don't do that," he says. "This is the first that I've been aware of it. There's no need for that whatsoever."
Whoever this reckless "fan" might be, he's no credit to his school and needs to knock it off.
That said, this is a rivalry that bears watching. Fueled by the phone calls and the raucous Matthews Arena cheers, Schaefer gave it back to the Dog House residents late in the third period. As is their wont, they had chanted, "Schaefer, can you feel it? Yes! Yes! Yes!" complete with hip thrusts when Mike Ryan scored at 13:53 to tie the game.
When Jon DiSalvatore retaliated with the eventual game-winner just seven seconds later, Schaefer reportedly swung his stick over his head and celebrated while looking right up into the teeth of the Dog House fans. He also skated down the ice and used his stick as a rifle to "shoot" those same fans.
"Those guys in the Dog House really get at you," said DiSalvatore after the game. "To look up at them [after scoring] and know you shut them up is a great feeling."
Some Northeastern fans considered Schaefer's celebrating "rubbing it in" and promised revenge.
Here is one email this writer received on the subject, reprinted with permission.
Mr. Hendrickson,
What is your take on showing up an opponent when you still have to play them? I was at the NU at PC game on Friday night, which the Huskies won 3-2. The team, although excited when they won, were not what I would call "rubbing it in." However, the Saturday night game at NU was a different story. After the Friars made a great comeback to get 3 goals in the 3rd period, they began to rub it in. Nolan Schaefer was skating around with his arms raised for several minutes and the team reacted as if it had won the NCAA championships. The handshake looked a bit chippy from my seat as the celebration continued. The PC players were taunting the crowd at Matthew's as they left the ice.
I've been around Hockey East for several years now, and admittedly, I'm an NU fan. I can only imagine how difficult it is to come into Matthew's arena with the hostile crowd yelling things a sailor wouldn't say. However, these are the fans, not the team they have to play. I think showing up a team, on the road no less, is poor sportsmanship and risky. This was an early season game in which the Friars "leaped" ahead of NU for home ice advantage. This game in February of March warrants a celebration.
I think the Feb 1st game at Matthew's arena is one to watch. The Huskies don't have the same big hitters like Brian Cummings around to hold a grudge, but any team lead by Jim Fahey is a tough team. The taunting of the Dog House will also lead to quite the scene when the Friars come back. Devin Rask was subdued in the celebration as was PC coach Paul Pooley, but they should have stepped in and calmed their teammates.
I'd be interested to see what you or any of the readers think about this. I was surprised to say the least at this display. I've seen a lot of HE games between some bitter rivals, and never have I seen something with such little significance result in such a spectacle.
Thanks for your time.
Justin Seaman
What is my take on all of this?
Hey, if you dish it out, you've got to take it.
If it's okay for fans to chant, "Schaefer, can you feel it? Yes! Yes! Yes!" complete with hip thrusts, then the player on the end of that abuse can hardly be faulted for "shooting down" the fans who heaped scorn on him.
"I didn't see it, but teams that win should be excited," said Crowder when asked if he thought the Friars had gloated too much. "They came back in pretty good fashion and scored four third-period goals. If you don't get excited about that, why should you play?"
So in this writer's opinion, Schaefer can't be faulted nor can Northeastern fans expect to get nothing back no matter how hard they dish it out.
Which is not to say, however, that Schaefer's actions were wise. As Justin Seaman notes, the Dog House will be a veritable hornet's nest on Feb. 1 (one hopes minus the bush-league 1:30 am phone calls). At that point, Schaefer may say, "Bring it on!" or he may wish he'd internalized his glee last Saturday a bit more.
Perseverance Personified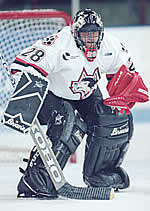 If during the offseason someone had asked which goaltender would have posted a 2.64 GAA and .912 save percentage at this point while playing in the majority of his team's games, you'd have taken a long time to guess to Northeastern's Jason Braun. The signing of top recruit Keni Gibson seemed to be the writing on Braun's wall. Instead, Gibson has battled back ailments while Braun has taken the top job from Mike Gilhooly.
"You've got to credit Jay," says Bruce Crowder. "I called him on the phone in May or June sometime and told him, 'You know, Jay, your back is to the wall here. With Mike and Gibson, you're probably going to be on the outside looking in.'
"He came back in great shape and took the challenge. Kudos to him. I don't think that anything excites a coach more than when kids prove you wrong in a positive way.
"Jay has had some great games for us. He'd probably like to have that third period back [against Providence] on Saturday night, but he's played extremely well and given us a lift that we needed."
One That Almost Got Away
UMass-Amherst led UConn, 4-1, after two periods, having outshot the Huskies, 24-12. A good time to give your rookie goaltender, Tim Warner, some experience, right?
However, what had looked like a game on the way to a rout became a nailbiter. Although the Minutemen won, 6-5, there were certainly some anxious moments.
"I don't ever believe that the game is in the bag," says UMass coach Don "Toot" Cahoon when asked about the goaltender switch. "I've been involved in too many games to know better. At the same time, it's just part of the whole process that you're trying to find minutes for everyone in your program so that they have the opportunity to grow and develop.
"The decision was made to give Mike Johnson some playing time because we didn't feel that he'd played badly at Michigan State, but yet walked away with a sour feeling. We thought it would be important to give him some minutes so he could feel a little more positive. That's what went into the decision to play Mike.
"Then getting Timmy into there was just a part of it. 'Geez, we're at a point where we're playing fairly well, let's continue to play well and Timmy go in there and do your job.'
"You've got to be prepared to be able to handle this type of situation where you're coming off the bench. It just didn't work out that way. Neither the team played all that well in front of him nor did he have himself prepared to play up to his abilities."
Cahoon didn't simply lay the near-disaster at the feet of his team's extreme youth.
"I don't think you can quantify it young and veteran," he says. "It's just a matter of the team's mental makeup. That's something we've got to work on."
Bookend Rivalries
In two weekends, UMass will have taken on a natural interstate rival in UConn and an intrastate one in Lowell. Cahoon sees different factors in the two rivalries.

"UConn is a natural rivalry for UMass," he says. "These two athletic programs have competed on all fronts for many, many years. It's the one school in the MAAC conference that's absolutely that we play on a regular basis. There are a lot of people in Western Mass and Connecticut who are very interested to see how these two schools fare against each other. So that's a natural rivalry that will be continued all through my time here for sure and I think well into the future.
"The intrastate rivalry with Lowell is a great deal different and perhaps even more intense because we're both in the same league. All the league rivalries develop on their own front no different than the Lowell-UMass rivalry. It's naturally a big game for them and it's a big game for us as well for many, many reasons beyond that we're both from the state system.
"We both compete for the same kids on a frequent basis, but more the fact that we're competing for position within the league."
While the Minutemen were heavy favorites against UConn, Lowell poses some tough problems for UMass.
"They play with a lot of energy," says Cahoon. "They're a physically tough team. They come at you. They finish their checks and they certainly forecheck as well as any team in our league. We'll have to contain their forecheck to some degree, handle the physical side of the game and obviously be able to counterattack with some sort of offensive front.
"They're a much more experienced team than we are. They're a team that has pretty much established an identity. We're still in search of an identity. So it'll be interesting to see how this plays out."
Trivia Contest
Last week's question sparked an unprecedented amount of activity. It asked: in a regular season contest between two teams, what is the maximum number of players (skaters and goalies) for the two teams that can officially be credited with dressing in the one game? Give your rationale.
A hint was given: It isn't 42 (18 skaters and three goaltenders for each team). It's a number much higher than that. Think creatively and don't worry about practical concerns such as how many players might actually be on a team's roster or fit on the team bus.
Three answers follow, the first of which is the one that was expected to be deemed correct.
A team can dress 19 skaters and three goaltenders for the warm-ups, but only 18 skaters and three goaltenders for the game itself. However, the 19 and three during the warm-ups do not need to be the same 18 and three that actually suit up for the game. That results in 43 possible players per team for a total of 86.

The question, however, specified players being officially credited with dressing (that is, credited with a game played). The answer is 86 only if somehow the players during the warm-up can get on the scoresheet.

How can that happen? Anyone assessed a penalty during the warm-up is listed as having officially played even if he is not one of the 18 and three to dress for the game. As a result, if the 22 for each side during the warm-ups take penalties and then do not actually dress for the game, then each team can reach the 43 limit and 86 is the answer.

There is precedent for this. On Feb. 27, 1999, Clarkson played Harvard and Nate Strong was the 19th skater dressed for the Golden Knights during warm-ups. Strong was assessed a 10-minute misconduct in the warm-up (as was Harvard's Kyle Clark), but was not one of Clarkson's 18 skaters during the game. As a result, Clarkson got 19 skaters plus goaltenders on the scoresheet.
Timothy J. Danehy, better known as "Danzer" at Frozen Four gatherings, adds the following postscript, which leads to an answer of infinity. "The penalty for having more than 19 skaters and three goalies participate in the warm-up is a bench minor (rule 2-3-b) as is the penalty for starting the actual game with too many players (2-3-a). In theory, you could fill the ice with players for the warm-up (or the game) and all of them could get penalties."
Hockey East Commissioner Joe Bertagna then entered the fray, wearing his hat as the Chairman of the NCAA Ice Hockey Rules Committee and contending that 21 per team is an unshakable limit. "Any player who receives a penalty in warm-ups automatically becomes part of the official roster. That is, you can't get a penalty and then not be one of the players listed on the official sheet (18 + 2/3)." He also adds that "any player getting a DQ in warm-ups is treated as if he played and was DQed; that means your dress list when the puck is dropped is reduced by the number of guys DQed. So, if two players are given DQs in warm-ups, you can only dress 16 + the goalies (unless one of the DQs went to a goalie)."

When apprised of the Clarkson precedent, Bertagna indicated that the referee in question did not apply the rule book correctly and that the NCAA would be sending a note to all conferences on the matter.

Wow! One little trivia question sure did cause a bit of a fuss….

Believe it or not, we had a winner who got answer number one. Paul Gentile thus earned a little extra latitude with his cheer, which is:

"Cheers to The Whitt – UML's home away from home!"

This week's question makes reference to Providence's Jon DiSalvatore and his Texas hat trick. Who was the last Hockey East player to also score at least four goals in one game? Give both his name and the date of the game.

Mail your responses to Dave Hendrickson.
And Finally, Not That It Has Anything To Do With Anything, But…
HMOs sure can be cruel. I found out the hard way this past week.
I know I've put on a couple of pounds, but did they really need to send me a notice that I'm due for a mammogram?