It's been nearly 15 years since Mike Richter left the University of Wisconsin, but he'll never forget what Jeff Sauer meant to him.
"My father died when I first came to campus, and [Sauer] flew to Philadelphia," Richter said. "He spent time mourning with two or three hundred people that he didn't know. He showed his appreciation."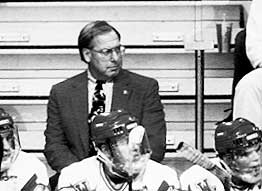 Less than two weeks ago, Sauer announced this would be his last season behind the Wisconsin bench, after 20 seasons and two national championships. Richter was one of many future NHL players that Sauer coached; if Canada and the United States should meet in this year's Winter Olympics, a pair of former Badger goalies are likely to square off against each other — in Richter and Curtis Joseph — just as they did in the epic best-of-three World Cup finals in 1996.
Though 15 years removed from the program, Richter regularly stays in touch with Sauer, and finds it hard to believe he won't be coaching next year.
"I was surprised," Richter said. "He was there for a long time and he's done a fabulous job. It's amazing how many years have gone by.
"He's got that many wins under his belt and passed Bob Johnson. And he coached with a lot of class."
Johnson, of course, was the legendary previous Badgers coach — revered not just in Madison, but throughout hockey. He built the Wisconsin program, won three national championships, and went on to win two Stanley Cups after jumping to the NHL.
Sauer coached nine Olympians and won plenty of games himself, but there were tough shoes for him to fill. He had been an assistant under Johnson, but was still an outsider — a Colorado College graduate who was coaching there at the time of his return to Wisconsin.
Sauer won a national championship in his first season, 1983, and again in 1990, and there are still those who give him no credit for it … saying he won with "Bob Johnson's players," or some such thing.
"That may be so," said Richter, "but he hung in there, he kept going through good years and bad, and he put his own signature on the program. He was winning with his own team in his own way. You have to give him credit for the amount of success he's had.
"It's been phenomenal. It's an end of an era, and hopefully they'll have as much success when the new guy comes in."
For Richter, it will always come back to that week when he arrived on campus as a wide-eyed freshman, straight from a place — Philadelphia — that wasn't exactly a hockey hotbed.
"The thing I remember the most about him was how much interest he took in the personal side of the game," said Richter. "Each player meant a lot ot him.
"I could remember aunts and uncles coming up to me [at the funeral] saying, 'Boy, you picked the right place. That's a really good person.'
"That to me was the most important thing he could've given me in terms of support.
"But he'll hopefully be able to relax and enjoy the rest of his life … and have as much success off the ice as he had on it."