Rankings, schmankings.
Though some may cry foul about the seedings and the placements, one thing is for sure: in the East Regional most of the bids were earned the old-fashioned way.
In this era of objective criteria — of coaches and administrators huddled about a computer, or deciphering rows of text to decide the field for the national championship — the East Regional includes the ECAC, MAAC and Hockey East tournament champions, the ECAC regular-season champion, and the second- and third-place finishers in Hockey East's regular season, one of which lost to the top team in the nation in the HEA title game after beating the other in the semifinals.
Yes, the East includes the bottom three seeds among the 12 selections. But two of those three — Quinnipiac and Harvard — earned their way in with conference tournament wins. And as the NCAA basketball tourney has shown year after year, few things are more intriguing than an underdog.
And it's not like the East Regional is composed of slackers. New Hampshire has been No. 1 in the USCHO.com poll for three weeks. Maine nearly pulled off the upset in the Hockey East final, and Boston University has been strong all year. And Cornell? Exactly one team in Division I boasts fewer losses this year than the Cleary Cup champion, that being UNH.
Speaking of which, another juxtaposition of those two teams could occur in the quarterfinals. Should Cornell beat Quinnipiac in the first round, the Big Red would get New Hampshire next for the right to advance to the Frozen Four at the Xcel Energy Center in St. Paul, Minn.
On the other side of the draw, No. 2 seed BU lies in wait for the winner of the Maine-Harvard contest. If the favored Black Bears end the Crimson's Cinderella run, it would mean a rematch of the Hockey East semifinal of last weekend.
No. 1 New Hampshire (29-6-3, 17-4-3 Hockey East, 1st)
For those who haven't seen New Hampshire play this year, here are the relevant statistics: in Hockey East games, the Wildcats rank first in team offense, team defense, power-play percentage and penalty-kill percentage. Small wonder, then, that they finished first in the league, won the tournament and are first in the country in both the polls and the PairWise Rankings.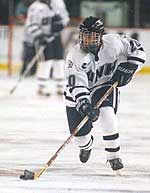 The offense, first in the country with a 4.68 per game average, is led by All-America shoo-ins Darren Haydar (31-43–74, 2nd in the country) and Colin Hemingway (31-33-64, 4th). The two play on different lines until a power play develops, but the scoring is spread out beyond just that fact. Nine Wildcats have totaled 25 points or more. One of those, Josh Prudden, missed last weekend with a concussion, but is expected to return.
"We've got balanced scoring," says UNH coach Dick Umile. "You've got Darren Haydar and Colin Hemingway, who have had tremendous seasons as far as scoring goals. They've put up some pretty balanced numbers [in terms of] goals and assists.
"That being said, the scoring has been spread out in our lines with Sean Collins, a freshman who has also put up pretty big numbers [19-23–42], and everybody [else] has chipped in eight or nine goals. So we've gotten balance throughout our lines and that's really helped us.
"The specialty situations [have been important]. We've been able to score on the power play. That's why the offensive production has been strong this season and much improved over last season."
What may get overlooked, however, is how strong UNH's defense is. Ranked ninth nationally with 2.42 goals against per game, the Wildcats are actually better than that mark. Some atypical nonconference games in the first half distort that number. To gain a full appreciation of their defensive prowess, note that their 2.04 league mark was over half a goal better than their closest league rival. Led by Garrett Stafford and Mick Mounsey, the blueliners feature substance over sizzle and plus-minus over goalscoring.
In the nets, senior Matt Carney and sophomore Michael Ayers have rotated through the Hockey East playoffs, but both have had stretches of being the go-to goaltender while the other was sidelined with injury. Ayers set a Hockey East record with a .938 save percentage in league games, but Carney was no slouch at .920.
"Our defensemen have done a terrific job, but it starts from the net out," says Umile. "Last year, it was Ty Conklin. You've got to give credit to both Matt Carney and Michael Ayers.
"It's a young defense [in front of Matt and Michael]. We don't have a senior defenseman on the team. But it's been a commitment to team defense as a whole by the team, the forwards as well as the defensemen and goaltenders. Everyone bought into it several years ago, knowing how difficult it is to play in Hockey East. If you don't play that style in Hockey East, you're not going to finish in the top of Hockey East. Guys have realized that.
"Most people look at UNH [as an offensive team] because of the Whittemore Center [and its Olympic ice sheet], and because of the tradition of being a team that is very transitional and likes the offense. But I don't think they've received the credit they've deserved defensively as a team. We're able to play that style as well."
Unlike its Hockey East brethren in the tournament, BU and Maine, UNH is sure to avoid league foes in its path to the Frozen Four. The Wildcats will face the winner of the Cornell-Quinnipiac contest.
"Going into this thing, knowing that if they kept the teams East, BU and UNH were going to get a bye because of what happened, one of us was going to have to play Maine," says Umile. "Typically, you just think that they'd put them in the other bracket to protect the number one seed.
"But I think you'll find Cornell to be a team that is very similar to a lot of the teams in Hockey East. To me, I think they're going to be a lot like Lowell the way that they play. We're not playing Maine, but we're going to be playing a team that plays very similar to Lowell."
Don't even talk about the fact that Cornell was the lowest-ranked at-large team in the PairWise at number 10. Or that Quinnipiac at number 23 isn't getting a lot of respect. Everyone else can talk about how this is the "easy" bracket, but Umile doesn't want to hear it. Mindful of the widespread disdain that most had for Mercyhurst's chances last year against Michigan before the Lakers almost pulled off the upset, the UNH mentor is taking nothing for granted.
"Let's face facts," says Umile. "Cornell has had a great season. Mike Schafer has done a great job with the program and they're getting great goaltending. They're a legitimate team to contend for the NCAA championship, so I don't consider them an easy task at all. And that's if they get past Quinnipiac, who beat Mercyhurst.
"I don't think anybody looks past teams. Everybody gets excited to play in the NCAA tournament. It's a one-game shot. You lose and you're out; you win and you continue to play. There's mutual respect and I think everybody realizes there's great parity in college hockey right now.
"This is the NCAA tournament. You don't take anything for granted. You've just got to play the game. That's what we're going to do. We're going to play one game at a time. Whoever wins that [Cornell – Quinnipiac] game, we know what time we're playing and that's all we're focused on.'
No. 2 Boston University (25-9-3, 15-6-3 Hockey East, T-2nd)
More than a few people, especially those from the state of Maine, were surprised when Boston University came away the second Eastern bye. After all, the Black Bears had taken five of six points from the Terriers over a three-week stretch.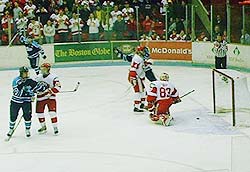 However, head-to-head competition is only one of the five NCAA selection criteria. BU had won an earlier contest against Maine, making head-to-head only a single point in the Black Bears' favor. The two tied in Last 16 games, but BU took the Ratings Percentage Index, Teams Under Consideration and Common Opponents categories.
What was even more at risk going into last weekend was Cornell running the table to take the bye or, after BU's loss, Michigan State grabbing it with a win over Michigan in the CCHA finals.
"I thought that when we lost to Maine, we'd in all probability blown our chance to get the bye because I didn't think that Harvard could beat Cornell, Michigan could beat Michigan State and New Hampshire was going to beat Maine," says BU coach Jack Parker. "All three of those things were going to have to happen for us to have the numbers fall correctly.
"The easiest prediction was that UNH could beat Maine because they were the best team in our league all year. But if either of the other two things didn't happen, I don't believe we would have gotten the bye…. I thought Michigan State was going to get a bye [ahead of us] and Minnesota would be here as the second Eastern bye."
Nonetheless, the Terriers are back in the national championship hunt after an off-year last season.
Those unfamiliar with BU may wonder how the Terriers have been so successful with only one player, Mike Pandolfo (21-18–39), topping 30 points.
"It's been offense by committee all year for us," says Parker. "We've got four pretty balanced lines as far as size, skill and puck-handling ability. We don't have the Darren Haydar type of forward who's going to get you 60 points and 30 goals. We've got a bunch of guys who've gotten 10 or 12 or 15. There's a lot of balance to that.
"We do have a 21-goal scorer in Mike Pandolfo and a guy who's been really hot of late, Jack Baker, who has 15 now and is going strong. But there's almost a guy on every single line that has at least 10 goals.
"So we think we're a pretty good offensive team if you add up all the numbers, but that's not what our team is all about. If we're going to win, it's going to be on offense off of defense, playing smart defensively and getting opportunities from [opponents] turning the puck over."
The blue line is where the Terriers have been able to match up with almost any team this season. Chris Dyment (7-17–24) earned All-Hockey East and Best Defensive Defenseman honors. Ryan Whitney (4-17–21) was the sole blueliner selected to the league's all-rookie team. And Freddie Meyer and Pat Aufiero have been past league honorees.
"Our defense has really been the strong point of our team all year," says Parker. "It's good we had a lot of depth there. We have seven guys who have all played Division I hockey and are talented kids, five returning and two excellent freshmen. So there was depth there and as it turns out we needed that because we had two or three injuries on defense this year that really banged us up."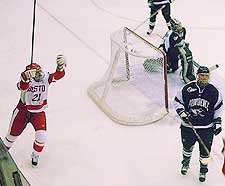 The worst have come lately, with Bryan Miller suffering a dislocated shoulder in the Maine series that closed out the regular season and Pat Aufiero going down with a sliced tendon in his foot just before the Beanpot.
"Those two guys were playing terrific hockey for us," says Parker. "We've been going with five defensemen [now] for the most part and wearing them out a little bit, but they've played well. We are certainly not as good a team both defensively and offensively without Miller and Aufiero because they are both great defensemen and great offensive defensemen, but in general that's been our strong point."
Both Aufiero and Miller remain doubtful for this weekend, but for different reasons.
"I doubt if we'll get either one of them back," says Parker. "It's almost like they're both almost there, but neither one of them are there. Aufiero has been out for so long, he's out of shape. His ankle is better; he could probably skate on it, but he doesn't have nearly the stride he had or the strength he had because his leg has actually atrophied a little bit.
"So he doesn't have the strength. He's not going to reinjure it. There's no problem there. He just looks like it's August to him.
"Miller, on the other hand, is in great shape. He's been able to skate the whole time and he hasn't been out that long. It's only been a couple of weeks. His problem is that he's very sore in the shoulder and it's a dangerous injury. It's not like it's a separation where once it heals up, if you take the pain you can play. With the dislocation you've got pain, but it can pop out at any time again until you have it fixed.
"We're concerned about both of them. We'll wait until our doctor reexamines both of them. With Pat, it's not so much the doctor. It's looking at his conditioning. With Miller, it more the doctor giving him the okay. In both cases, they're doubtful for this weekend.
"The sad part about it is that if we can get by this weekend, with two more weeks before the Frozen Four you'd have a good chance of getting both of them back."
Unlike the rest of Hockey East's top teams who at various points have gone with two goaltenders, the Terrier crease is patrolled almost exclusively by Sean Fields (22-6-3, 2.69 GAA, .901 Sv%). One of this year's most improved players, Fields faltered a bit down the stretch.
"We've gotten solid goaltending all year from Sean Fields, but I think this week off — [only one game last week and one game this weekend] — is going to help him a little bit," says Parker. "He tired a little bit and has not played as well in the last couple weeks as he was all year long. Hopefully, he'll revert back to the way he played midseason and give us the type of goaltending we need to win big games.
"Obviously, beating either Maine or Harvard is going to be difficult without great goaltending."
Almost everyone is expecting another BU-Maine clash, but Parker isn't so sure. He isn't counting Harvard out yet by a longshot, despite its enigmatic season. However, he isn't counting the Crimson in, either.
"I have absolutely no thoughts on [a matchup with Harvard] because I have no idea who Harvard is," says Parker. "We played them earlier in the year and I saw them play three or four other times in the course of the season when I was scouting. I saw them against Cornell. I saw them play in the Beanpot twice. And I saw them play on tape on Friday night against Clarkson.
"The team that I saw beat Cornell has no resemblance whatsoever to the teams I saw earlier and Maine better be aware of that as well. If the team that I saw in somewhat disarray and disinterest in February was to play Maine, Maine would roll over them like a hot knife through butter.
"But if the team I saw play Saturday night against Cornell plays Maine, that's going to be a helluva college hockey game. The probabilities are that team has just come and found itself and gelled right at the right time and they've got an awful lot of confidence after beating Cornell at the ECAC final and having that championship under their belt and living up to some of the expectations they had earlier in the year.
"They don't care how they got there. They're the ECAC champion now. I think that they're going to be a handful for anyone.
"If we play Harvard, it'll be because they are the real thing. It's possible that they're not the real thing and we'll play Maine or it's possible that Harvard is the real thing and Maine is just better. But if Harvard can beat Maine, they're a helluva college hockey team and they will have proved it back-to-back weekends."
As for their northern rivals, the Terriers may have struggled with the Black Bears lately, but it's typically been a razor-thin difference between winning and losing. At the FleetCenter, BU held a 23-13 advantage in shots after two periods. The score was tied, 3-3, but the Terriers had to be happy with their play. A controversial too many men on the ice penalty early in the third led to the deciding power-play goal.
"I don't think there's any question that Maine is a terrific college hockey team and we knew that before we played them in Boston a couple weeks ago when we lost to and tied them," says Parker. "We knew it again after losing to them in the FleetCenter. It was a real close game. It was a well-played game in many, many ways.
"The fact is that we played a pretty solid game until the [too many men on the ice] penalty. They only had 13 shots and we'd done a good job defensively. The penalty was a penalty. It's too bad it was called. It was a mistake by the official.
"That's over and done with, but the fact is that the official did not kick the puck in the net for them. They capitalized on that penalty and then after they scored, the complexion of the game changed drastically. Maine really revved it up and we didn't have an answer for them.
"Our concern is that we've played them four times now and we're 1-2-1 against. We'd like to get back to .500. We know we can beat them, because we've beaten them in the past and we know we've given them pretty good games in the recent past, but the only thing that counts is who's on top of their game.
"I don't think Maine was on top of their game in the first half of the game we played [at the FleetCenter], but they were certainly on the top of their game for the second half. I thought we played a real solid game against them in the 4-4 tie in Boston and I thought we played a pretty solid game against them in the 4-3 loss, but neither one of those was good enough to get a win. So we're going to have to rev it up more than that."
The question may be whether BU can rev it up a bit more. The Terriers have been a model of consistency, never once losing a game all year to a sub-.500 team. Against Hockey East's other two top teams, however, they've gone 0-2-1 against New Hampshire and 1-2-1 against Maine. Especially with Aufiero and Miller out, BU may just be a shade lower than its two rivals in overall talent.
With the two blue line stalwarts, BU's defensive superiority makes for an interesting clash with Maine's greater offensive firepower. Without them, however, there might be a third loss to the Black Bears in four weeks.
What could make up for that against Maine, though, is the first-round bye. Historically, it's made a big difference to watch from the stands while your next-day opponent wears itself out in the first round.
"How much of a factor is it?" asks Parker. "If you ask any coach in the nation, 'Would you rather have to win one game or two games to get to the Final Four?' every one of us would say, 'I want the bye.'
"But if you ask every one of those coaches again, 'Let me put it to you this way. You don't get the bye, but you're guaranteed of winning the first game and now you're in the second game. Which would you rather be? A little bit tired, but jacked up because you just won, or sitting there waiting for them?' I think you might get a 50-50 split on that one.
"So we have a big advantage over both of those teams now because we're not playing and they are. When the dust clears on Saturday afternoon, we're not going to have as big an advantage over the winner. We'll have a huge advantage over the loser because they're out. But we won't have much of an advantage on the winner.
"I've been through it both ways. I've won as a bye team and I've lost as a bye team. We went to quadruple overtime as a non-bye team playing St. Lawrence a couple years ago and I don't think we lost because we were tired. Both teams were exhausted and somebody won the game finally."
No. 3 Maine (23-10-7, 14-5-5 Hockey East, T-2nd)
In a similar way to New Hampshire holding the top spot in every Hockey East statistic of significance, Maine ranks number two in almost every category: team offense, team defense, power-play percentage, regular season finish (tied with BU) and tournament finish. Other than a so-so penalty kill (fifth in Hockey East), the Black Bears are as consistently excellent, albeit runners-up, as the Wildcats.
Not that the rallying cry in Orono is, "We're number two!"
It's just that following a slow start after the death of Maine coaching legend Shawn Walsh — opening 3-4-2 — the Black Bears have been a force down the stretch. Other than a loss to UNH in the Hockey East title game, they've gone undefeated in the last five weeks.
A big part of that has been an offense that has climbed to fourth in the nation (4.20 goals per game). There's depth galore with four players, including All-Hockey East defenseman Peter Metcalf (7-38–45), totaling more than 40 points and 10 players topping 20. Leading the forwards are: All-Hockey East selection Niko Dimitrakos (19-28–47), All-Rookie Team member Colin Shields (28-17–45) and Martin Kariya (16-27–43).

"Our power play has been pretty consistent all year and five-on-five we've been able to score in a lot of different ways," says Maine interim head coach Tim Whitehead. "We're able to score in transition, we're pretty good below the dots just cycling, and off of faceoffs. But this time of year, everybody can score."
Stopping the other team was expected to be the Black Bears' Achilles' heel this year in light of a thin and very inexperienced blueline. However, the group has come together over the second half.
"We're really excited about how the team defense has improved," says Whitehead. "We started the year with four first-year guys. They got a lot of time and improved plus we moved Mike Schutte back to defense and he's done a tremendous job.
"He's a veteran who is real smart. He's tough; he's a big body back there. He's really solidified things back there for us. He played defense all growing up through juniors so he's had plenty of experience back there. He's helped quite a bit. Sometimes that one extra guy can make quite a difference, especially when he's a veteran."
Goaltender Mike Morrison (18-3-4, 2.17 GAA, .922 Sv%) emerged from the shadows of fellow senior Matt Yeats not only to take the starting position, but also earn first-team All-Hockey East honors. A sub-par game against BU, however, opened the door for Yeats (5-7-3, 3.09 GAA, .885 Sv%), who inserted himself back into the rotation and looked sharp in the process.
The Black Bears' playoff goalie in years past, Yeats started both games at the FleetCenter last weekend. He played well in the win against BU, but arguably might want back one, or both, of the goals scored by UNH against him in the third period. As a result, it's anyone's guess who'll get the nod this weekend despite the oddity of a first-team all-star potentially sitting on the bench.
"As far as goaltending, we've tried to put the goalie on the ice who's playing the best," says Whitehead. "For the bulk of the season, that was Michael. Now Mattie is really challenging him for ice time because he's playing so well. He's gotten hot at the right time so he played both games last weekend. But we feel we've got two goalies that we can call on for this weekend."
Although many Maine fans are upset at the fact that BU got the bye despite posting an 0-2-1 record against the Black Bears over the past three weeks, Whitehead knew what was coming.
"I kind of expected it after I saw the PairWise and I know that the committee goes pretty much with those PairWise Rankings," he says. "Obviously, we would have loved to have that bye after stealing the five out of six points from BU over the last three weeks. But it's a full season you have to look at so we were not surprised by the seeds. BU's earned that opportunity."
Whitehead actually feels that Worcester's purely East flavor — there's not even a single team from the West — is a positive.
"I think it's great, actually," he says. "The people who are going to be in Worcester are going to be familiar with all the teams so it should create a very good atmosphere. In a lot of sports they do it that way, East against East and then you meet the West in the championships. There's nothing wrong with the format. It's going to be exciting because there will be so much familiarity with the teams that it should create even more interest."
On the surface, Harvard looks like easy pickings for the Black Bears. The Crimson entered the ECAC tournament like the proverbial chicken with its head cut off — it's dead, it just doesn't know it — having posted a dreadful 2-8-1 record in its last 11 games. However, somewhere Harvard caught a second life, and may be ready to make the most of it at Maine's expense.
"It's a very deceptive matchup," says Whitehead. "Harvard is playing as well as anybody right now. They do have a lot of talent on their team. Their record during the season would be pretty deceiving. So we know we have our hands full with Harvard and it's going to be a very challenging game for us.
"We have a lot of respect for what they can do. They just ran the table in the ECAC playoffs, which is no easy feat, especially knocking off Cornell in the final. That was quite an accomplishment. They're playing very good hockey right now so we're going to have to bring our best game to the table."
Early in the week, the Maine staff was still gathering information about the Crimson, but was impressed with what little they did know.
"Just from what I've heard, they've got a real balanced team and their goalie is playing real well right now," says Whitehead. "They have a lot of threats up on the offensive side of things and their defense is pretty solid. They don't really have any glaring weaknesses that you can exploit. That's one of the reasons why they're playing real well right now.
"We'll prepare for them, but our number one focus will be doing what we do best. That's going to be our top concern, playing our game."
If the Black Bears advance, it'll be a fourth game in three weeks against the Terriers. (In fact, reader Todd Cioffi notes that factoring in that other winter sport, basketball, Maine and BU will have now met the last five weekends.) Armed with the bye, BU will be rested.
"That's an advantage that has played out over the years, but at the same time it's not a guarantee," says Whitehead. "I don't want to speculate too much on a game that might not even exist for us, but for sure it's an advantage for BU and they've worked very hard this year to earn that right. I'm sure it's something that they'll take advantage of."
That said, BU won't be getting any secret tips by scouting Maine during the first-round game. The Terriers also haven't shown recently that they can beat the Black Bears, although only one contest has failed to be a nailbiter.
"It's going to be one of those games where both teams know each other really well, so let's drop the puck and it's going to be a great hockey game," says Whitehead. "A lot of times, those are some of the best games, when teams know each other well. There aren't a lot of mysteries or surprises. It's drop the puck and see who is at the top of their game tonight.
"But for us, all our thoughts are on Harvard because they're playing so well. Obviously, that's the first step in the ladder. If we don't get by that one, there's no second step. So clearly we've got one game to focus on right now."
No. 4 Cornell (24-7-2, 17-3-2 ECAC, 1st)
The Big Red didn't attain one of the goals it set at the beginning, falling one tally shy last Saturday. Nonetheless, the Big Red are set to go after another: the NCAA championship.
"We're really excited to get into the NCAA tournament; that's one of the goals we set for ourselves," said head coach Mike Schafer. "The guys did a great job in the nonconference schedule and in the league to make sure we got the at-large bid.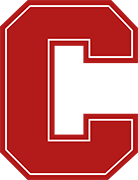 "The guys are feeling bad, but you have to put things behind you and move on and try to accomplish a goal that you set for yourselves at the beginning of the season."
The loss to bitter rival Harvard in the championship game didn't derail the Big Red season, but it did leave a mark, one that has to be gotten over quickly.
"It's a tough way to lose to your rival, but at the same time we have to let go of that loss," said captain Stephen Baby. "We have the NCAA tournament in front of us and we're focused on that. It's not that easy, but as a team we have to do it, you can't be looking back on it. We have to be looking at Quinnipiac."
The Big Red take on the MAAC champion on Saturday in Worcester, Mass. Quinnipiac is a team Cornell has only faced once, and that was last season at Lynah, where Quinnipiac tied the Big Red.
Many are looking at this as the easiest possible draw for the Big Red, but the game last year and some recent reminders are keeping Cornell grounded.
"We aren't looking past them," said Schafer. "If you look at the game last year, half of the guys playing in that game aren't in our lineup now, so we're a different team, and they're a different team as well. The guys respect them, and they also know that last year everyone expected Michigan to walk over Mercyhurst. The MAAC has gained a lot of respect. We will have our hands full with Quinnipiac."
"From last year, I remember that they're a solid team," said Baby. "They're stingy on defense, they played the body and they have some skilled forwards that can put the puck in the net. They have a good offense and we'll have to contain that.
"We're definitely focused. We know what Quinnipiac can do. They came into our rink last year and tied us, and there's no way we'll be taking this team lightly."
Instead of looking at Quinnipiac, the Big Red know that they have to look within themselves to bring the game that has given them such a successful season, a team that is great defensively, united in every way.
"We're a team before anything else," said goaltender Matt Underhill. "[Rensselaer head coach] Dan Fridgen said that you can take the nameplate off the backs of anyone on [Cornell] and put it on somebody else's jersey, and it's the same thing. That's just a great compliment that suits our team perfectly.
"We roll four lines, three pairs of D, and any goaltender, and that's where our strength is. I don't think anybody in the country can say that, and it will help us in the tournament."
Said Schafer, "It's critical that we concentrate on ourselves and what made us successful. We didn't do that against Harvard and we did against RPI [in the semifinal]."
Not to overlook Quinnipiac, but should Cornell win in round one, the Big Red's goal would go through New Hampshire, the team that is No. 1 in the country.
"If we get to Sunday, we get the number-one team," said defenseman Brian McMeekin. "And for us to go into it as the underdog team, then it helps us out."
"It's a situation that you look at that they have tremendous speed and talent up front," said Schafer of New Hampshire. "They have great transition and a great power play. When teams get behind they have the chance to blow people away.
"It's a clash of styles. They play a style that is very high-speed and we need to play our style of bang-and-crash and play physical about them."
The Big Red attained its first goal of the Cleary Cup, and came within overtime of the second. Now it's time to go after the third.
No. 5 Quinnipiac (20-12-5, 15-6-5 MAAC, 2nd)
The next stop on the MAAC Express was supposed to be Ann Arbor, Mich.
Everyone knows that the MAAC league champion belongs as the sixth seed in the West Region, don't they? It was so obvious that Ken Taylor, director of championships for the MAAC, had already bought his plane ticket to fly there.
Luckily for him, the Michigan native can use that ticket another time to visit family, because the NCAA's emphasis on having teams close to home will keep MAAC champion Quinnipiac in the East Regional this weekend. So instead of the expected sixth seed in the West Region, Quinnipiac got the six-spot in the East, right?

Wrong again! The PairWise Rankings rated ECAC champion and NCAA surprise Harvard below Quinnipiac, and the committee's mandate to avoid first-round intraconference matchups helped leave it that way, boosting Quinnipiac to the five seed and setting up a first-round matchup with Cornell, the ECAC's regular-season champion and tournament runner-up.
"We're obviously excited to go to the NCAA Tournament," said Quinnipiac coach Rand Pecknold, who admitted that he might not have been prepared for the attention his club has gotten since Saturday afternoon. "It's an added bonus as we're a five seed above Harvard. I certainly didn't expect that."
Pecknold arrived into his office yesterday to find hundreds of emails. Some were from friends and alums offering congratulations. Others were from folks looking for tickets to the game.
"We've only got 250 tickets and we'll sell those out," said Pecknold Monday morning. "I could probably fill those in the requests I've gotten already."
Emails and tickets aside, Pecknold has to prepare his team for the biggest challenge it has ever faced.
The standard for this year's tournament might be a little high. Last year, Mercyhurst, the first MAAC team ever to appear, had little to nothing expected of it. The pressure rested solely on Michigan, its first-round opponent. Fans around the country were calling it a bloodbath waiting to happen. But when Mercyhurst pushed Michigan to the brink before falling 4-3, opinions changed.
Now Quinnipiac is faced with a daunting task. Granted, Quinnipiac would never be considered a favorite. But at the same time, the MAAC champion will not be overlooked, thanks to the efforts of its brethren from Erie, Penn.
At the same time, Quinnipiac can't underestimate its chances of winning. Though the MAAC has had little success outside of its own league, the league's only three wins against Big Four conference teams came against the ECAC — this season when Mercyhurst beat Colgate and a year ago when Quinnipiac knocked off then nationally-ranked Union and Sacred Heart defeated — of all teams — Cornell.
Add to that the fact that Quinnipiac tied Cornell last year, 2-2, at difficult Lynah Rink, and you'd have to think that maybe Quinnipiac is licking its chops.
Conversely, Cornell can look at this as an opportunity for atonement: a trip to the regional final to salvage an excellent season after losing in the ECAC finals last week, and a chance to revenge the blemishes that MAAC schools put on Cornell's schedule one year ago.
Pecknold played down either scenario.
"Cornell's a top-ten team in the nation and I don't think they are or there was going to be an easy draw for us," said Pecknold. "You can analyze it up and down about who you want to play and not want to play. We were going to have to play a top-ten team no matter what."
Quinnipiac players and coaches found out their NCAA fate on Sunday night, watching the ESPNews selection show at a local restaurant. Needless to say, they were ecstatic.
"It was pretty exciting when the team got together for the selection process," said Pecknold. "[The announcers] were talking about UNH and said they'd get the winner or the Cornell-Quinnipiac game and everyone here just erupted. I that's when it hit home that were playing in the NCAA tournament."
The timing of Quinnipiac's first visit couldn't have come at a better time. Athletic director Jack McDonald, who worked hard to bring his hockey program to the Division I level, is serving in his fourth and final year on the NCAA Men's Division I Ice Hockey Committee. McDonald was appointed chair at the beginning of the year.
"That was a nice feather in Quinnipiac's caps, because Jack was the chair and we're in the tournament," Pecknold said.
McDonald was instrumental in the development of the MAAC hockey league, helping to obtain the league's autobid for the NCAA tournament and to further the expansion of the Division I tournament, which is likely to grow to 16 teams next season.
With the selection firmly in the rear-view mirror, Quinnipiac now has to focus on what happens on the ice. The Big Red lost only three times in the ECAC, possesses the number-one defense in the country and carries two of the top-rated goaltenders in senior Matt Underhill and rookie David LeNeveu.
"We haven't seen [Cornell] this year, obviously, but they're a much better hockey team this year than last," said Pecknold. "We have to do a good job in the neutral zone and we have to make sure we take care of our own end. The biggest thing is to stay out of the penalty box, because Cornell has a great power play and we have to avoid giving them those opportunities.
Indeed, the Cornell power play is fourth in the country, clicking at 27.4 percent efficiency. In mentioning that, though, you have to talk about the penalty kill, which rates fifth in the nation after allowing only 15 power-play goals all season. Thus, special teams will be crucial to QU's success.
Critical, too, will be dealing with the pressure surrounding the national tournament, something Quinnipiac has never dealt with. A team that is used to playing in front of no more than 1,000 fans, Quinnipiac prepared itself a bit in past years by traveling to Michigan State, Minnesota and Maine. But none of these trips can be compared to playing for a national championship.
"My guys are excited, and they're probably going to be a little nervous when the game starts, but I'll try to enforce that there's not that much pressure on us," said Pecknold. "We just have to come out and play hard and play well. If we get a couple of bounces here and we're in it in the end, we'll be able to make a run at it."
But bounces may not be what defines Quinnipiac. This year's club is a team of character; it may arrive hoping to get some bounces, but one bounce easily could have kept it from the tourney.
Quinnipiac captured the MAAC championship winning, in essence, three one-goal games. QU survived a double-OT quarterfinal against Iona, won a tight-checking 3-2 game versus Sacred Heart and held off a furious Mercyhurst rally to win 6-4 with an empty-netter in the title game.
"The way we [won the MAAC championship] makes it more satisfying," said Pecknold. "Iona's a tough team, and they were a tough seven seed. It wasn't like we had a cakewalk.
"In the first couple of years [of the MAAC], we'd win the first round game 9-1 or 10-1. I don't think in the past that we'd seen enough adversity to prepare us for the playoffs. This year, in all three playoff games we saw a lot of adversity, and we were ready and responded well."
With character on its side, and maybe some puck luck, Quinnipiac could be a very dangerous team come Saturday afternoon.
No. 6 Harvard (15-14-4, 10-9-3 ECAC, T-3rd)
It may have started as a pipe dream in many minds, but by Saturday night the thought of Harvard as ECAC champion was a startling reality.
Knocking off two higher seeded teams at Lake Placid, the Crimson silenced its critics by pulling off one of the most improbable upsets in recent ECAC history. Not since the 1998 team from Princeton — led by Syl Apps and Jeff Halpern — has an ECAC team delivered such an unexpected result, in double overtime no less, much like that 1998 team.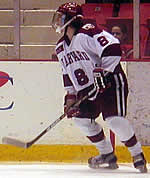 This time around, it was a shot off the stick of sophomore Tyler Kolarik that sealed the Crimson's 4-3 championship win over top-ranked Cornell, at the 16:11 mark of the second overtime. This is the same Kolarik who is still playing with a broken thumb: a story in and of itself, but the victory for the beleaguered Crimson was the showstopper.
"This is our best game. We had to be at our best to beat them, and that's a real tribute to [Cornell]," said Harvard head coach Mark Mazzoleni. "Our execution of our game plan [is responsible for the turnaround]. Our kids have bought into what we've asked them to do, and I think we're a pretty well-prepared team when we play."
Mazzoleni is referring to Harvard's well-documented struggles over the last half of the season. Yet while many were sharpening their journalistic knives in anticipation of a Crimson collapse at Lake Placid, the players were doing some preparation of their own.
The underdog in this series, the team chose to band together and decided that if they were going out, they would go out fighting. The result was its best pair of games since Mazzoleni took over more than two years ago.
The emotional preparation by the players was a driving factor, but credit must also go to the coaching staff. In the final game against the Big Red, the band of Crimson shut down the neutral zone with a deadly forecheck, won the battle against the boards and essentially did what many thought was impossible: they out-Cornell'ed Cornell.
"They run an 'I' coming in [the zone]. What we tried to do was take away their first man and then really get the flow going one way, and reverse back coming out weak side," explained Mazzoleni. "I give a lot of credit on our game plan to coach [Ron] Rolston and coach [Nate] Leaman. Those guys watch an awful lot of tape. They put a good game plan together. We wanted to stretch them out. In a pro-sized rink there's 15 feet less, and they can really jam you on the walls, and you can really spread it out more."
Among the many moments that come to mind from that weekend:
Dom Moore's goal against Clarkson — the team's first of the ECAC tournament — that eventually set the tone for the team's title run. Moore, perhaps the most talented honorable-mention all-league selection ever, had one place to put the puck, and he found it in the upper right-hand corner to beat Golden Knights' netminder Mike Walsh.
The team's first game-winning tally, courtesy of young Tom Cavanagh — a player who carries more Harvard hockey tradition than he probably realizes. His dad watched him bury that goal from the Olympic Center stands, while sitting next to legendary Harvard coach Bill Cleary.
Dov Grumet-Morris' stop late in the championship game that helped to preserve the win, buying time for the eventual game winner by Kolarik.
The result for Harvard was a NCAA berth and a chance to play Maine at Worcester Saturday at high noon. Not exactly an easy draw, especially considering that Maine is playing its best and most emotional hockey of the year. Whereas teams like Cornell suffocate with a stifling defense, Maine has an explosive offense.
Regardless of how Harvard intends to confront the Maine attack, one thing is certain — this team is very different than it was even two weeks ago. The players came up with their best hockey of the year last weekend, and they will need to better that performance if they hope to advance.
Harvard is once again the underdog, but this time around, no one seems to mind.
"Over the last three weeks, especially with the young team that we've had, we tried to find a point where our team came together and understand how hard they had to work, and more importantly, how they had to play together as a team," said Mazzoleni. "Our kids showed tremendous poise … [and are] mentally strong. It's part of maybe getting into that school. They can handle that, so they hang in there and keep going. Even though we're young, we have a lot of kids that won before. They know how to win."