From the talk on the USCHO.com message board and around the nation, you'd think the West Regional draw included the Colorado Avalanche or the Red Army alongside the WCHA and the CCHA's best.
After Michigan State's loss to Michigan last Sunday, first-round byes went to Denver and Minnesota, both of which were among the top four in the NCAA's selection criteria. Both stayed West for the tournament, as did the two CCHA entries.
Rounding out the field are St. Cloud and Colorado College, either or both of which might have been shipped to Worcester, Mass., under previous guidelines for swapping regional seeds.
But this year, with the tragedies of Sept. 11 still in view, the NCAA mandated minimized travel in its championships. That gave college hockey true regionals for the first time in a while, meaning that East is East and West is West, and never — until the national title game — the twain shall meet.
And on paper, at least, the West is the tougher draw. The bottom three seeds according to the PairWise Rankings are all in the East Regional, meaning six of the top nine teams in the selection criteria are in Ann Arbor, Mich., this weekend.
"You look at the six teams in the West Regional, and I truly believe all six are capable of going to the Frozen Four. Not only going to the Frozen Four, but winning it," said Minnesota head coach Don Lucia.
Maybe so, and not everyone is happy about that. Denver, in particular, might have reason to complain, since its reward for a number-one seed is to play the winner of a first-round matchup between host Michigan — once again peaking at the right time of year — and St. Cloud State, which was number-one in the nation at one point, though the Huskies have been on a cold streak recently.
Minnesota, meanwhile, gets either Michigan State or Colorado College after those teams' rematch of the 1999 NCAA quarterfinal, which the Spartans won with a last-minute comeback. The Gophers are familiar with both squads, having played CC in the WCHA regular season and MSU at the College Hockey Showcase.
No. 1 Denver (32-7-1, 21-6-1 WCHA, 1st)
You'd think with 32 victories, two WCHA trophies and the top seed in the West Regional, Denver would have more recognizable names.
You'd think wrong.
Everyone seems to know goaltender Wade Dubielewicz, but few seem able to both pronounce and spell his name correctly. (For the record, it's DOO-bluh-witz) After being named the MVP at the WCHA Final Five last weekend, the Xcel Energy Center scoreboard spelled his name wrong, attempted a correction and still had it wrong.
On the NCAA tournament selection show, the goaltender was called Doo-BIL-a-witz.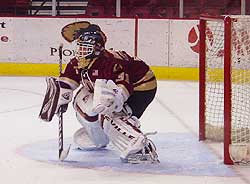 Dubielewicz can rest, knowing he's not the only Pioneers player getting this treatment. Greg Keith was known on the selection show as Keith Greg, and Connor James was announced in the starting lineup last Friday as James Connor.
So, now more than ever, the following statement is true: You may not know their names (or their spelling, pronunciation or order), but you probably know their resume.
It includes a 32-7-1 record, the WCHA regular-season championship and the league playoff title, added last weekend in St. Paul, Minn.
The Pioneers are hoping their game Saturday against either Michigan or St. Cloud State will be just a steppingstone to greater things.
They don't want to just get to the Frozen Four. They want to win it. That was the third of three goals the team set for itself this season — the playoff title and a first-round bye being the first two.
What better note to play off than a 5-2 victory over Minnesota in the Broadmoor Trophy championship game last Saturday?
"Right now, we're playing the best hockey we've played all year long," Denver coach George Gwozdecky said. "We're playing extremely well. There's only been one point of the season where we hit a little bit of a plateau, and that was during that period where my future was being speculated about and that label of No. 1 had just been attached to us.
"We were battling on a number of different fronts. Once all that stuff was over with and we got used to dealing with teams throwing their best game at us, we've really improved from that point."
Gwozdecky's name was closely tied to head coaching openings at Wisconsin, his alma mater, and Michigan State, where he was an assistant coach. That little bit of uncertainty was enough to throw the Pioneers off course.
They had a three-game losing streak from Jan. 26 to Feb. 2, but since Gwozdecky got a contract extension and announced unequivocally on Feb. 12 that he wasn't interested in other jobs, the Pioneers are 8-2.
Dubielewicz has played the last six games, going 5-1. After splitting time with Adam Berkhoel all season, Dubielewicz was handed the reins as the playoff goalie before the last weekend of the regular season.
He wowed the crowd and opposing coaches last weekend at the WCHA Final Five, after being named a finalist for the Hobey Baker Memorial Award and the WCHA's first-team goaltender.
"The accolades, I'm very happy about those things," Dubielewicz said. "They're icing on the cake, I guess you could say."
Gwozdecky didn't need many words to describe his goaltender: "Wade is the best goaltender in the country. Period."
Gwozdecky's team has enough confidence at this point in the season that it can go into Yost Arena with a chance of playing Michigan and not see it as more than the normal NCAA challenge.
The way the coach figures it, his team just won the WCHA playoff title in front of 18,000 Gophers fans; why not earn a trip to the Frozen Four in front of 6,600 Wolverines fans?
"Because of the league we have played in, no matter where you go in this league, you're playing in front of very challenging crowds," Gwozdecky said, "whether it's North Dakota, Wisconsin, Minnesota, CC, you name it."
No. 2 Minnesota (29-8-4, 18-7-3 WCHA, 3rd)
For the Minnesota Golden Gophers, X really does mark the spot.
Getting to the Frozen Four is special for any team. But when the spotlight is on your community, it means that much more.
Minnesota has done just about everything according to plan this season, getting the Gophers a first-round bye for the NCAA tournament. That puts them one victory away from home-ice advantage at the Frozen Four at the Xcel Energy Center two weeks from now.
For the Gophers, though, the prospect of making the Frozen Four — no matter the site — is the big thing. No one on the team has ever been there.
"I'm not sure how much that plays into it as much as, we're one game away from the Frozen Four," Gophers coach Don Lucia said. "Would it mean more because it's back in St. Paul? Yeah, because the whole community would be pretty excited.
"But at the same time, I don't think our kids care if it was in St. Paul or St. Petersburg. The guys would be excited to be there; they've never been there before. It's going to take a heck of an effort."
That effort is going to have to start at the top. There was a marked difference between last Friday's 4-1 victory over St. Cloud State and Saturday's 5-2 loss to Denver in the Final Five championship.
In short, the Gophers' big players found the scoresheet in one and not in the other.
Lucia is quick to credit Denver for playing a dominating game that kept play along the boards in one-on-one battles, not allowing the Gophers to free-wheel their way to chances.
But the statistics don't lie. Goalscoring leader Jeff Taffe, who scored the key third goal against the Huskies, was minus-4 against the Pioneers. Jordan Leopold, the Hobey Baker finalist and WCHA defensive player of the year, was minus-2 a day after netting a goal and an assist. Johnny Pohl was also minus-2 after scoring two points against St. Cloud.
Credit the Pioneers for getting the Gophers off their game — something that the Michigan State-Colorado College winner is sure to try to do on Saturday — but you have to take into account Friday.
The Gophers and the Huskies combined for 14 power plays — eight for St. Cloud, six for Minnesota — in their semifinal.
"When your top-end guys are on the power play and killing penalties, they get a lot of minutes," Lucia said. "I think all the minutes they had Friday had a little bit of an effect on Saturday. They didn't quite have the same jump to their step as what we did on Friday, and that's a value of only having one game this weekend. You don't have to worry about what type of legs they have for Game 2."
Only playing one game this weekend, the Gophers also won't know who they play until Friday night, something that might not be too bad considering they appear to play better when they're concerned about themselves and not the opposition.
Their history in Yost Arena is in their favor as well. The seniors and juniors are 2-0 in that building in their collegiate careers, including a 5-2 victory over Michigan on Nov. 23.
Two days later, they tied Michigan State 4-4 in East Lansing, Mich., with Barry Tallackson scoring with 2:09 remaining for the tie. The Gophers split the only two games they played against Colorado College this season.
They're just one game away from coming home, and in a position that might benefit the team.
"I think we play best when we're a little on edge and our backs to the wall," Lucia said. "When our backs are to the wall, that's when it seems like we play a grittier game, and at times you have to play that way."
No. 3 Michigan State (27-8-5, 18-6-4 CCHA, 2nd)
It wouldn't exactly be fair to say that the Spartans limped into the playoffs. For a team with just seven losses in the regular season, such a statement would be downright misleading.
But since Ron Mason announced Jan. 26 that he'll step down at the end of this season as head coach to take the job as MSU's athletic director, Michigan State has struggled just a bit, going 5-2-2 down the stretch.
"We're not nearly as good defensively as we were last year," said Mason. "This team here has its moments, and without Maloney's experience it really puts us behind the eight-ball. We don't have a lot of depth to replace him."
Junior forward Brian Maloney (17-16–33), MSU's third-leading scorer, has been out since the Spartans' Mar. 8 first-round overtime win over Bowling Green, a game during which he broke two ribs and bruised a kidney. In fact, Maloney wasn't released from the hospital until late last week, just before the Super Six; his woozy presence gave MSU a boost in the locker room.
Defenseman John-Michael Liles (13-22–35) and forward Adam Hall (19-15–34) are the team's top two scorers, with Maloney third and freshman Jim Slater (11-21–32) fourth.
After that the scoring drops off sharply. Mason isn't just blowing smoke; this team doesn't have the depth of previous Spartan incarnations.
Lack of depth doesn't mean lack of talent. Everyone around the CCHA is quick to point out that Michigan is a team loaded with rookies, but most folks forget that Michigan State is among the youngest teams in the league. On any given night, the Spartans dress up to seven freshmen and five sophomores.
"People don't realize how young we are," said Mason. "There's a tendency to overlook that because we're Michigan State, because people think of the big name. We're very young."
Because of the youth and lack of depth, 2001 Hobey Baker winner Ryan Miller has had to earn his keep in net. Miller has eight losses so far this year, but excellent numbers, with a 1.76 goals against average and an impressive .936 save percentage.
"He's our best defensive player," said Mason. "He's our best player."
The Spartans beat Northern Michigan 2-1 in CCHA semifinal action last weekend before dropping the title game to archrival Michigan, 3-2 — not part of MSU's strategy.
"Unfortunately we lost [Saturday]. That wasn't part of our plan, but plans change," Miller said. "We're just going to take a different route to the NCAA title."
Hall said that the team isn't necessarily motivated by Mason's last run at a national title, because "playing in the NCAA tournament is motivation enough."
Mason said, "We've got our hands full. Colorado College is a deserved tournament pick. They didn't sneak in or anything like that. They've been there all season."
The Spartans, like just about any team at this point, will concentrate on their own game in preparation for Colorado College. One strength the Spartans have this season, compared to previous NCAA tourney years, is the ability to break out offensively. MSU takes a lot of guff for playing a defensive game, and perhaps in recent years that style of play has hurt the Spartans in the postseason, when they've played opponents with more offense.
The flip side of that equation is that the Spartans also give up far more odd-man rushes than in seasons past. If you play a more open style, you run the risk of opening it up for the opposition, and on more than one occasion, that's exactly what Michigan State has done.
And despite his cautions that MSU doesn't have the depth and maturity of squads past, Mason said, "It's nice to play somebody different," meaning someone outside the CCHA.
He is, however, disappointed that the regionals have become a "league vs. league thing," and that the Frozen Four is guaranteed two teams from the East, and two teams from the West.
"It's not set up right. We want the best teams to be there … rather than making it East-West."
Regardless of who MSU is playing, Mason knows that he and the Spartans have their work cut out for them. MSU's postseason performance in recent years has been uninspired, and Yost Arena has not been kind, especially in NCAA tournament play.
It was in Yost that the Spartans lost in double-overtime to Ohio State in 1998, a game that sent OSU to the Frozen Four, and MSU home.
No. 4 Michigan (26-10-5, 19-5-4 CCHA, 1st)
If you think the big news in Ann Arbor this weekend is that the Wolverines can't use their own locker room for the West Regional, think again.
Not only has the NCAA told the Wolverines to remove their center-ice logo from Yost Arena (to make it a more neutral site), but the Wolverines also must relinquish their locker room to teams higher seeded.
But Yost is still Yost, and it's Michigan's building. "If that's one stipulation we have to deal with, we'll deal with it," Michigan junior Mike Cammalleri told the Ann Arbor News this week. "We're just worried about getting there on the ice, and then it will feel like it always does in this building."
In other words, just drop the puck.
Michigan entered the CCHA Super Six at No. 10 in the PairWise Rankings last weekend, and the Wolverines' appearance in the NCAA tournament was by no means a given. The Wolverines knew they had to play well and perhaps win out to get an invitation.
After battling tenacious Ohio State through a tough 2-1 overtime win in semifinal play — a close call for the Maize and Blue faithful — Michigan beat Michigan State 3-2 for the league title, earning the automatic qualifier outright.
Cammalleri had a hand in four of Michigan's five goals on the weekend, scoring the two against Ohio State and assisting on two — including the game-winner — in the 3-2 title match. It's not surprising, then, that Cammalleri was named the Super Six MVP. It is, however, somewhat surprising that Cammalleri bounced back so well from a virulent strain of mononucleosis that had him sitting out just weeks ago.
In all, Cammalleri missed 10 games because of the virus.
"It's good to see Mike Cammalleri step up this time of year," said the understated Red Berenson, Michigan head coach.
Of course, the Wolverines do not consist of Cammalleri only. This is a team with several big guns, a tight defense, team unity — and all of it coming together at about the same time.
It was, perhaps, Cammalleri's illness that galvanized this young team. With Cammo out, John Shouneyia (10-37–47) and Jed Ortmeyer (14-20–34) stepped up significantly, providing both offense and leadership. Another leader, defenseman Jay Vancik (3-8–11) became one of the steadiest stay-at-home blueliners in the league, and was yet another rock of stability for the Wolverines.
With this team, it's a package deal. Averaging 3.49 goals per game, this is a potentially explosive offense, with a suitably effective power play (.199). The Wolverines have five players in double-digit goals, and all but five players — including goaltenders Josh Blackburn and Kevin O'Malley — have scored at least one.
Cammalleri (23-17–40) is capable of being a force of one, with nine power-play tallies and seven game winners.
Defensively, the Wolverines are tight. The top six scorers have plus/minus ratios of +18 or higher, and Michigan has outscored opponents 143-94 this season in overall play, allowing 2.29 goals per game on average.
Then there's the rookie class. Names like Nystrom, Werner, Helminen, and Ryznar will become very familiar to CCHA fans in the coming years, if not to college hockey fans across the country.
The affable Josh Blackburn is perhaps the weakest link on this team, but he is capable of big plays and big games, and the defense in front of him can be extraordinary.
But it's the difficult-to-define quality of this team that gives it an edge this weekend. This is the most unified Michigan squad in years, with no in-fighting, little ego, and lots of enthusiasm.
The Wolverines are in the comfortable and enviable position of worrying only about their own play this weekend.
Said Berenson, "I thought our team, considering everything we've been through, held up well, and did all the little things they had to do. I can't tell you that it was any special strategy, but it was a lot of character and hard work, leadership, patience, and poise — all the things you need from a winning team."
Home ice doesn't hurt, either. Through nearly the end of January, the Wolverines were .500 in their beloved Yost Arena. Starting with a home win over Bowling Green Jan. 26, however, Michigan is 8-1-0 at home, the sole loss coming to Lake Superior State in the first round of the CCHA playoffs.
Hail to the victors? You might hear that a lot this weekend, if you're heading to Yost.
No. 5 St. Cloud State (29-10-2, 19-7-2 WCHA, 2nd)
A year ago, the St. Cloud State Huskies were the darlings of the tournament. For the first time, they claimed a first-round bye and were just one victory away from the Frozen Four.
Then they got caught seeing stars.

Huskies coach Craig Dahl said his team played the first period of last year's NCAA quarterfinal game against Michigan like a team that was in awe of its opponent.
St. Cloud had never played Michigan before, you see, and had never been that far in the NCAA tournament. It was over almost before it began for the Huskies.
This year, things have changed — some for the better and some for the worse. The Huskies again play Michigan, so there shouldn't be a repeat of last year's timidity against the Wolverines. But they have to play the Wolverines in Yost Arena, so just maybe there will be.
St. Cloud is one of the privileged 12 in the NCAA field. But it wasn't impressive down the stretch, losing both games at the WCHA Final Five last weekend and five of its last eight.
So even though his team is just one win away from a second straight 30-win season, Dahl said the Huskies will go into the tournament bound to cause the upsets. That's what a fifth seed has to do.
"I told the boys, it's a Cinderella story," Dahl said. "That's what we've got to point at."
The Huskies have made it to the ball, but they're going to need to score some goals to dance with anyone.
They were limited to two goals in two games last weekend and have seen shortcomings in both the five-on-five and power-play offenses.
"I'm a bit puzzled by the fact that we scored two goals in two games," Dahl said. "I didn't expect to have that happen."
The Huskies, who entered the Final Five with the nation's best power play (32.1 percent) were 1-for-12 on it last weekend. They added just one five-on-five goal.
This from a team that had the nation's third-best scoring offense.
"Our power play has been great all year. I'm not concerned about that because we've been getting chances," captain Jon Cullen said. "Five-on-five we struggled this weekend. We've got to play better five-on-five, no doubt."
After a seven-point weekend against Minnesota-Duluth in the first round of the WCHA playoffs, Mark Hartigan, the WCHA's player of the year, scoring leader and a Hobey Baker finalist, was held scoreless.
It was the first weekend in which he was held without a point since Nov. 30 and Dec. 1 against Minnesota.
"Nobody feels worse about it than him," Dahl said. "It was just one of those weekends. He's a very sensitive guy and he carries a heavy anvil on his back right now, I know he does. He certainly wanted to show why he was the player of the year.
"The worst thing you can do is press. You just have to go play your game the smart way, keep it simple and hope the pucks bounce your way. If it's meant to be, it'll be. If not, then it won't. He feels real bad."
No. 6 Colorado College (26-12-3, 16-10-2 WCHA, 4th)
Jeff Sanger and the Colorado College Tigers were just 100 seconds away from a trip to the Frozen Four in 1999. Then Michigan State pulled it away from them.
Those Tigers who are seniors now were just freshmen then, but they remember.
They remember the game. They remember the plays. They remember the late goals, each of which was reviewed for an agonizingly long time before the referee came back with his decision. It was 3-3 with 1:40 left, then 4-3 Michigan State with 1:08 remaining.
Sanger was one of those freshmen that day, playing goal for coach Don Lucia for the last time. He was in his hometown of Madison, Wis. He could remember the heartbreak.
What he remembers, though, is what it took to get there.
"I was a freshman then, and the game against Michigan State really hit home after we lost," Sanger said. "We just battled through our four years here. You realize when you're a freshman how close you really were to getting to the final four. Now, it's engraved in your head what it takes to make it there. We're trying to instill that into the underclassmen, and I think they're starting to grasp it right now."
As the collegiate careers of the Tigers' seniors near the end, they get another chance. By the grace of the NCAA selection committee, Colorado College got matched up with Michigan State in the first round.
It's a little late for revenge, but the Tigers would be happy to simply get a win and move on to play Minnesota on Saturday.
Despite not winning the WCHA Final Five last weekend, they're going into the national tournament on a high note. They won two of three games in St. Paul last weekend, which suddenly became crucial late Saturday night.
Had the Tigers not won the WCHA's third-place game against St. Cloud State earlier in the day, they would have been left on the outside of the 12-team NCAA party because of Harvard's win over Cornell in the ECAC championship.
"I don't think we're necessarily at the top of our game, but I was most happy with the fact that we competed so hard," Tigers coach Scott Owens said. "We're not scoring a lot of goals, but we won two out of three games at [the Final Five]. Jeff Sanger was unbelievably strong. Not only did he stop a lot of pucks, but he looked very strong doing it."
Sanger might have been the very thing that held the Tigers together through a three-games-in-48-hours ordeal last weekend.
He stopped 92 shots in 180 minutes, 53 seconds, allowing only six goals in three games.
It's that kind of performance the Tigers will need to beat Michigan State.
"You just want to play every game from here on out," Sanger said. "You don't want to stop playing. Once you get in a groove, you have to keep going with it and never look behind."
Said teammate Chris Hartsburg: "I give all the credit in the world to Jeff. Jeff has really put us in a position where we have a lot of confidence in our team right now. Going into the NCAA tournament, I think we can make a little bit of noise here if Jeff continues to play this way."
Hartsburg should be one to talk. He doesn't lead the Tigers in scoring (he has 14 goals and eight assists), but has been the heart and soul of the team for most of the season.
He's one of the reasons the Tigers have killed off 33 straight penalties. They haven't allowed a power-play goal since Feb. 16 against Minnesota.
"The last two-thirds of the season he's been unbelievable," Owens said. "He's been probably our best player."