The following, in alphabetical order, are capsule profiles of the Hobey Baker "Hat Trick," the final three candidates for the Hobey Baker Memorial Award, which will be announced Friday in St. Paul, Minn.
Mark Hartigan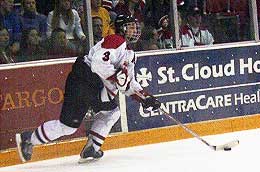 Team: St. Cloud State.
Position: Forward.
Class: Junior.
Height, weight: 6-foot, 200 pounds.
Hometown: Fort St. John, British Columbia.
Statistics: 37 goals, 38 assists, 75 points this season. 86-79–165 for his collegiate career.
This season's highlights: The WCHA Player of the Year … Won the league scoring race with 24 goals and 25 assists in 28 games. … Scored four goals in the second period of a 7-4 victory over Alaska-Anchorage on Feb. 15, setting a school record and tying the WCHA mark. … Set a career high with five points in a 6-3 victory over Minnesota-Duluth in the WCHA playoffs. … Had a school-record six shorthanded goals.
Why he'll win it: Natural goalscoring ability was enough to swing games in the Huskies' favor singlehandedly. Led the nation in scoring for most of the season, mostly because he's equally adept at dishing the puck as he is putting it in the back of the net.
Why he won't win it: Went through a terribly-timed point drought, not scoring in the last three games of the season — all St. Cloud State losses. Those games came just before the voters sent in their ballots. That, and Sports Illustrated picked him to win, casting the publication's celebrated jinx.
Quotable: "For the type of player and the type of young man he's been, I'm just glad to see he's getting these rewards. You know what else? I believe he's going to win it." — St. Cloud State coach Craig Dahl, to the St. Cloud Times.
Notes: Signed a pro contract with the Atlanta Thrashers on March 26 and will likely miss the Hobey presentation. … Is plus-33. … One of his slapshots in practice broke the catching hand of Huskies goaltender Jake Moreland. He also injured the catching hand of Wisconsin's Bernd Bruckler this season.
Darren Haydar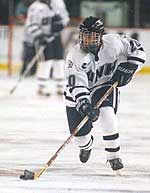 Team: New Hampshire.
Position: Forward.
Class: Senior.
Height, weight: 5-foot-9, 165 pounds.
Hometown: Milton, Ontario.
Statistics: 31 goals, 45 assists, 76 points this season. 102-117–219 for his collegiate career.
This season's highlights: Tops the country in points (76) and points per game (1.95). … Leads the nation's number-one offense (4.67 goals per game) and a power play (30.1 percent) that trails only St. Cloud State's. … Named the Hockey East Player of the Year. … Earned Hockey East Tournament MVP honors with four goals and four assists in four games. … Also named tourney MVP in the Wildcats' other two tournaments. … Was two-time Hockey East Player of the Month and five-time Player of the Week. … Had 23 points in 15 games against teams that finished in the Top 15.
Why he'll win it: Being top scorer in the country and captain of the nation's number one team is a tough combination to beat. … Knows his way around the defensive end of the ice, too, as evidenced by his plus-24 statistic. … Has the off-ice credentials as a good student in the Whittemore School of Business, where he serves as a peer advisor. Also active in the community as a D.A.R.E. volunteer, as well as with the Big Buddy program in local elementary schools.
Why he won't win it: Hockey East players have won the Hobey three of the last four years (Chris Drury, 1998, Jason Krog, 1999, and Mike Mottau, 2000). … When divvying up credit among the UNH forwards, some Hobey voters may give Haydar a smaller piece of the pie than he deserves because of other stars like Colin Hemingway and Sean Collins.
Quotable: "He does it all. We put him out there at the end of the game. If we're down two men, he's the first guy we put out there. Penalty kill, key faceoffs. Everybody is trying to stop him. He's not just doing it with speed. He's a real smart hockey player who is very clever. He's been a joy to coach." — New Hampshire coach Dick Umile
Notes: Owned a 17-game scoring streak from Nov. 17 to Jan. 27. … Has never missed a game at UNH, setting a school Ironman streak of 157 contests. … Ranks second all-time among Wildcat career goalscorers, trailing only Ralph Cox (127). Third all-time in assists, trailing Hobey winner Jason Krog (144) and Jamie Hislop (132). Also third in points, trailing Cox (243) and Krog (238). … Played right wing alongside Krog as a freshman and scored 31 goals with 30 assists. … Moved to center this year after three years on the wing.
Jordan Leopold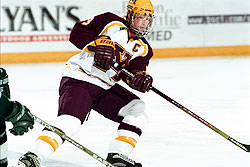 Team: Minnesota.
Position: Defense.
Class: Senior.
Height, weight: 6-foot, 210 pounds.
Hometown: Golden Valley, Minn.
Statistics: 20 goals, 26 assists, 46 points this season. 45-97–142 for his collegiate career.
This season's highlights: WCHA Defensive Player of the Year … Helped hold St. Cloud State's Mark Hartigan scoreless in four of the five games between the teams. … Scored the game-winning goal in overtime against Wisconsin on Feb. 23 and another game-winner late in regulation against North Dakota on Jan. 6. … Became the leader on the Gophers' defenseman goalscoring chart with his 20th of the season and 45th career against St. Cloud at the WCHA Final Five.
Why he'll win it: Hands-down the best defenseman in the WCHA this season and arguably the league's best player overall. Impresses many with his ability to make a play at one end of the ice, then rush to the other end to make another play. Has the ability to dominate a game from the blue line.
Why he won't win it: It's tough for a defenseman to get noticed. Only three blueliners have won Hobey. Has a tough battle with Northeastern's Jim Fahey even to be recognized as the nation's top player at his position.
Quotable: "I say this with all due respect and a little bit of chuckle, there's no way he should be playing in the WCHA. He should be playing in the National Hockey League." — Denver coach George Gwozdecky.
Notes: Leads Gophers at plus-30. … Seven of the last 10 goals he has scored this season have been in the third period or overtime. … Was also a Hobey finalist last season. … His 142 points ranks third on the Gophers' all-time list for defensemen, while his 97 assists have him fifth. … NHL rights owned by the Calgary Flames.