Whoever coined the term "March Madness" sure knew what they were talking about. Between the NCAA basketball tournament and its ice hockey equivalent, March has become the month of collegiate sport. Weekend after weekend we rearrange our schedules so that we can at least watch — many go a step further and attend — these spectacular tournaments.
There is, though, a term that might be even more fitting for the month: March Miracles. The hoop tourney has its share of clutch finishes and Cinderella teams. Hockey has its last-second comebacks and overtime game-winners, and the celebrations that ensue, to revel in.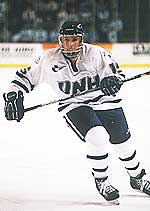 For the No. 1 New Hampshire Wildcats, though, "Cinderella" is not a term that can be attached. UNH needed only to win one game to advance to the Frozen Four. Moreover, the game was against what was thought of as a lesser Cornell team. As the teams skated last Sunday, though, a 3-3 deadlock held late in the third period with the final Frozen Four bid at stake.
We all know by now that UNH won the game. There would be no Cinderella in Cornell. No surprise ending to this one. Or was there?
The obvious choice for the betting man would be that a player like Darren Haydar, a Hobey Baker finalist, or Colin Hemingway, a shoo-in for All-American, would score the winning goal. If not, plenty of other proven scorers were available.
But how about fourth-liner Jim Abbott?
Jim who?
There was no reference to a one-armed pitcher and there wasn't anybody named Costello around to help get a laugh.
We're talking Jim Abbott the fourth-liner, gritty, hard-nosed. Easily overlooked, Abbott's is a name you don't expect to see on the scoresheet — until he scores.
"I think he's got the best shot on our team. He may be our best athlete on our team," said UNH head coach Dick Umile.
Translation: Don't let his numbers fool you. To date, he's scored 29 points in 37 games, dwarfed when compared to Haydar's 76 points or Hemingway's 66. But put Abbott onto UMass-Lowell, Hockey East's fourth place club and a top-15 team pretty much all year, and he would be the number-two scorer on the team.
All this time, though, Abbott has successfully masked himself as a defensive forward. When one thinks of a fourth line, one thinks of neutralizing, not scoring. Abbott, for the record, scored twice in the regional final.
So how does Abbott get away with calling himself a fourth-liner?
"Our depth is a tribute to our success here," said Abbott, who grew up in the hockey not-so-hotbed of Pittsburgh. "We roll our lines out and we get a good flow to the game and see a lot of ice time. It's a matter of who is doing it that night. I was playing pretty strong in the Cornell game and I got some more opportunities."
So this is kind of a once in a lifetime thing? Well considering that Abbott got the Wildcats on the board in their previous game, a 3-1 victory over Maine to capture the Hockey East championship, maybe this isn't such a fluke.
No folks, the secret is out. Jim Abbott, fourth-line forward, is a threat. And no one, including Umile, is afraid to admit that.
"For Jimmy Abbott, the puck is starting to go in for him in the second half of the year," said Umile. "He's just really getting comfortable playing at this level. He's on our power play and he's a guy who we put out in the key situation when we need to score a goal, just like he did [against Cornell]."
Abbott is one of the pieces to a puzzle for Umile that is his junior class. Though the team has solid senior leaders in David Busch and Haydar, both of whom were with UNH in 1999 when the Wildcats played for the national championship, it's the nucleus of juniors that might be seen as carrying them to success.
"We've had great leadership from the seniors and steady production from Darren [Haydar]," said Umile. If you add that with the junior class it gives us a lot of depth.
"Jimmy is part of the junior class that we've come to expect that from. Players like Josh Prudden, Colin Hemingway, Garrett Stafford, Lanny Gare. These are the guys we need scoring.
"You're only as good as your supporting cast. We have great leadership in Darren Haydar and David Busch — they're the only two players here from the 1999 team. So the junior class is strong in supporting the nucleus of the team."
What this junior class has given the Wildcats, besides scoring punch, is maturity.
"We have a totally different team between last year and this year," said Abbott. "Last year we were winning games by one goal — 2-1 or 3-2, maybe. This year we've got a more balanced offense and we're handling our opponents better.
"I guess we just needed that year to mature."
The junior class, and the Wildcats in general, have proven that player development — one of the terms you hear most from the mouths of NHL scouts — is a key to building a successful team.
The Wildcats have shown much of that development. From a club that saw its season end in the Hockey East quarterfinals a year ago, finishing with a 21-12-6 record, the Wildcats carry a 30-6-3 mark and are two wins away from the school's first national championship
"[Winning the national championship] has been a long-term goal for us," said Abbott. "We set our goals at the beginning of the year and we've been achieving them one game at a time. It's going to be an exciting week for us."
And if a certain fourth-liner can continue to score, it could be very exciting, indeed.