In the pantheon of sports-led societal advances, it's not quite in the class of Jackie Robinson signing with the Dodgers.
But, to many a Gopher fan, the recruitment of North Dakota native Grant Potulny to play at the University of Minnesota required accepting a major change that many fought.
Of course, a few more two-goal games in the NCAA tournament, such as Potulny had Thursday against Michigan, will go a long way toward putting to rest any such controversies … if they hadn't been put to rest long ago.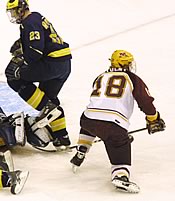 "He's not the flashiest player, but he's good around the net," says Minnesota coach Don Lucia, who, among other philosophical changes, made the decision when he was hired three years ago to drop the unwritten all-Minnesota recruiting policy. "Not too many people are concerned [whether he's] from the state of Minnesota right now. I always felt that way."
Though it all seems so silly now, it was a genuine issue when Potulny made the decision to come. He says he discussed it in detail with junior coach Steve Johnson.
"He said, 'There's gonna be a lot about this, not just hockey,'" says Potulny. "'It'll be media, people around the city. You gonna be ready for it?'
"I figured, at first it will be hard, but once the hockey starts, everyone would forget about it."
Lucia made changes at Minnesota, mending a lot of rifts that formed between upper- and lowerclassmen, between stars and third-liners. But this was a not-so-subtle philosophical change at "The U," and it had the potential to redivide the locker room. Many players were born and raised on the "Pride on Ice" philosophy.
But partly because of Lucia's leadership, partly because of Potulny's character, and partly because the existing players knew it was time to move forward, there was never any issue with Potulny joining the team.
"He's from right across the border, so he's not from too far away," says senior captain Jordan Leopold, with some veteran rationalization.
"He's handled it well and we're glad to have him."
Which doesn't stop the teasing.
"We'll have scrimmages where it's outstate guys versus metro [Twin Cities] guys, and I always say he should be on the out-out-state team."
Any trepidation Potulny had was erased as he got know Lucia better, and as he met his new teammates.
"[Lucia] just made me really comfortable. I loved the campus and the guys were great," says Potulny.
"[The guys] welcomed me with open hearts. I love Minnesota and I'm a Gopher now."
By the same token, Potulny was deserting his native land for the "enemy."
"I've got a lot of friends that play for UND," Potulny says. "I skate with them at Christmas. Coach [Dean Blais] is a great guy; he lets me use the weight room. It's not big deal.
"The guys [here] are my 20 best friends. It's a relationship that you couldn't ask for more, the chemistry on this team."
The chemistry Lucia helped build in the revitalized Gophers owes a lot to players like Potulny, who accept their role and revel in it.
Potulny had a goal in last year's heartbreaking first-round NCAA loss to Maine, and here, on the NHL-sized ice, against a Michigan team that loves to bang, he was in his element again.
"I love games where you're banging people and it's just a battle," Potulny says. "I'm not gonna go up and down the rink and make three saucer passes and lift one top shelf. My job is to bang and create space for the skill guys like Jeff [Taffe].
"We played them early in the season and they banged us. They have 'D' that are big and strong. That's what I like, so it's perfect."
Says Lucia, "He's a mucker and grinder. He's not pretty, but he has great character and always seems to come up big in a game like that."
Despite the smooth transition to the recruitment of Potulny, the issue of Gopher players' place of residency is likely to continue to be a topic. Next season, a Canadian and an Austrian will don the maroon and gold.
But Leopold understands the situation, and embraces the new reality.
"You have to [recruit out of state]," he says. "You've got eight or nine Minnesota teams now. Recruiting becomes tough when you've got so many scholarships out there.
"Once you get a bunch of guys together, mature together, grow together, you're still one. You're part of our family."