On Wednesday, Minnesota head coach Don Lucia said that he didn't consider the Gophers to be a favorite based on the Frozen Four being held at St. Paul's Xcel Center, just a few miles from his team's campus.
"Even though people talk about this being a home game for us, we've only played two games here [this season]," he said.
Indeed, the Gophers were just 3-2 over two seasons at the Minnesota Wild's arena going into Thursday's semifinal against Michigan.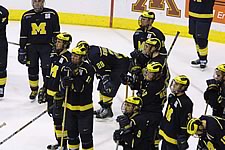 But shortly after the buzzer sounded on his team's 3-2 win, the Minnesota coach had changed his mind.
"Frankly, I was very surprised at the number of Minnesota people here tonight," Lucia said. "When we scored the first goal, it was electric."
"Coming in we assumed it would be a Minnesota crowd," said Michigan junior forward Mike Cammalleri. "After all, we're in Minnesota.
"We were ready for that, but obviously it was a big boost from them."
"We knew it would be a huge home advantage, and a big challenge for us," said Michigan head coach Red Berenson.
Berenson knows of what he speaks. Even though Michigan came into the NCAA tournament seeded fourth in the West, the Wolverines defeated St. Cloud State and then top-seeded Denver in the friendly confines of Yost Arena, site of the 2002 (and 2003) West Regional.
"There's no question [it] was a great crowd," he said of the Wolverine-dominated audience. "Even when we were on our heels, the crowd was into it. It's got to be tough playing against a Michigan team when the crowd's like that."
In fact, Michigan is 7-1 on home ice in NCAA tournament play, with the only loss coming in overtime against Cornell in the first game of a three-game series in 1991. The Wolverines went on to win the series, so Michigan has never failed to advance to a Frozen Four when hosting a first-round series.
This season was no different.
"It might be an advantage in playing in this regional," said Berenson after his team dispatched St. Cloud and Denver at Yost.
And it might have been an advantage for the Gophers Thursday. This was Mariucci East, complete with skating cheerleaders and the vast majority of the Frozen Four-record crowd of 19,234 chanting M-I-N-N-E-S-O-T-A throughout the game, easily drowning out the Michigan fight song.
The highly partisan crowd exploded after each Gopher goal, and then helped rally the team after Michigan crawled back within a goal late in the third.
Even with most of the building against them, the Wolverines almost staged an amazing comeback. After all, they were a very good road team this season.
Michigan was 14-4-4 on the road, and hadn't lost a true road game since a setback at Western Michigan on Oct. 19. The only other losses away from Yost were against North Dakota in the Great Lakes Invitational, and to Michigan State at Joe Louis Arena on Feb. 16.
"We pride ourselves on playing good road hockey," said Cammalleri. "We played in front of 75,000 Spartan fans to start the season [with a 3-3 tie at Spartan Stadium]."
In NCAA tournament history, Michigan was 5-1 when playing a true road game, the last time coming in 1995 in Madison against Wisconsin.
But not Thursday. Both coaches agreed that Minnesota's "home ice" was a factor, just as it was for Michigan at the regional.
Lucia is hoping for more magic against Maine.
"I hope we can get that same kind of support on Saturday," he said.