They might call Detroit "Hockeytown," but when the Minnesota Golden Gophers host and play in the Frozen Four, one might want to reconsider what locale most deserves that title.
So it's no surprise the streets of St. Paul were jumping Thursday night with the 19,234 in attendance at the Xcel Energy Center after their Gophers advanced to the NCAA championship game with a 3-2 win over Michigan.
The Gophers are probably the second-most storied program in NCAA history, behind only their Thursday opponent. They hold the all-time record for consecutive appearances in the NCAA tournament, making the field 13 times in a row from 1985 through 1997.
Remarkable numbers, in anyone's book.

But what so many forget when talking about this program of programs is that, in essence, it has been in a drought. Longtime head coach Doug Woog was the expert at getting his team to the dance. What he couldn't do, though, was get the ring on his team's fingers when it ended. Woog took the Gophers to the title game in 1989, when Minnesota lost to Harvard.
What many outside of the hockey Mecca of Minneapolis fail to realize is that for Minnesota, Woog may be the all-time winningest, but it was the great Herb Brooks whose seven-year reign produced all of Minnesota's NCAA hardware. Brooks led three Gopher teams to the title in 1974, 1976 and their last title in 1979.
For 23 years, believe it or not, this great hockey state has been in a state of withdrawal. Saturday, though, Don Lucia will have the chance to do what his predecessor Woog could not; more importantly, there will be 19,000-plus Gopher faithful on hand to help cheer his team on.
It hasn't taken Lucia long to make an impact in Minnesota. In only his third year, Lucia has turned around the team that struggled at the end of the Woog era. After lasting through a just-over-.500 year in 1999-2000, Lucia guided the club to the NCAA tournament a season ago. Now he's taken quite a step forward, finding his way to the title tilt.
So what's the trick? What magic has Lucia added in three short years?
A quick quiz of the Minnesota team suggests that the answer is unanimous: a team mentality. Woog put together some successful groups, the existence of a team aspect in the locker room was often questioned.
"I was fortunate to inherit such a great group of kids," said Lucia, who will coach in the national championship for the second time — his Colorado College team lost to Michigan in overtime in 1996. "But there were too many individuals and the team wasn't near what it needed to be.
"I've never been in a program that has been successful if the players don't support one another. Nobody who cares who gets the glory [on this year's team] when you're playing on the last day of the season."
Jordan Leopold, who is part of a senior class of four — the only ones to play under Woog — echoed his coach's comments.
"It's definitely been a growing experience," said Leopold, one of three remaining finalists for the Hobey Baker award to be awarded on Friday. "When I got here we had coach Woog, but then coming in the second year, and suddenly there's a new coach.
"It was definitely time for a change. We didn't have the greatest team unity."
If anything has surprised Leopold, it's how fast this turnaround has occurred.
"It's probably surprising that we've turned things around so quickly," said Leopold. "But when you put a team together with a good attitude and a frame of mind, that can happen."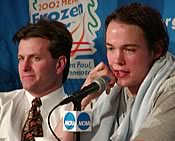 Now the Gophers will face Maine, a 7-2 winner over New Hampshire earlier on Thursday, in Saturday's championship. This is the same team that ended Minnesota's season a year ago with a heartbreaking, final-second goal to send the first-round regional game into overtime, where Maine eventually won.
The pain of that loss is fresh in the Gopher players' minds, no doubt. But that may be the reason they're where they are now.
"Coach thought that [last year's loss to Maine] was a turning point for our team," said Minnesota's John Pohl. "We came together as a team in that game because we finally played 60 great minutes of hockey.
"[Maine] may have won the game but we grew a lot as a team."
And, guaranteed, revenge will certainly be on the minds of the Gophers as they play in front of their home crowd Saturday evening.
"If we played them in December, it would have been a big game," said Pohl. "To play them for the national championship — that's just amazing."