With the interview process finally completed on Wednesday afternoon, Northern Michigan athletic director Dan Spielmann wasted no time naming 1981 alumnus Walt Kyle as the program's second head coach. He fills the spot left vacant when Rick Comley resigned in March to become the head coach at Michigan State.
For the past two years Kyle, 46, has been an assistant coach with the National Hockey League's New York Rangers under coach Ron Lowe. After Lowe was fired, Kyle's status remained in limbo while the Rangers searched for a head coach. As the Rangers' search dragged, NMU's search was delayed as well, until Kyle was free to interview.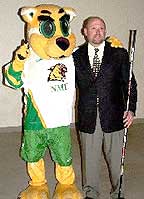 With the Rangers' coaching situation squared away, Spielmann finally went through the process of interviewing current assistant Dave Shyiak and Michigan State assistant Dave McAuliffe last week, and then Kyle on Wednesday.
"We are thrilled to welcome Walt back to the NMU hockey program, which he has been such an important part of in the past," Spielmann said. "All three final candidates are outstanding hockey coaches, but Walt's wealth of experience and enthusiasm for this position really impressed the selection committee."
Kyle was brought to New York from the Edmonton Oilers' organization, where Rangers' general manager Glen Sather previously was GM. Kyle was coach of the American Hockey League's Hamilton Bulldogs, the Oilers' top affiliate club, from 1998-2000.
Kyle's NHL career also included serving as assistant coach of the Mighty Ducks of Anaheim (1996-98) under Ron Wilson. His other professional coaching positions were with the AHL's Baltimore Bandits (1995-96) and the International Hockey League's San Diego Gulls (1994-95).
Kyle was a two-time NMU letterman after transferring from Boston College. He captained the 1980 and 1981 Wildcat teams that advanced to the NCAA Final Four. Following graduation, he became a graduate assistant coach under Comley and was promoted to assistant coach in 1982, a position he held for 10 years. Kyle was the program's top assistant in 1991 when NMU won the NCAA Division I national title.
"I am honored to be named coach of the Wildcat hockey program," Kyle said. "There is something very special about college athletics and college hockey, and I'm excited to be a part of that once again. My goal for the program today is the same as when I was here 10 years ago: give our student-athletes an outstanding collegiate experience on the ice, in the classroom and at the university in general; and we want to compete for and win league and national titles.
"As a former NMU player and assistant coach, I know that Northern has an outstanding hockey tradition and I feel privileged to tie the past to the future.
"This opportunity comes at a perfect time for my family as my children are at an age where I'd like them to feel more settled — the NHL lifestyle is great, but it's hard on your family. Throughout my professional coaching career, we've always returned to the Upper Peninsula during the off-season and we've always thought of the U.P. as home. So I'm excited and my family's excited to really be home."
An active participant in USA Hockey, Kyle was an assistant coach under Lou Vairo for Team USA which finished fourth at the 2001 World Championships in Germany and under Wilson for the 1994 squad that competed in Milan, Italy. He also was coach of the 1992 and '93 U.S. Junior National Teams.
Kyle's appointment is effective June 14, pending approval by the NMU Board of Trustees