In what was dubbed a weak year in prospects for the 2002 NHL Entry Draft, college hockey took advantage, sending four of its players to the top 14 picks on the draft board, and a total of 14 college or college-bound players in the first two rounds.
At the top of the list, in no surprise to anyone, was Boston University's Ryan Whitney. Ranked No. 3 by the NHL Central Scouting Service (CSS) among North American forwards and defensemen, Whitney was selected with the fifth overall pick by the Pittsburgh Penguins.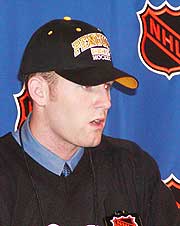 Whitney, who spent the week meeting with many of the NHL clubs interested in him, said he was a bit surprised by the pick.
"I didn't even know [Pittsburgh was interested] until the pick happened," said Whitney, who follows Rick DiPietro, the No. 1 overall pick in the draft in 2000 as BU's top-five pick in three years. "I interviewed with them on Thursday, so I knew they were interested, but I didn't really know until a few minutes ago."
Most exciting to Whitney now, though, is the prospect of sharing the ice with the legendary Mario Lemieux this year in Pittsburgh training camp.
"It's pretty unbelievable, just to get to meet [Lemieux], never mind being on the same ice as him," said Whitney. "It's pretty special."
In what was a crazy first round, highlighted by Florida swapping the top pick in the draft to Columbus and immediately changing the opening-round landscape, collegians watched their stock soar.
The Calgary Flames, at the 10th position, selected Michigan's Eric Nystrom, son of the legendary New York Islander Bob Nystrom. Ranked 13th by CSS, Nystrom was predicted to be a possible mid-rounder and was excited to register in the top 10.
"This is definitely the big day," said Nystrom. "Two years ago I would have told you that I had no idea I would even get drafted.
"To crack the top 10 is unbelievable and it definitely tops my charts now. I hope there's more excitement to come."
Nystrom hopes to fit into the Calgary organization, knowing that the club is looking for goal scoring and his talents would seem to fit the bill.
"I'd like to contribute any way I can," Nystrom said. "Whether it's a scoring role, checking role or whatever I have to do, it's going to be interesting to see where I fit in. Calgary is a good, young team that plays with an edge and I think I can fit in well there."
One pick later came possibly the biggest surprise of the first round when Buffalo selected Keith Ballard from the defending national champion Minnesota Golden Gophers. Ballard was rated 19th by CSS and himself admitted that he thought he'd go, "between 20 and 30 or even 20 and 40.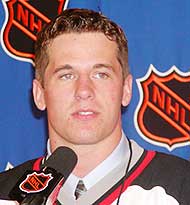 "I was sitting in my seat eating popcorn. When my name was called it was a huge surprise to me," he said.
Three picks later, in the 14th spot, the Montreal Canadians selected Yale's Chris Higgins. Though ranked ninth by CSS, many thought Higgins' stock dropped a bit and teams like Carolina in the 25th position and Boston in the 29th had their eyes on him. But Higgins and the Canadiens proved otherwise.
"I actually grew up a Canadiens fan," admitted Higgins, who was hails from Smithtown, N.Y. "My dad started me watching them when I first got into college, and I grew up following them pretty religiously."
Higgins' stock soared after he was labeled Team USA's best player during the 2001-02 World Junior Championships in the Czech Republic. He becomes just the third ECAC player in history to be selected in the first round, and first since Harvard's Chris Biotti in 1986.
All four players are now faced with the toughest decision — whether or not to return to the college game or make the leap to professional hockey, likely signing a lucrative contract. Whitney, Nystrom and Ballard all vowed to return to college for the 2002-03 season, while Higgins wouldn't make any such commitment.
"I'm not sure at the point [whether I'll return to Yale]," said Higgins. "Whatever the team tells me, I'll definitely take into consideration and make the decision after that."
Whitney, Nystrom and Ballard all denied being developed sufficiently to take the immediate step to the NHL.
"Right now I'm going back to BU," said Whitney. "I don't think I'm ready yet but I'm not sure. I enjoy school a lot there, and I have a lot of friends there and my family, so it's a pretty easy decision."
Ballard echoed those sentiments.
"As of right now, I'm happy in school, but I've got three years down the road to think about that," said Ballard. "I guess when the time comes, I know I'll be ready. Whether the club is ready, that's up to them, I guess."
Ballard did, though, admit that the upcoming Frozen Four, slated for Buffalo next April, would be an excellent stepping stone to the Sabres.
"The NCAA tournament being in Buffalo is something to focus on," said Ballard. "Just being drafted by Buffalo, being that it is in Buffalo makes it that much better."
The final pick of the first round yielded the final collegian — Michigan State's Jim Slater selected by Atlanta — for a total of five first-round selections. Incoming Northeastern recruit Mike Morris was taken No. 27 by San Jose, raising the total to six college or college-bound players. That's one short of the seven turned out two years ago in what many considered one of the best drafts for college hockey, when BU's Rick DiPietro was selected No. 1 and 2002 NHL Rookie of the Year, Dany Heatley of Wisconsin, was taken No. 2.
Cornell's David LeNeveu was the first college goaltender taken in the draft, going in the second round (No. 46 overall) to Phoenix.
Some players saw their stock drop, including Slater, who was ranked 11th by Central Scouting but went 30th overall. Likewise, Minnesota's Barry Tallackson (17) was taken in the second round, No. 53 overall, by New Jersey, and Notre Dame's Rob Globke (14) was selected No. 40 by Florida.
The biggest jumps in the draft so far were Morris, ranked 57th by CSS, going No. 27, and Michigan State's Duncan Keith (94), going No. 54 overall to Chicago. The biggest surprise, however, was Gophers right wing Michael Erickson, not even on the CSS board, going No. 72 overall to the hometown Minnesota Wild.
Rounds four through nine will take place on Sunday.