Every son wants to follow his father's footsteps. And on Saturday, Michigan's Eric Nystrom took that first step. As the 10th pick by the Calgary Flames in the 2002 NHL Entry Draft, Nystrom is now officially on his way to becoming the second generation of Nystroms in the NHL, following his father and legendary New York Islander Bob Nystrom.
"I'm definitely following in his footsteps," said a jubilant younger Nystrom. "He started out in Calgary, so it's nice to go back and see where he started playing his junior hockey."
Nystrom's road to today's draft, though, already is a bit different from the elder. Unlike his father who used junior hockey for his stepping stone to the NHL, Eric chose college hockey, something that years ago was an unheard of concept.
Nystrom is among the players joining what has become the hockey trend, especially among sons of NHL players: forego the once automatic step of major junior hockey in favor of hitting the books and getting a college education while cultivating their hockey skills.
"When we made the decision [for Eric to attend Michigan], I felt it was important to get a good education," said Bob Nystrom, who has been in the business world on Long Island, N.Y., for 16 years since finishing his career with the Isles. "I was one of the fortunate players who made it in the pros and had a long career, but I saw so many guys not make [the NHL] and have nothing to fall back on.
"While we're thrilled that Eric is up for the draft, you don't know how things will pan out. We realized there's a long life after hockey and the education [at Michigan] will bode well for him."
The younger Nystrom agrees.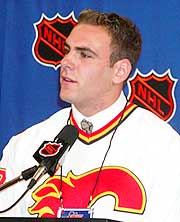 "I was leaning towards college hockey from the start," said Eric Nystrom, who scored 24 points in 32 games this year for Michigan earning him a spot on the CCHA All-Rookie team. "Today guys are in the NHL for about five years, and you want to have something to fall back on [once your career ends]. To have a degree from the University of Michigan is second to none and not everyone has the opportunity to get that."
The formidable question that one would ask, though, is the playing opportunity the same at the major junior level as it is in college. The mass exodus to the college game would suggest that it is, but ex-NHLers like Nystrom provide a more solid benchmark to answer the question.
"I think that the speed of college hockey is incredible," said Bob Nystrom. "When I first watched the game, I thought that after the first 10 minutes of a game it would slow down but it never does.
"The low number of games (colleges play on average about 35 games as opposed to the 60-plus game schedule of junior hockey) allows the players time to better condition themselves."
Eric agrees with his father's thoughts and lower number of games as a deciding factor in going the college route.
"I gave major junior a thought, but where I was at my development of hockey, I thought that the practice-to-game ratio of college allowed me the ability to improve," said Nystrom. "That swayed me more toward the college."
Nystrom's story is not unique. One-time first-round Montreal Canadiens draft pick Chuck Arnason watched his son Tyler head to St. Cloud State for a successful college career. Fifteen-year NHL veteran Ryan Walter will see his son Ben head to UMass-Lowell next season. And even the great Peter Stastny, who began his playing days in then-Czechoslovakia, watched his son go the college route, matriculating last season at Notre Dame under NHL vet Dave Poulin. Notre Dame, in recent years, has landed the son of another ex-Islander, Brett Henning, son of Lorne; and Connor Dunlop, son of NHL-vet Blake. Recent NHL Hall of Fame inductee Bernie Federko saw his son Jordy attend Union.
Though name dropping players like these is a nice feather in the cap of college hockey, a truer test comes each year on draft day. In the early '90s, draft trends became a bit disturbing to the college hockey world, as the influx of European players into the draft saw the number of college-eligible players drafted decrease dramatically. In 1995, that number hit an all-time low — only five college hockey players were drafted, compared to the all-time high of 73 back in the 1978 Entry Draft.
But the last seven years has seen college hockey rebound, with a minimum of 24 players drafted each season. In 2000, college hockey found its glory when Boston University's Rick DiPietro and Wisconsin's Dany Heatley were selected one-two respectively to open the draft. Before the first round ended, seven of the 30 selections were U.S. college hockey players, and by round five that number grew to 38. Indeed, college hockey had made its statement.
This year, too, things were bright on the draft stage. Four of the top 14 picks came from the college ranks, with BU's Ryan Whitney the highest of them checking it at fifth overall. Stunning picks like Minnesota's Keith Ballard in the 11th slot and Yale's Chris Higgins in the 14th certainly opened plenty of eyes at the Air Canada Centre.
Now, though, the challenge the college game will face is retention. The lucrative salaries that first-round draft picks can command is often enough to pull these young players from the college game. But indications in Toronto on Saturday were positive.
Most of the first-round players definitively stated their intent on returning to college next year, something Nystrom has contended for a while.
"Development is so important and you don't want to get rushed into things," said Nystrom. "When the opportunity presents itself and the time is right, then maybe it's time to move on, but for now it looks like Michigan is the best bet."
All of this can lead one to believe that the next generation of college hockey players will have a better chance to truly follow in their father's footsteps — taking the leap to the NHL by way of college hockey.