An Early Record-Breaker
An 18-year-old goaltender isn't expected to make an immediate impact in college hockey. A breed apart, netminders usually need a little more seasoning before they're ready for the collegiate big time.
Maine's Jimmy Howard, however, is proving all those assumptions wrong. A blue-chip recruit, he traveled to Orono after an impressive stint with the U.S. National Development Program, where he helped the Under-18 Team win a gold medal and also posted a season-long save percentage of .933, a team record. Nonetheless, an 18-year-old goalie is still an 18-year-old goalie.
Well, it's taken Howard all of five games to enter the Black Bear record book, a ledger that already boasted many legendary names. With three straight shutouts, he owns a scoreless streak of 187:43 and counting, a figure that tops those of Scott King, Matt DelGuidice, Garth Snow, Mike Dunham, Blair Allison and all the other great Maine netminders.
The shutouts over Western Michigan, Mercyhurst and Massachusetts have lowered Howard's statistics to numbers that border on the absurd: a 0.83 goals against average and a .959 save percentage.
As the noted hockey philosopher Adam Sandler would say, not too shabby.
However, before comparisons get started to Ryan Miller, a Hobey Baker Award winner as a sophomore, Maine coach Tim Whitehead cautions that it isn't even Thanksgiving yet. Five games do not a career make and out of control expectations have sidetracked many a young player.
"We're really excited for Jimmy, but it is early in the year so both Jimmy and ourselves are trying not to get too high or too low," says Whitehead. "There's going to be some highs and lows, clearly, but we're very excited about how he's playing.
"He's such a composed player. He's very calm, especially in scrambles in front of the net. A lot of times he seems like the calmest guy on the ice. He moves very well and keeps it simple. He doesn't overhandle the puck or dive after pucks that are wide of the net. He plays very smart and has a real good sense of how to read a situation.
"He's a real good goalie, but again, it's early. He's just working hard and getting good results."
For those who haven't yet seen Howard play, Whitehead describes the freshman's style: not a classic stand-up goalie, nor a pure butterfly guy.
"He's kind of a hybrid," says Whitehead. "He's not your 1970s stand-up, never-go-down guy, but he's not always flopping on the ice either. He stays up at the right times and he knows when to go down at the right times. He just reads the situation. He's a mixture of styles.
"He anticipates really well and reads the situation. He knows when to stay on his feet and when to cover the bottom of the net with a butterfly or whatever."
A Bevy of Hot Freshman Goaltenders
Howard isn't the only rookie netminder atop his game. UMass's Gabe Winer, featured in last week's column, battled the Maine goalie toe-to-toe in a 1-0 Black Bear win at Alfond Arena last Saturday. Providence's Bobby Goepfert has also recorded great numbers while winning all four of his starts.
Here are the country's top freshman goalies, ranked according to goals against average:
Player, School            W-L-T     Sv%    GAA
1 Jimmy Howard, Maine     4-1-0    .959    0.83
2 Bobby Goepfert, PC      4-0-0    .936    1.74
3 Al Montoya, Michigan    6-1-1    .920    2.02
4 Tony Quesada, HC        5-1-0    .918    2.12
5 Gabe Winer, UMass       2-3-0    .887    2.43
Powerhouse Week
In the span of eight days, Hockey East will see five league contests between its nationally ranked teams. No. 1 Boston College is in the thick of all this, competing in three of them, with Boston University, New Hampshire and Providence in two and Maine in one.
BC got the string started with last Tuesday's convincing win over Providence, 6-1. The Eagles play their fifth straight road game at BU on Friday night before returning home to host UNH on Tuesday. BU follows the BC clash on Friday with Maine on Saturday. UNH hosts Providence on Friday night before traveling to Chestnut Hill on Tuesday.
It doesn't get much better than that…
So Just How Good is Providence?
Obscured by the Friars' best-ever 7-0 start was the strength — or lack thereof, to be more precise — of that opening schedule. Heading into Tuesday's 6-1 loss to Boston College, PC's opponents were a collective 13-33-8. Not exactly the iron of college hockey.
As a result, the jury remained out until the Friars proved themselves against tougher competition. Obviously, the lopsided loss to the Eagles was not a positive sign. Combined with a split in a home-and-home series the previous weekend against Northeastern, Providence now enters a key contest at UNH having lost two of its last three.
A key game in November? Yes. After last year's disappointing season, the Friars may have a somewhat fragile psyche. A repeat of Tuesday's performance — in which the top line of Peter Fregoe, Jon DiSalvatore and Devin Rask finished a collective -10 in plus-minus — would be a blow to the team's confidence and leave it waiting until early January for another opportunity to prove itself against a ranked team.
Friday night will tell a lot of Providence's chances to be a nationally significant team from wire-to-wire.
An Unsung Hero
When BU's Mark Mullen was announced last Saturday as the number two star of the game, casual observers may have wondered why. After all, the forward hadn't recorded even a single point.
The fact is that Mullen would have been a good choice not just in the win over Merrimack, but also in the previous weekend's wins over Northeastern and UNH. Against the Huskies and Wildcats, BU totaled 3:15 of time spent killing five-on-three penalties and didn't allow a goal.
"He had a terrific weekend for us," said BU coach Jack Parker. "He killed most of the five-on-threes."
Following the number two star honors, Parker elaborated, saying, "[Mullen is] as unheralded a guy as you're going to find. He gets all kinds of penalty-killing time. He's playing with two freshmen and giving them a lot of poise and a lot of defensive ability.
"In reality, he could be playing the power play, too, but he gets so much ice time killing penalties. He's done an unbelievable job on five-on-three penalties this year. He's really an unsung hero for us and a hard guy to appreciate unless you watch him every day in practice."
Off the Schneid
It was hard to believe, but UNH opened the season 0-for-20 on the power play in Hockey East games before Colin Hemingway broke the string late in the third period on Saturday.
"We've got the horses," Hemingway had said one night earlier. "It's just a matter of time before the pucks see the back of the net."
UNH coach Dick Umile had to be happy that Hemingway had broken the drought. Clearly frustrated not only with the power play's production itself but also being asked about it, he said with a grin and a wink, "We scored a power-play goal, so that gets you [media] guys off our back. At least for one night."
Whistling Dixie
One writer recently noticed Umile about to whistle for line change, as is his wont, but hold off as the puck went into the offensive zone. When Hemingway scored on the resulting play, the scribe couldn't help but ask.
"They don't listen to me anyways," quipped Umile. "I'm just doing that to keep myself busy…. I'm doing it for me. It's my way of being in the game. It's probably good that they don't listen to me too often on that."
No Loss of Confidence
Massachusetts-Lowell may be in the Hockey East cellar without a point, but there's no sense of despair. Six of the River Hawks' nine games have come against nationally ranked opponents, including all four league contests.
"[Frustration] is not an issue," said coach Blaise MacDonald. "It's not where you are today; it's where you are March second."
With a boatload of freshmen in the lineup to replace 11 departed members of last year's team, MacDonald is paying attention to how well his team is playing, figuring that if the mistakes and inconsistencies can be corrected, the wins and losses will eventually take care of themselves. As a result, he even found much to be encouraged by in the Hawks' lone lopsided loss, 6-2 to UNH.
"We came out of our own zone pretty cleanly, we backchecked very well and we didn't give up a lot of odd-man opportunities," he says. "Our defense used each other through the neutral zone. Those are all things we focused on."
That said, there is a smaller margin for error among the teams looking to knock off perennial powerhouses like UNH than there is for the juggernauts themselves, a point captured succinctly by MacDonald.
"[A] difference in the game was their ability to capitalize and yield off their opportunities," he said. "They got 11 shots in the second period and got four goals whereas we had three two-on-ones and two or three grade A chances and we yielded zero goals. That's the difference between a top-level team and a team that's trying to get on the rise."
Press Conference Humor
MacDonald was at his comic best in the post-game press conference at UNH last Friday.
The vertically challenged coach said, "A lot of the goals I didn't see because my kids were standing up on the bench and I can't see over their heads."
He didn't stop there. When asked who his goaltender on Saturday would be, he responded, "I haven't decided yet. I'll see what my wife says."
A writer asked when that would be.
"Probably 3:30," said MacDonald. "My little guy is getting his eye teeth so he's usually up at 3:30 in the morning."
Continuing the banter, another writer asked if it would okay to call at 3:40.
MacDonald didn't skip a beat. "Why don't you guys give me your numbers and I'll call you."
Upon Further Review
Last week's column discussed hitting from behind and described a sequence from the UNH-BU contest as a springboard for the topic.
I stand corrected.
As the New Hampshire Public TV archives (www.nhptv.org) show — and as seemingly half the Granite State has pointed out — the play in question was a penalty but not a hit from behind. (In my defense, it was a crazy sequence to watch live and get perfectly. A rewind button would have come in handy.)
There still was a flagrant hit from behind into the boards, so the overall point remains valid, but a different infraction should have been used to accurately depict the situation.
Five minutes in the penalty box and a game DQ for Hendrickson.
(Addition by subtraction, perhaps?)
Congrats to Roger
Roger Brown, who has covered New Hampshire hockey for the Portsmouth Herald for over a decade, was honored during an intermission of the recent BU-UNH contest as a result of his winning the Hockey East Joe Concannon Media Award. A belated congratulations to one of the good guys covering the game.
Trivia Contest
Last week's contest revolved around Northeastern defeating Connecticut, 10-1, and asked when the Huskies last won by that exact score. Quickest with the answer of 1985-86 against Northern Michigan was John Ryan. His cheer is:
"NU over BU in Beanpot '03, the mystique is no more because Huskies again in 2004!"
This week's question asks you to identify the Hockey East players depicted in the photograph below. It dates back to 1995 when the boys were 14.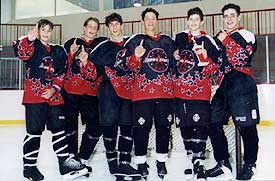 Email Dave Hendrickson's trivia account with your responses. The winner will be notified by Tuesday; if you haven't heard by then you either had the wrong answer or someone else beat you to it.
(Click here to see a larger version of the photo)
Calling All Illiterates …
Last week's passage was from a legendary short story by Harlan Ellison, a fantasist who provided me with the inspiration to write many, many years ago. (So it's all his fault…) "Jeffty is Five" won the 1977-78 Hugo, Nebula, Jupiter, British Fantasy and Locus Poll awards. The story is available in The Essential Ellison (a 50-year retrospective of his work), but originally appeared in Shatterday. I excerpt the opening two paragraphs here, although I only provided the second paragraph last week to avoid making the answer too easy.
When I was five years old, there was a little kid I played with: Jeffty. His real name was Jeff Kinzer, and everyone who played with him called him Jeffty. We were five years old together, and we had good times playing together.

When I was five, a Clark Bar was as fat around as the gripping end of a Louisville Slugger, and pretty nearly six inches long, and they used real chocolate to coat it, and it crunched very nicely when you bit into the center, and the paper it came wrapped in smelled fresh and good when you peeled off one end to hold the bar so it wouldn't melt onto your fingers. Today, a Clark Bar is as thin as a credit card, they use something artificial and awful-tasting instead of pure chocolate, the thing is soft and soggy, it costs fifteen or twenty cents instead of a decent, correct nickel, and they wrap it so you think it's the same size it was twenty years ago, only it isn't; it's slim and ugly and nasty tasting and not worth a penny, much less fifteen or twenty cents.
Steve Lemire, who "read" the story by listening to Ellison's terrific audio recording (which was nominated for a Grammy award), correctly identified this gem. A personal favorite of Steve's is: The Oath by John T. Lescroart.
This week's passages come from a novel I stumbled upon last summer and absolutely loved:
The hit man's eyes slowly cleared, and he looked at me with the hate that had helped him survive in prison, that had kept him scheming, kept his brain and body working, kept him fighting back against nightmarish conditions. He needed a sensitive social worker to bring out the best in him, so I jammed the machine pistol against his forehead.
and
I gave him the toe of my shoe in the frontal bone of his skull to jar his cerebral hemispheres and make him wonder if perhaps he should have gotten his high school diploma after all.
and
Usually on nights when people try to murder me, I drink extra dry martinis. Now I drank mineral water. This was spiritual progress.
I could go on and on … Here's an additional hint: one character's name is Henderson. Email me with the name of the novel and the author. The winner, who will be notified by Tuesday, gets recognized and can mention the title of a favorite book of his or her own. If you haven't heard by then, you either had the wrong answer or someone else beat you to it.
And Finally, Not That It Has Anything To Do With Anything, But …
Maybe the good fortune that has shone on the Patriots the last 12 or so months is payback for Ben Dreith, Bucky Dent, Bill Buckner, too many men on the ice and so on ….
In my son's many tours of colleges this fall, one comment from a student at a $34,000 per year school stands out: "Living here is really cheap … except for that tuition thing."
A likely item on my Christmas list will be permission to smash my cell phone to smithereens. I doubt if anything else could give me that much satisfaction.
Although if you really want to pamper a person, give them a massage. My own five-star recommendation goes to Aileen at Salem Massage Therapy Center. (603) 894-5586. Of course, sickos and perverts need not waste their time.
Yes, I fully realize that the previous sentence eliminates a large segment of my readership …

---
I still have copies available of Food and Other Enemies, an anthology that includes my short story, "Yeah, But Can She Cook?" Publishers Weekly called it a "witty collection." Order it from online booksellers or ask me about ordering information since I can send you a less expensive, personalized copy.