Call it the Slot Heard 'Round The World.
Unlike the shots fired near Concord, Mass., back in 1775, there may not be a revolution following the selection of St. Cloud State to the 2003 NCAA tournament. There will, however, be plenty more debate on the heels of the firestorm already seen.
Nearly lost in the discussion over the fourth-seeded Huskies' worthiness has been a group of smaller controversies.
Those include the allocation of two Hockey East teams, New Hampshire and Boston University, to the Northeast Regional's top two seeds; the scheduling of top seed UNH in the late game Friday, a seeming disadvantage for the UNH-SCSU winner in Saturday's regional final; and the BU-Harvard matchup that repeats a first-round Beanpot contest from February.
For top-seeded UNH, however, the task is clear. Defeat St. Cloud, a team with nothing to lose, in the first round, and then await the BU-Harvard winner. Should the seeds hold up, that would be the Terriers, whom the Wildcats played to a barnburner finish to win the Hockey East championship less than two weeks ago.
The element of rest may also enter the Northeast in a different way. Only Harvard played hockey last weekend, losing the ECAC tournament title to Cornell.
UNH and BU both had the week off after Hockey East concluded postseason play a week ahead of most leagues, and St. Cloud lost to Minnesota-Duluth in its WCHA first-round playoff series.
No. 1 New Hampshire (25-7-6, 15-5-4 Hockey East) vs. No. 4 St. Cloud State (17-15-5, 12-11-5 WCHA)
Friday, 7:30 p.m. Eastern, Centrum Centre, Worcester, Mass.
University of New Hampshire Wildcats
Current national ranking: No. 3
How in: Hockey East tournament champion
Last appearance: 2002 Frozen Four
New Hampshire coach Dick Umile might look with satisfaction at his team's Hockey East tournament championship and the late season run that also earned it a share of the regular season title, but there's no resting on the team's laurels.
"You know that you've got to play another 60-minute hockey game so you start from scratch again," he says. "It's the NCAA tournament and anybody can win this thing."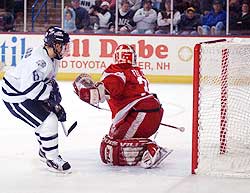 Even St. Cloud. The Huskies may be entering the tournament only two games over .500, but their strength of schedule was second toughest in the country. They can claim wins over five other NCAA tournament teams — Colorado College, Minnesota, MSU-Mankato, North Dakota and Ferris State — not to mention a 4-1-1 record against bubble teams Providence and Denver.
"You can forget [records]," Umile says. "It's like a whole new season right now."
The two teams share a two-week layoff, UNH because Hockey East scheduled its playoffs a week earlier because of a FleetCenter conflict while St. Cloud's came from a first-round WCHA tournament elimination.
They also share veteran lineups with plenty of NCAA experience. St. Cloud's top three scorers — Joe Motzko (41 points), Jon Cullen (37) and Ryan Malone (35) — are all seniors, as are top-scoring defenseman Derek Eastman (17) and goaltender Jake Moreland 2.91 GAA, .914 Sv%). Those seniors are making their fourth straight appearance in the national tourney, albeit while still in search of the program's first win.
UNH has experienced a lot more postseason success, reaching the Frozen Four last year and overtime of the championship game in 1999, but is otherwise similarly dominated by veteran contributions. Senior forwards Lanny Gare (50 points) and Colin Hemingway (44) along with defenseman Garrett Stafford (15 points in 19 games) lead the offense while junior Mike Ayers (2.20 GAA, .925 Sv%), Hockey East's Co-Player of the Year, backstops a group of blueliners that returns en masse from last season's run to the NCAA semifinal.
"I think we match up very well with them," Umile says. "They're a program that has been pretty successful the last couple years. The layoff has really helped them because they've had a couple guys who have been out of the lineup who are going to be back healthy. On paper, it's a good matchup so we don't expect it to be anything but a battle right down to the last minute."
It'll also be a matchup of excellent special teams. UNH finished atop Hockey East in overall power-play percentage (23.2) and penalty-killing percentage (86.7) while St. Cloud finished second in the WCHA in combined special teams performance.
"They're strong in goal and their specialty situations have worked out well for them at the end," Umile says. "That's how you get into the playoffs and become a top team."
The similarity ends with a screeching halt, though, when it comes to a home ice advantage. While both teams will have to shift from a home sheet of Olympic proportions, UNH will do so with half the state of New Hampshire in the stands.
"We hope so," Umile says. "Obviously we're excited that we're staying in the East. Worcester has been good to us. We were there last year. We've played well in that building. We hope it'll be more of a home game for us, but it'll be played out on the ice."
If UNH and BU both win in the first round, the two rivals will face each other in the only meeting of Hockey East teams prior to the Frozen Four. They split their four games this season, but UNH took the big one, 1-0 in overtime of the Hockey East championship game.
"[If we] create that matchup, there's not a whole lot that you've got to prepare for," Umile says. "We'll know exactly how it's going to be played. If we play each other, one of us is going to be knocked out and that's the disappointing part about it. One guy wishes the other guy good luck and the other guy is kind of miserable."
St. Cloud State University Huskies
Current national ranking: No. 15
How in: At-large bid
Last appearance: 2002 first round
After his team lost a deciding third game of its first-round WCHA playoff series with Minnesota-Duluth, St. Cloud State coach Craig Dahl didn't see much of a chance for the Huskies to get into the NCAA tournament.
They didn't immediately practice the next week, a sign that there still wasn't a lot of confidence. But as the week went on and the PairWise Rankings kept taking turns in their favor, the Huskies realized they'd likely get another shot at playing this season.
They did, thanks to their strength of schedule and a couple key wins, and they'll go into the tournament off a much-needed break that may have been the best thing that could have happened to them.
"It obviously was," said Dahl, who's spent most of the season managing a lineup riddled with injuries and ineligibilities. "Still, some of those guys haven't played. … It's not ideal, but at least they're healthy."
When the Huskies play UNH on Friday, it'll be their 38th game of the season. Unless another injury pops up, it'll be the fourth game in which they've had their full lineup available, by Dahl's count.
Defenseman Jeff Finger is set to return after missing eight games with a knee injury. Forward Ryan Malone has missed time with various injuries, but should be ready to play. Defenseman Derek Eastman, who missed the first semester while ineligible, has had ankle problems, but he, too, should be ready.
But the Huskies have another mountain to climb in the NCAAs. Not only do they have to go through the region's top seed, they have to do so without having ever won an NCAA game. St. Cloud is winless in five trips to the national tournament, having been knocked out by Michigan two straight seasons.
To break that streak, the Huskies will need better goaltending than they received in the WCHA playoffs. Jake Moreland allowed six goals in the Game 3 loss to UMD, while Jason Montgomery gave up five goals in the Game 1 loss.
"I think it comes down to how well our goaltenders play," said Dahl, who hasn't revealed his starter yet.
They'll also need their big guns up front to crack a stingy New Hampshire defense. St. Cloud has four players in double digits in goals, led by Matt Hendricks with 18. Joe Motzko has 17, Jon Cullen has 16 and Malone has 15.
Motzko, Cullen and Malone are seniors who have made the NCAA tournament the last four seasons. St. Cloud is one of only three teams that can make that claim (Michigan and Maine are the others).
"I'm really happy for our seniors," Dahl said. "Four straight years — there's not too many teams in the country that can say that."
No. 2 Boston University (24-13-3, 13-10-1 Hockey East) vs. No. 3 Harvard (22-9-2, 17-4-1 ECAC)
Friday, 4 p.m. Eastern, Centrum Centre, Worcester, Mass.
Boston University Terriers
Current national ranking: No. 6
How in: At-large bid
Last appearance: 2002 quarterfinals
When second-seeded Boston University got the early game instead of New Hampshire, some conspiracy eyebrows went up. Why not give the extra recovery time to top-seeded New Hampshire, especially since BU-Harvard would be the larger draw as the late game?
"We got the early game for one reason and one reason only — NESN wanted to put the BU-Harvard game on at 4 o'clock," BU coach Jack Parker says. "We found out in the [coaches'] conference call that the rationale that they used was that they wanted to get as many of the games as possible on large TV outlets. NESN was the largest and NESN wanted to do the BU-Harvard game."
The Terriers won both contests against the Crimson this season, but Parker doesn't see any psychological advantage or disadvantage.
"The 3-0 game [in November] could have easily been 5-3, Harvard, because they had some unbelievable chances in the third period against us," he says. "And the 2-1 Beanpot game was a great college hockey game that could have gone either way. Fieldsie [goaltender Sean Fields] makes a fabulous save and we go down the other end to score and change the game around.
"Both those games were the flip of a coin, hard-fought and well-played. So Harvard isn't saying, 'Oh, geez, we drew BU; we can't beat them.' And BU isn't saying, 'Oh, good, we drew Harvard. We've already handled them easily.' I don't think either of those two statements are running through either team's mind."
Parker doesn't expect the extra week off that all Hockey East teams got to be a big factor despite the experience of Eastern teams in 1992 that all had the extra week off and went oh-for-the-NCAAs. In fact, the time off is just what the doctor ordered for All-Hockey East defenseman Freddy Meyer, who will return from a separated shoulder.
What does concern Parker is Harvard's talent up front, especially on the power play where the Crimson led the ECAC in conversion percentage. BU's propensity for penalties magnifies the point even further.
"It's a big factor," Parker says. "They got one goal against us in two games so far, but in both of those games they got some fabulous opportunities and they just didn't bury them. We're not kidding ourselves, 'Boy, we really handled them easily defensively the first two games and therefore it should more of the same.'
"My team has got to understand that this is a prolific offensive team with three very, very solid lines with three of the best centers in college hockey centering each line. Especially because of [Tim] Pettit, they can really hurt you on the power play. He gets the one-timer going and he's really dangerous. To offset that, to take that away from him, you've got to leave some other people open and they can expose you there, too.
"The two biggest problems that they present [are] how hard they come at you forechecking-wise and how good they are scoring goals. Those are things that we're going to have to address and be ready for."
On the plus side for BU, the Terriers have enjoyed a strong stretch run, finishing 10-3-1. With the exception of the Hockey East title game, their ability to bury their offensive opportunities, which has come and gone this year, has of late been in top form. And goaltender Sean Fields (2.46 GAA, .911 Sv%) has been in the zone, earning Hockey East tournament MVP honors despite playing on the losing team.
Even so, Parker sees the need for a lot of improvement.
"We finished the regular season and the early part of the playoffs well, but I think we've got to get back to the way we were playing then as opposed to the way we played against BC or UNH [at the FleetCenter]," he says. "I don't think we gave either of those two teams our best game and in order to win this game, we're going to have to give Harvard our best game, no question about it."
If the one or two seeds all win, BU could get all the way to the NCAA title game without playing a single Western team, facing Harvard for the third time this year and then UNH for the fifth. In the Frozen Four semifinal, the Terriers would then take on either Cornell for the third time or Boston College for the sixth. It's a prospect that doesn't exactly thrill Parker.
"It would be nice to have a Western team," he says. "You're playing in a national tournament, you'd like to play some national teams. We didn't want to play the Beanpot all over again. But you've got to beat good teams no matter where you're playing and we've got a real tough opponent here."
Harvard University Crimson
Current national ranking: No. 10
How in: At-large bid
Last appearance: 2002 first round
Two years ago not many people thought much of Harvard — at least not on a national level. Although the team came close to knocking off eventual runner-up Maine in the first round of the NCAA tournament, there was a sense that the players were lucky to be a part of the Show.
The same cannot be said this time around.

"Last year, we saw the NCAAs as a continuation of our season," said Harvard captain Dominic Moore, who has scored 28 of his team-leading 50 points in his last 12 games.
"This year, we view it as a whole different season. We had to win the ECAC to get in last year. Making the NCAAs was a goal of ours since the beginning of the year. But just making it isn't the goal — we want to do well and advance to the Frozen Four."
Harvard enters its second straight NCAA tournament following the strongest season posted by a Harvard team since 1994. In fact, this year marks the first time since 1993 that the team has earned an at-large bid.
"Last year, the committee had to take us, because we won the ECAC tournament. We wouldn't have gotten in otherwise," said Mark Mazzoleni this week. "This year, we earned our spot over the course of our season."
There is no denying that this Crimson team is one of the best skating teams in the country. Led by First Team All-ECAC forward Moore, in the midst of a 12-game scoring streak during which he has posted at least two points 10 times, Harvard now possesses three offensively-producing lines consistently.
That was not the case last year when, during the ECAC championship game against Cornell, head coach Mark Mazzoleni was forced to play the majority of the final period with just two lines.
"I joke about it now, but the TV timeouts helped us tremendously last year in Lake Placid," said Mazzoleni. "I think there were six TV timeouts each period, so it was like playing your fourth line six times per period. Now, we are a much deeper team. We roll four lines and six defensemen consistently."
This time around, opposing teams will also have to contend with a diverse group of attackers. While Tyler Kolarik (14- 12–26) and Tom Cavanagh (14-13–27) can beat you up ice with their speed and agility, more physical players like Rob Fried (3-10–13) and Dennis Packard (8-8–16) will make you pay in the corners.
Then there are Moore, Tim Pettit (17-27–44) and Brett Nowak (11-29–40) arguably three of the top one-on-one players in the ECAC. Yes, this is a very different Harvard team from last year.
"It takes a while to get quality players in your program. We have been lucky to get good players in each of our recruiting classes," said Mazzoleni. "We skated 17 freshmen and sophomores last year — and that is a lot different from 17 sophomores and juniors, which we are enjoying right now.
"I've stressed that it is a process, and we are starting to see the fruits of our labors. The best part is that no one in the program sees us as a finished product — we keep working hard to improve every day."
In addition to a power play which has scored 16 goals in its last 46 attempts, the Crimson has been strengthened this year by the emergence of Dov Grumet-Morris. After splitting time during his freshman season, Grumet-Morris has showed signs of maturity.
His numbers speak for themselves — second nationally in save percentage (.929) and fifth in goals against average (2.25) — but a critical element for Harvard this weekend will be his big-game experience. The maturity of the Crimson will be critical as the team faces off against one of the most seasoned squads in the tournament, Boston University.
The Crimson is hoping that three will be the magic number, since Harvard has already dropped two games to the Terriers this season. With a new Harvard team on the ice, however, the Crimson is hoping to pull off the type of postseason victories it became famous for in the '80s and early '90s, when it was a regular at the Frozen Four.