If the almost-home ice of the Xcel Center in St. Paul, Minn., helped Minnesota to the 2002 NCAA championship, what will the Gophers do with the real thing?
The Gophers earned perhaps the most critical win of the weekend last Saturday, upending WCHA regular-season champion Colorado College 4-2 in the Final Five title game.
The spoils of that victory loom large in the form of the top seed in the West Regional this Friday and Saturday. The location: Minnesota's own Mariucci Arena.
As the host team, the Gophers would have been placed in the West Regional regardless of seed, but their win remade the bracket, pushing then national-No. 1 CC out to the Midwest Regional and bringing MAAC champion Mercyhurst out West as the Gophers' first-round opponent.
But before Gopher fans start booking plane fare to Buffalo, N.Y., for the Frozen Four, recall that in 2001, lightly-regarded Mercyhurst — supposedly just happy to be there — took Michigan to the wall in a first-round loss. No pushover then, and perhaps not now.
The other semifinal, meanwhile, is a study in contrasts: NCAA tradition-rich North Dakota against Ferris State, making its first national tournament appearance. The Bulldogs battled to the CCHA regular-season championship before another squad of postseason veterans, Michigan, ousted them in the league's tournament championship.
Still, second-seeded Ferris State heads into the West Regional as the favorite against No. 3 seed North Dakota, which put together an outstanding first half before fatigue, or the schedule, caught up with it. The Fighting Sioux sputtered into the postseason, losing the play-in game at the WCHA Final Five to Minnesota-Duluth last Thursday.
No. 1 Minnesota (24-8-9, 15-6-7 WCHA) vs. No. 4 Mercyhurst (22-12-2, 19-5-2 MAAC)
Friday, 7:30 p.m. Central, Mariucci Arena, Minneapolis
University of Minnesota Golden Gophers
Current national ranking: No. 4
How in NCAAs: WCHA tournament champion
Last appearance: 2002 NCAA champion
As much as the numbers are on their side in the West Regional, history isn't standing in the Minnesota Golden Gophers' corner when it comes to their chances of repeating as national champions.
No one's done it since Boston University in 1971 and 1972. While Minnesota is two home wins away from the Frozen Four, it knows it won't be an easy road.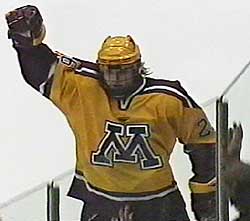 "One of the things I told our team is, 'Hey, if it was easy to do to win two in a row, somebody would've done it in the last 30 years,'" Minnesota coach Don Lucia said. "It's hard. It's hard to win at the end of the year. You're playing great teams. You have to be playing well and you have to have great goaltending, things have to go your way, you have to stay healthy."
But count the Gophers as one of the teams playing their best at tournament time. They won the WCHA playoff championship last weekend despite playing with their backup goaltender. That clinched a No. 1 seed in the West, and perhaps no team has more of a home-ice advantage this weekend than Minnesota.
It has won its last 20 postseason games at Mariucci Arena, dating to a 5-3 loss in the WCHA first round in 1992.
And this is a tournament-tested team, despite Lucia's assertion that this isn't the same kind of team as the one that won last year's title. That one, he said, was driven by a few players — Hobey Baker Award winner Jordan Leopold and forwards Johnny Pohl and Jeff Taffe, to name three — while this one gets contributions from a wider array of places.
"It just seems like every night, somebody new contributes," Lucia said. "I think that's more the type of team we are. We don't have those three superstars like we had last year that were such gamebreakers. I think we might have a little balance and depth and guys that can make some plays, but we just don't have that high end like we had last year."
That last statement might be a bit of an exaggeration, considering the point totals of the Gophers' leading scorers. WCHA rookie of the year Thomas Vanek has 26 goals and 54 points, and Troy Riddle has 25 goals and 50 points.
Since he's returned from an ankle injury, Grant Potulny has been the driving force. He's scored 19 points in 18 games, including two goals and an assist in the first 5:25 of last Saturday's WCHA title-clinching win over CC.
In goal, Justin Johnson stepped in for the injured Travis Weber last weekend and earned all-tournament goaltender honors. Weber, who had an injured finger, should be ready to play this weekend, but Lucia wasn't ready to commit on a starter.
Lucia has said his team is a good one but not a great one. In his mind, a trip to the Frozen Four would get the Gophers closer to the top level.
"But we have to get there yet," said Lucia, whose Gophers play Mercyhurst in the first round on Friday. "There's a difference between being a top-10 team and a top-four team when you get to the end. I think we still have to prove that. I think the players have to prove it to me and themselves."
Mercyhurst College Lakers
Current national ranking: unranked
How in: MAAC tournament champion
Last appearance: 2001 first round
In 2001, Mercyhurst's first NCAA challenge was daunting: to play Michigan, a program with a storied tradition of hockey, in Grand Rapids, Mich., just a short drive from the Michigan campus.
The inaugural visit for a MAAC team to the NCAAs resulted in the loss many expected. What wasn't on the agenda was the fact that the Lakers took the Wolverines to the brink — leading, 3-2, at the midway point of the third period before eventually falling, 4-3.
Answering that call was a major accomplishment for Mercyhurst, and set the school's expectations a bit higher for its future. After beating Quinnipiac to capture the MAAC championship, the future is now.
The philosophy is a good one — improve upon your last NCAA performance, giving your program the hope of advancing past the first round.
Solid concept, flawed execution.
The hitch comes with the Lakers' draw. If Michigan was a monumental task — beating a solid number-three seed (in a 12-team tournament) in its home state — the current Laker draw can only be perceived as nearly impossible.
The Lakers were placed against Minnesota — the defending national champion and top seed in the West Regional — in, of all places, Minneapolis, at the Gophers' Mariucci Arena.
"When we played Michigan, there were a lot of Michigan supporters there but it was on neutral ice," said Lakers head coach Rick Gotkin, the only coach to ever lead the same school to the Division I, II and III tournaments. "Now we're playing Minnesota at Mariucci Arena in a huge hockey game, so we know that's a daunting task."
Still, with the naysayers out in full force in 2001, Mercyhurst carried a burden few might want — to represent the MAAC as the first new conference to receive a bid since Hockey East in 1985.
"It was a much bigger deal in 2001, because our bid was the first one — not just for Mercyhurst but for the MAAC," said Gotkin, who admitted his club's emotion Sunday was different — one of confidence and accomplishment rather than the amazement of 2001.
Gotkin is quick to admit that he doesn't have a game plan to counter what Minnesota does well. He'll even admit that besides the fact that the mascot is a Gopher and the coach is Don Lucia, there's not much else to know.
"I don't know much about them per se, but I know a lot about their tradition," said Gotkin. "And I know about the [WCHA], having played Denver and Colorado College this year.
"They're the defending national champions and we have nothing but respect for Coach Lucia and his staff."
As easy as it is to say that things are different for Mercyhurst this year, one thing that remains is the buzz on the Erie, Penn., campus.
"I am so happy for our players and our staff, and the excitement on campus is just like it was two years ago," said Gotkin. "I got calls from a lot of former players this weekend and we've gotten about 25 interview requests from media. All of that is exciting for us and our players."
And very little will change from facing Michigan in 2001.
"We have an unbelievable respect for Minnesota and we know what we're up against," said Gotkin. "But we really want to focus on doing well the things we do well.
"That was our approach in Michigan two years ago. We're not going to change our system or key in on one guy from Minnesota because they have too many weapons."
One hope for the Lakers is that experience — not in the tournament, but rather in nonleague play, might help them. Mercyhurst played in front of hostile crowds at Maine, Lake Superior, Denver and CC this season, which could help them at a packed Mariucci Friday.
"We've played those [nonleague] games for the sole purpose of preparing us for games like this," said Gotkin. "It helps our recruiting to play those types of teams and it also helps us should we go back to the NCAA tournament. It's the same kind of environment, so that's where it helps."
Though the Lakers may need a little more than help to get past the Gophers, they can expect to help the MAAC take another major step forward.
No. 2 Ferris State (30-9-1, 22-5-1 CCHA) vs. No. 3 North Dakota (26-11-5, 13-9-5 WCHA)
Friday, 4 p.m. Central, Mariucci Arena, Minneapolis
Ferris State University Bulldogs
Current national ranking: No. 5
How in: At-large bid
Last appearance: First NCAA tournament berth
When six teams arrived in Detroit for the Central Collegiate Hockey Association's Super Six last weekend, five teams seemed to view the tournament as a means to an end, while one team saw the Mason Cup as the means and the end.
The Ferris State Bulldogs wanted to win the CCHA Super Six. Regular-season league champions, the 'Dogs were the only ones who seemed to want to win the postseason title for the thing itself, rather than for its value as an automatic bid.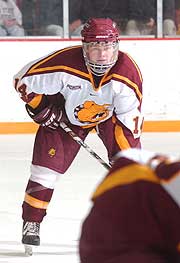 "We really wanted this," said FSU head coach Bob Daniels after losing 5-3 to Michigan. "For us, the NCAA tournament was really an afterthought."
That afterthought now a reality, the Bulldogs are ready to face North Dakota in the first round of West Regional action.
"A few years ago, we played North Dakota and a lot of the things we do now are a direct result of that weekend," Daniels said. "We thought that they did things we could do to improve our team, so we think this is a good match."
FSU plays a wide-open style of hockey: lots of offense, very physical, very fast, with an outstanding goaltender as the last line of defense.
Up front, Hobey Baker candidate Chris Kunitz (33-41–74) is lethal anytime he has the puck, and he's not afraid to hit. Kunitz on left wing is joined by center Jeff Legue (23-35–58), and RW Derek Nesbitt (18-31–49), a trio that is responsible for over one-third of the team's 179 total goals this season.
But the Bulldogs are more than one good line. FSU has scorers on all lines, and regularly rotate four. The second line of Phil Lewandowski, Mike Kinnie, and Greg Rallo has notched 43 goals, and every single FSU player who has seen ice time (with the exception of the two goaltenders) has at least one point. In fact, there's only one player on the team who has only one, Tim Vokey, who's played eight games.
FSU reliance on a strong offense sometimes leaves All-CCHA First Team goaltender Mike Brown (2.23 GAA, .926 SV%) high and dry, but Brown is capable of spectacular play. Brown's size — he's 6-0 — and agility combine to deny most opponents a workable scoring angle.
Defensively, players like sophomore Matt York, senior captain Troy Milam, and junior Simon Mangos are skilled, smart, and more than adequate. Mangos (10-11–21) is also an offensive threat and is key on the Bulldog power play.
Two issues may hinder the Bulldogs in NCAA tourney play: their penchant for penalties and their newbie status.
The Bulldogs averaged more than 17 minutes in the penalty box per game this season, and discipline has been something Daniels has been worried about all season. Of course, if FSU has relied on close checking throughout the season, the bigger ice surface in Minneapolis may take the Bulldogs off their game.
This is also FSU's first-ever NCAA postseason tournament. In fact, last weekend's Super Six title match marked the first-ever time the Bulldogs had appeared in the CCHA's postseason championship game.
In that loss to Michigan, FSU looked flustered more than once; Michigan's experience was key. Most damaging for the Bulldogs was that the once-unrattleable Brown was, indeed, rattled.
Fast, physical, with lethal offensive ability and outstanding goaltending, FSU is a team worthy of its NCAA berth.
University of North Dakota Fighting Sioux
Current national ranking: No. 12
How in: At-large bid
Last appearance: 2001 NCAA runner-up
If North Dakota wasn't going to win the WCHA Final Five last weekend, it was better for the Sioux to get out of the way quickly.
That's the thinking in the North Dakota locker room this week because losing to Minnesota-Duluth in the play-in game last Thursday allowed the Sioux a few extra days to rest before Friday's NCAA tournament game with Ferris State.
If they had won that game, they would have been committed to games Friday and Saturday as well. It's debatable whether winning the tournament — which, incidentally, no one who's played that play-in game has done — would have significantly improved UND's tournament seeding, so things went about as well as they could have after a loss.
"We knew that it was going to be a tough road to win that thing because you beat Duluth and you have to play the next day against Colorado [College, in the semifinals] and that would be tough enough because of the ratio of rest to work," North Dakota coach Dean Blais said. "And then having to play Minnesota the next night, it would have been a real hard task. If you're not going to beat CC, you're better off not even getting there."
Getting to the NCAA tournament is a new thing for the majority of the North Dakota team. Only nine players remain from the team that lost the 2001 national championship game in overtime to Boston College.
Sixteen players on the roster are freshmen and sophomores who, because UND didn't make the tournament last season, will play their first NCAA game against Ferris State.
"I think they feel the intensity," Blais said. "It starts with the coaches and filters down to the captains. From there, they have to feel it. It's not just another game because the next game you lose, you're out. So hopefully we have four games remaining and can advance to Buffalo."
It'll help that the Sioux will play in a familiar arena. They beat Minnesota at Mariucci Arena on Jan. 10 before losing in the series finale the next day. That experience may help diminish the first-game jitters against the Bulldogs.
The Sioux feature a pair of 61-point scorers, but the scoring production of sophomore Brandon Bochenski (35 goals) and freshman Zach Parise (26 goals) has cooled in the last weeks of the season.
In the last 12 games, starting Feb. 14, Bochenski and Parise have 10 points apiece. Over that stretch, that's 0.83 points per game, well off Parise's 1.61 and Bochenski's 1.45 for the season.
The Sioux have been plagued by goaltending woes in the second half of the season, but Jake Brandt has allowed two goals in his last three starts and probably will start on Friday, Blais said.
Note: Defenseman David Hale, who has missed seven weeks with a kidney disorder, has been skating with the team and it's possible he could play this weekend, Blais said. If he does, however, it would be sparingly.