So this is what they mean by "Minnesota, hats off to thee." And over the past two postseasons, Gophers fans have been offering tips of the hat to Grant Potulny an awful lot.
Potulny may be best known for his overtime winning goal in last season's national championship game, but at the rate he's going this postseason, he'll outdo that in no time.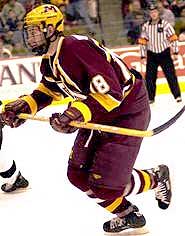 Potulny drew the hats from the Gophers faithful Friday night in the West Regional semifinals at Mariucci Arena, scoring three times in Minnesota's 9-2 thrashing of Mercyhurst.
It was a playoff game, so nothing less should have been expected from Potulny, the Gophers' junior captain who has put a charge in the team since his return from a lengthy injury absence.
He scored twice and added an assist in the first 5 minutes, 25 seconds of last Saturday night's 4-2 victory over Colorado College in the championship game of the WCHA Final Five. The tournament MVP award there suited him about as well as the MVP award at last year's Frozen Four did.
In five playoff games this season, Potulny has nine goals and 11 points.
"Last year, we had some guys that put our team on their back," Minnesota coach Don Lucia said, "and right now, if you ask me who the one guy is that's putting the team on their back, it's Grant Potulny."
Although this postseason's output has been nothing short of spectacular, it's nothing new.
He had two goals in the national semifinal win over Michigan last season, before winning the championship for the Gophers with his sixth goal in four NCAA games.
He has scored a goal in eight straight playoff games, dating to last season. He said he doesn't affix concrete numbers to his expectations because they might not get met.
His productivity in March has crossed his mind, however.
"My freshman year, I did have 22 goals during the season, so I did have other goals than in March," he said. "I think last year I had a down year [in the regular season] and I did have a lot of goals in March. That might have been a different thing.
"But this year, I was just hurt. I'm just catching my groove now."
It's a whale of a time to be catching a groove, especially considering there was a time the Gophers weren't sure they'd have their captain for the playoff run.
Potulny missed 22 games this season with a broken ankle and ligament damage suffered in the season opener. Lucia asked him whether he wanted to take a medical redshirt. Potulny wanted no part of it.
It's a good thing for Minnesota he didn't. Lucia said he was disappointed because Potulny had worked hard in the offseason to improve his game.
"I'm not surprised by the way he's come back and played so well this time of the year," Lucia said. "It's amazing how luck finds guys who work extremely hard. That's kind of Grant Potulny."
The goal that sealed the hat trick against Mercyhurst wasn't exactly luck — moreso perfect passes from linemates Gino Guyer and Barry Tallackson that set Potulny up with an empty net to shoot at from close range.
Maybe his only fault of the night was that he didn't slam the shot into the dead center of the net.
"I wanted to make it interesting," he said, grinning.
"I think my confidence is pretty high right now, and as a hockey player that's one of the most important things you can have is confidence," he added. "I was squeezing it pretty tight right when I came back — I was a little nervous and a little out of shape. Things started rolling, and it's been good."
It's been very good for the Gophers, who are one win away from their second straight trip to the Frozen Four. With a nine-goal output from his team, Potulny was just a part of the machine on Friday night.
He confided outside the Gophers' locker room that there's a fear that keeps him going: the fear of not having any more games to play this season.
"That's the fear that I have, the fear that keeps everybody going," Potulny said. "You lose, your season's over. I don't think you have to tell anybody else that."